Stafford Trade Fallout
Mon Feb 1 10:52am ET
By JEFF PAUR
Sr Fantasy Writer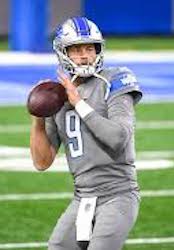 Stafford heads to the Rams
The big news of the week is the trade of Matthew Stafford to the Rams. This is huge news. The Rams have agreed to trade Jared Goff, a 2021 third-round pick, a 2022 first-round pick and a 2023 first-round pick to the Lions for Stafford. This will become official when the new NFL year officially begins, which was March 18 last season.
So what does this all mean for fantasy teams? First off, I think this is a big plus for all Rams offensive players. Stafford is a pretty good upgrade over the inconsistent Goff. I would bump up Robert Woods and Cooper Kupp some in my rankings for the coming season. It would not surprise to see Woods have a huge year next season with Stafford at the helm. Woods was 14th overall in fantasy receiver scoring each of the last two seasons with Goff as his quarterback. He can be top 10 this year with Stafford throwing him passes. And Kupp is the same way. As long as he can stay healthy, I look for him to get a ton of targets. The receivers for the Rams get a boost.
Stafford also gets a big fantasy boost with the move. He leaves an offense that lacked some playmakers and heads to an offense that is innovative with many top options in the passing game. Stafford was 17th overall in yards after the catch per completion compared to sixth overall for Goff. That is quite the difference. Rams receivers make plays after the catch. Remember, Stafford played without Kenny Golladay much of last year and still threw for 4,000 yards and 26 touchdown passes. Stafford has been a top-10 fantasy quarterback three of his last six seasons. Stafford has eight 4,000-yard seasons and three of those seasons with 30-plus scores. It would not surprise to see Stafford as a top-10 fantasy quarterback once again this year.
The Lions might be setup well for the future with all the drafts picks they get in this trade, but could be pretty bad in the short term. Goff is a downgrade over Stafford. He has regressed the last two seasons and could have more issues this year with fewer playmakers to help him. Expect his numbers to regress even more in Detroit. He will be a low-end No. 2 for fantasy teams. He might have some big games along the way with the Lions trailing in many games, but inconsistency seems very likely.
This trade also is bad news for Kenny Golladay and T.J. Hockenson. I wouldn't downgrade them a lot but maybe a little. They will still get their targets because they are the clear top two options for the Lions, but Goff isn't the same quarterback as Stafford. And Golladay is a player that makes a lot of plays down the field, so that is a concern with having Goff as his quarterback. He can be inconsistent on longer throws. Hockenson probably does a little better in this trade because Goff does like to hit those underneath routes often. Hockenson should get his targets with Goff at the helm. His red zone looks could be down, though, with the offense taking a step backwards.
Overall, this trade is a win for the Rams fantasy players and a loss the Lions. It isn't a huge bump either way for both teams, but enough to impact rankings and production. And the quarterbacks involved in the trade definitely have their fantasy values impacted for the coming year. This was just a start in the player movement. It could be a really interesting offseason with many top players maybe on the move. Stay tuned!
Jeff Paur is a two-time finalist for FSWA Fantasy Football Writer of the Year and won the FSWA award for Best Fantasy Football Article on the Web in 2011. He also was the most accurate expert in 2012, winning the FSTA Fantasy Football Accuracy Award. If you have any questions for Jeff, email him at jeff@rtsports.com. Follow Jeff on Twitter @jeffpaur.