Lineup Prep: Super Bowl
Wed Feb 3 8:59am ET
By JEFF PAUR
Sr Fantasy Writer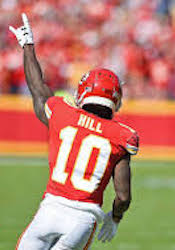 Hill could be Super Bowl MVP
We made it. That is the best news of the entire year. It is hard to believe that the NFL was able to navigate the COVID season so well. But we made it. It can only get better from here, right? Enjoy the Super Bowl and celebrate the crazy season we just endured. It is a year and NFL season we won't forget.
Now for my random thoughts for the week. . . . .
So as for the game this week, I'm going with the Bucs. I know the Chiefs are rolling and seem destined to repeat, but I have a hard time betting against Tom Brady. The Bucs offense is playing as well as it has all season and that defense has really picked it up. Plus, Tampa is playing in their home stadium, which I think is an advantage for the team. It isn't a huge advantage, but it helps to be familiar with your surroundings. Don't overlook that. My final score: Bucs 35, Chiefs 31.
I already wrote a column about it, so check it out. But I think the trade of Matthew Stafford is a huge boost to his fantasy value. I think he can be a top-10 fantasy quarterback next season in that offense. The Rams have great playmakers and an offensive scheme that can really help a quarterback. This is great news for Stafford's fantasy value.
You have to wonder what Deshaun Watson will fetch in a trade after seeing all the picks Stafford got his team. Watson could really bring in a haul for the Texans. It will be interesting to see how this plays out. Houston obviously wants to keep Watson, but he isn't budging on his demand to be traded. The Texans recent history of trades isn't very good. Hopefully, for their fans, they don't screw this one up. A trade of Watson could really set up the franchise for years to come with a ton of picks.
If you thought the quarterback position was deep this past year, wait until next season. I have already started working on our draft guide for next season, examining the position. I really think there are at least nine quarterbacks that are capable of finishing first overall in fantasy quarterback scoring. And there are more players that are capable of emerging to be No. 1 fantasy quarterbacks. Much like this past season, I'm waiting on the position come draft day in 2021. This quarterback spot is super deep right now.
Rookie receivers were really good this past season. Several players emerged as top players and should be great for years to come. And the speculation this year is the draft class of receivers is just as deep. There are several players that are NFL ready and set to make an impact in 2021. It is an interesting time at the position, a bit of a changing of the guard. So come draft day next year, don't hesitate to pick a rookie receiver. Remember, we had a rookie (Justin Jefferson) finish sixth overall in fantasy receiver scoring.
News and Notes: Packers head coach Matt LaFleur stated that quarterback Aaron Rodgers will be with the team a long time. There was speculation Rodgers could be moving on after his post-game statements, but it seems that isn't going to happen, especially with Jordan Love looking to be a long way from being NFL ready. . . . .The Rams traded for quarterback Matthew Stafford, sending Jared Goff and multiple picks to the Lions to complete the trade. Stafford takes over as the starter for the Rams and looks to provide more consistency at quarterback. Goff will take over as the starter for the Lions until his successor (whoever that might be) is ready to play.
HOT PLAYS
Tyreek Hill, WR, Chiefs. Hill had a monster year and has continued to play well in the playoffs. He has two straight 100-yard games and has 17 receptions in this two playoff games. Hill actually had his best game of the season against the Bucs in Week 12. He scored a whopping 57.9 fantasy points in that game, catching 13 passes for 269 yards and three touchdowns. The Bucs defense is playing much, much better this year, but this game has to be a concern for the Tampa. Hill has a good chance to produce big once again.
Leonard Fournette, RB, Bucs. Fournette is playing his best football during the playoffs for the Bucs. He has scores three straight and at least 18 fantasy points all three of the playoff games. Ronald Jones is healthy and playing, but Fournette is leading the backfield right now for the Bucs. Don't expect that to change against the Chiefs. It would make sense for the Bucs to try to run a little more often to keep the Chiefs explosive offense off the field. Look for Fournette to keep his strong play going in the Super Bowl.
COLD PLAYS
Mike Evans, WR, Bucs. Evans remains a bit of a touchdown dependent player. He has scores two straight games, which is a positive, but has just four catches for 54 yards in those games. He has fewer than double-digit fantasy points three of seven games. He scored twice against the Chiefs earlier this year but had just 50 yards. The Chiefs defense is playing at a different level right now, especially the pass defense. Kansas City has allowed fewer than 235-passing yards each of their playoffs games, including their last game out against a top Bills pass offense. Evans could disappear in this one.
Clyde Edwards-Helaire, RB, Chiefs. Edwards-Helaire might be back and starting once again for the Chiefs, but that doesn't mean he belongs in fantasy lineups. He scored a touchdown his last game out but ran six times for just seven yards. He has fewer than double-digit fantasy points three of his last four games. He could have another disappearing act this week against a good Bucs rush defense. Tampa was first overall against the run in the regular season and allowed the sixth fewest fantasy points to running backs.
SLEEPERS
Rob Gronkowski, TE, Bucs. Gronkowski has been kind of the forgotten man in the playoffs for the Bucs, having two catches for 43 yards in three games. He has been targeted just seven times. He has a great rapport with Tom Brady, though, and it would not surprise if Brady looked his way more in the big game. Plus, Gronkowski had his only 100-yard receiving game all season against the Bucs in Week 12, catching six passes for 106 yards.
Sammy Watkins, WR, Chiefs. It is hard to depend on Watkins in his first game back from injury, but he has some upside for the Super Bowl. Watkins is a big-game player, having five receptions for 98 yards in last year's Super Bowl. He had at least 76 yards all three playoff games for the Chiefs last year. He might be a player to take a chance on this week. He has a high ceiling when getting the looks in this explosive offense.
High/Low Scoring Games
Each week we will take a look at some of the high and low scoring games for the coming week. In high scoring affairs, get your marginal players on those teams in your lineup to take advantage of the possible points barrage. And in the low scoring games, keep those marginal players on the bench and make sure to have your defenses involved in those contests.
High Scoring Games: Chiefs/Bucs.
Low Scoring Games: None.
Jeff Paur is a two-time finalist for FSWA Fantasy Football Writer of the Year and won the FSWA award for Best Fantasy Football Article on the Web in 2011. He also was the most accurate expert in 2012, winning the FSTA Fantasy Football Accuracy Award. If you have any questions for Jeff, email him at jeff@rtsports.com. Follow Jeff on Twitter @jeffpaur.