Free Agent Landing Spots
Thu Feb 18 2:10pm ET
By JEFF PAUR
Sr Fantasy Writer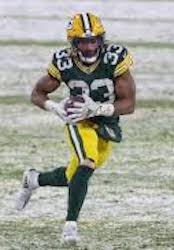 Jones is good fit for the Dolphins
We have a little while before players can officially sign with new teams (March 17), but we thought it would be fun to take a look at this year's free agent class. And as you can guess, we will examine it from a fantasy perspective. I plan to go over the top players at each position and their best landing spots from a fantasy perspective. It should be a very interesting offseason, seeing lots of top players changing teams.
QUARTERBACK
The crop of free agent quarterbacks is not very exciting. The trade market is likely where we see the most movement this offseason. Carson Wentz, Jared Goff and Matthew Stafford have already been dealt, causing all sorts of change around the league. The trade market is something to keep an eye on when it comes to this position because more players could change teams (I.e. Deshaun Watson).
With that said, Dak Prescott is the clear leader of free agent quarterbacks. He will command a huge, new deal. I can't see the Cowboys letting him go, so it makes the most sense for him to stay there. He has a great offense around him and was having a huge season before getting hurt last year. Dallas is likely the team that gets him and the team that brings him the most fantasy value. He can be a top-five quarterback in this offense.
Jameis Winston sat behind Drew Brees last year, learning from one of the best. He is free to sign with a new team, but a return to New Orleans might be best for his fantasy value. Taysom Hill looked pretty good as a starter last year, but he probably brings more value to the Saints as a gadget player. If Winston re-signs with the Saints, he gets a chance to take over in a top offense with plenty of playmakers. Plus, he had a year to learn the playbook and from one of the best. He could be a big fantasy factor with the Saints.
Cam Newton got his chance to start with the Patriots last year. He played well at times for fantasy teams in a starting role but struggled at other times. He still doesn't look comfortable throwing the ball but can help fantasy teams with his legs. He will look to start once again this year and Washington might be the best fit for him. They don't have their franchise quarterback and their head coach, Ron Rivera, is the coach that saw Newton play at an MVP level. Getting to reunite with his old coach and play in an offense that can be run heavy might be just the thing to get Newton going again.
RUNNING BACK
Much like the quarterback spot, the running back position is not very exciting in free agency this season. There really is just one player that an elite level player. There are a few other possible NFL starters that could make a difference, but nothing too exciting.
Aaron Jones is the clear top free agent back. He was a top starter for the Packers and a clear franchise back. It would not surprise to see the Packers let him go, giving A.J. Dillon the reigns at running back. This gives Jones the chance to sign with any team. For me, I think the Dolphins might be the best fit for him. He would be the clear lead back and should get more touches than he did with the Packers. Green Bay liked to rotate backs, but the Dolphins go with a more lead back mentality. Myles Gaskin provided some very good fantasy production in a lead role last year for Miami, but Jones is a much more talented player. He could really do some damage in this offense.
Much was expected from Kenyan Drake last season as the full-time starter for Arizona but he was just alright in that role. He played well at times but was a little inconsistent. Backup Chase Edmonds outplayed him at times, so look for the Cardinals to move on from him. One team that I think makes sense for Drake is San Francisco. The 49ers produce some great numbers for their running backs and Drake seems a good fit for that offense. He is a three-down back capable of the big play every time he touches the ball.
Leonard Fournette will look to cash in on his big postseason with the Bucs. He did little during the regular season, but looked great in the Bucs Super Bowl run. He will get a chance to start for some team next season. I think Fournette could be a good match with the Jets. They clearly need a starting running back and Fournette fits the mold. He can play three downs and take a lot of punishment if given plenty of work. He could help an offense that really struggled to run the ball last year and take some pressure off Sam Darnold.
The last free agent running back of note is James Conner. He has really been a bust in recent years, struggling with injury. I think the best fit for him might be to remain with the Steelers. He knows the offense and has played well as the lead back when healthy and on the field. Plus, the coaching staff still seems sold on him as their No. 1 back. And I don't like the competition much behind him.
RECEIVER

The receiver position in free agency is absolutely loaded. There are several top level players that are available. Many of these guys will be No. 1 receivers on their new teams.
It is tough to pick a top player in this class but Chris Godwin is the guy for me. He is a super talent that has produced big in recent years. I just don't see the Bucs letting him go, so I expect him to stay in Tampa. And this is a good spot for his fantasy value. He has been a top-10 fantasy receiver with Tampa, so staying there is just fine by me for him fantasy value.
Allen Robinson is another big-time receiver looking for a new team. I know there a lot better offense out there, but I actually think staying in Chicago might be best for his fantasy value. He gets a ton of volume in this offense and has next to no competition for targets. Plus, he should have a new quarterback throwing him passes this year, which should be a plus. So I'm really fine with him staying in Chicago. I think they will make a big push to sign him to a big contract.
The Lions might have gotten rid of Matthew Stafford, but I can't see them letting go No. 1 receiver Kenny Golladay. He is a free agent but he isn't going anywhere. The Lions will tag him if needed. I do like his fantasy value more elsewhere but it could be worse. Jared Goff should look his way often as the clear top target in this offense.
Will Fuller finally had that big season last year, getting to serve as the No. 1 target in the Texans offense. He will be a highly coveted player in free agency. One spot that I think looks good for him is the New York Giants. They need a No. 1 receiver for Daniel Jones. Fuller can be that guy and could get a lot of volume in that offense.
It would be weird if he wasn't with the Steelers but it sure looks like JuJu Smith-Schuster will be playing on another team next season. Pittsburgh is deep at receiver, so look for Smith-Schuster to land a big deal to take over as a No. 1 receiver with a new team. And the team that could make a big play for him to be their guy is the New York Jets. This team has lacked a top receiver in recent seasons, so getting Smith-Schuster make sense. He could get a ton of targets in that offense, having little to compete with for looks. I know the Jets passing game isn't near that of the Steelers, but I still like this as a landing spot for him. He'll get the volume.
Antonio Brown showed he still can help a team and stay out of trouble, producing well for the Bucs as their No. 3 receiver. There are other teams that likely would be better landing spots for him, serving as a No. 1 or 2 receiver, but he was happy in Tampa and likes Tom Brady so staying there seems like the best fit for Brown. He can help fantasy teams in that Bucs explosive passing game.
Curtis Samuel picked a good time to have a career season last year, posting good numbers across the board. He showed his potential as a slot receiver in a top passing game. I think the Ravens will give him a hard look this offense. He seems a good fit for their offense and I like his potential in that offense. He can run the ball as well as catch it, so that dual threat ability makes sense for that offense. He would also give Lamar Jackson a much needed upgrade at receiver.
Marvin Jones is another player that had a career season, catching a career high 76 passes last year. This should land him a good contract as a starter for some team. Many teams could use a player like Jones. I kind of like Jones in Miami. They need more weapons for Tua Tagovailoa and Jones would provide a veteran, dependable option for the young quarterback. I'm sure he would get a lot of volume in Miami.

TIGHT END
The tight end spot isn't very deep in free agency, but there are a couple solid starters available. Hunter Henry is the top option at the position. He probably hasn't lived up to expectations just yet, but the talent is certainly there for him to produce big. I would love to see him sign with the Titans. He just seems a great fit for that offense and Ryan Tannehill. The Titans need more playmakers in the passing game and Henry could be a huge threat for the team going forward.
Henry would be replacing Jonnu Smith, who is the other top tight end available in free agency. Smith had an erratic season last year as the starter for Tennessee, making most of his noise in the end zone. He scored eight touchdowns. Smith is a big-time athlete that can make plays all over the field. I think a move to Arizona would be a good one for Smith. He could give that offense another weapon in the passing game. I could see him excelling in that offense with Kyler Murray throwing him passes. Let's make it happen.
Jeff Paur is a two-time finalist for FSWA Fantasy Football Writer of the Year and won the FSWA award for Best Fantasy Football Article on the Web in 2011. He also was the most accurate expert in 2012, winning the FSTA Fantasy Football Accuracy Award. If you have any questions for Jeff, email him at jeff@rtsports.com. Follow Jeff on Twitter @jeffpaur.