Lineup Prep: Week 5
Wed Oct 6 8:41am ET
By JEFF PAUR
Sr Fantasy Writer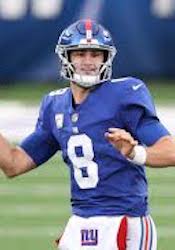 Daniel Jones is off to great start
Things are getting real. We are four weeks into the season, so standings are starting to get sorted a little. Hopefully, you are on the positive sign of things. If not, it is time to make our move now. It isn't too late by any means, but if you are 1-3 or 0-4, you better start reeling off some wins. And you can do that by making moves and the correct lineup decisions. Don't hesitate to shake things up if things aren't going well for you.

With that said, here are my random thoughts for the week. . . . .
I'm not sold on Josh Gordon by any means, but I am intrigued to see what he does this weekend. I didn't think the room was there for him to play a big role but Mecole Hardman played just 52 percent of the snaps last week, which was a season low. This could be a sign of things to come with Gordon possibly taking Hardman's role in the offense. If that happens, Gordon is going to have a few big games in this explosive offense. He is worth a speculative add in all formats. There is some potential there.
So Cordarrelle Patterson is not going to finish the season as the third ranked fantasy running back, which is where he is ranked now. But even with that said, I think he can continue to be a fantasy factor as a flex play. He has at least five receptions three straight games. Think of him like James White-type player in his prime with the Patriots. I think Patterson can continue to play a role like that, giving him continued fantasy value.
If you haven't figured it out, when it comes to the quarterback position these days, getting a player that can run and pass is a huge fantasy bonus. This helps the weekly floor of these players, getting fantasy points even when they struggle throwing the ball. Right now, five of the top-10 quarterbacks this year can get it done on the ground. And one I'm not mentioning as a running quarterback is Sam Darnold, who has five rushing touchdowns. Just remember this when selecting a quarterback in the future.
I do not think the start of Deebo Samuel is a fluke. I said before the season I thought he was the better of the two 49ers receivers to get this year, especially for the price tag. The issue with Samuel has been his ability to stay healthy. As long as he can stay on the field. I think the sky is the limit for this guy. He kind of reminds me of Anquan Boldin but with a little more speed. Samuel is the real deal.
The tight end position seems to have a different no-name player emerge every week. Last week it was C.J. Uzomah. This has been a hard position to figure out for fantasy teams. Production has been pretty all over the map except for Travis Kelce. Even Darren Waller has been a little ho hum for his owners. This could be more of the same going forward, making it a frustrating position for fantasy owners to figure out.
I think this might be the last week you can get Saquon Barkley at a decent price. I really think he is ready to start taking off. For all those owners that took a chance on him, I think they are going to be happy by season's end. He has two straight 20-plus point fantasy game and is getting a lot more touches, especially in the passing game. He has as high of a ceiling as any back in the game. Remember, he had two really poor games to start the year and is currently 10th overall in fantasy running back scoring.
I will be the first to admit a mistake and I made one with Ja'Marr Chase this year. I don't think I have any shares of him. I really thought his year off and all the weapons in the Bengals passing game was going to be a hinderance for his fantasy production. He is getting it done on a weekly basis, though, and has a great rapport with his old college quarterback, Joe Burrow. Chase is an explosive player that is going to be a fantasy star for years to come.
News and Notes:
The Chiefs activated receiver Josh Gordon from their practice squad. He is expected to make his season debut this week for the Chiefs. It is not certain what role Gordon will play, but it could be significant if he can pick up the offense quickly. . . . .The Saints are making a change at kicker. The team signed Cody Parkey and released Aldrick Rosas on Tuesday. Parkey will look to keep the job until Will Lutz is healthy enough to kick for New Orleans. . . . .San Francisco kicker Robbie Gould was injured before the game Sunday and was placed on Injured Reserve on Tuesday. The 49ers signed Joey Slye to kick for the team while Gould is out. . . . .The Cowboys released linebacker Jaylon Smith on Tuesday. This was a surprise move, letting go of Smith at this point of the season. He had fallen down the depth chart, though. . . . .The Patriots traded cornerback Stephon Gilmore to the Panthers for a 2023 sixth-round pick on Wednesday. Gilmore should make an immediate impact with his new team. . . . .The Bears announced that rookie quarterback Justin Fields will be their starter going forward.
HOT PLAYS
Daniel Jones, QB, Giants. You all had Jones as the sixth best fantasy quarterback, right? Well, that is what he ranks right now. I'm not sure he stays there but he is showing his big potential as a fantasy starter. He has 30-plus fantasy points two of his last three games. And he topped 400-passing yards last week without his two top receivers in the lineup. He plays a red hot Cowboys team this week and could be playing from behind, meaning more chances to air it out. Plus, Dallas is not good at stopping the pass. Dallas allows the fourth most fantasy points to quarterbacks and are 31st against the pass.
Zack Moss, RB, Bills. Moss opened the year on the bench but has found the end zone three straight games since sitting out Week 1. He had a season-high 14 carries last week and has double-digit carries each of the last two games. He also is the goal-line back for the Bills high-powered offense that is rolling right now. It should be a shootout with the Chiefs this week, making Moss a good candidate to find the end zone once again. Fire him up as a No. 2 fantasy back in this matchup against a team allowing the sixth most fantasy points to running backs and a league-high eight rushing touchdowns.
Hunter Renfrow, WR, Raiders. Renfrow has been the most consistent Raiders receiver. He has at least five receptions every game. He also has touchdowns two straight. Renfrow is 21st overall in fantasy receiver scoring. He should keep up his hot ways this week against the Bears. Chicago has struggled against the pass and allow the sixth most fantasy points to receivers. Renfrow is a legit No. 2 receiver for fantasy teams right now. Play him with confidence.
James Robinson, RB, Jaguars. Robinson is quickly putting behind his slow start to the season. He has been huge the last two games, getting a bigger workload offensively. Robinson has 20-plus fantasy points each of his last two games. He is now ninth overall in fantasy running back scoring. Robinson plays the Titans this week, a team that doesn't have too bad of rushing defense numbers. But those numbers are skewed some because they can't stop the pass. Robinson should do just fine in this one, posting another big game.
Corey Davis, WR, Jets. Davis is having a fine first season with the Jets. He has 20-plus fantasy points two of four games. He had a 100-yard game last week, catching four passes for 111 yards and a touchdown. With Zach Wilson getting a little better each week, this bodes well for Davis. Plus, the return of Jamison Crowder should open up some space for Davis to get open. Look for another good game this week against the Falcons, a team that allows the eighth most fantasy points to receivers and have allowed a league-high 11-passing touchdowns.
COLD PLAYS
Brandin Cooks, WR, Texans. Cooks has been one of the few bright spots for the Texans this year. He has at least five receptions every game and 18-plus fantasy points three of four games. He had a tough matchup last week, though, against the Bills and failed to top double-digit fantasy points for the first time this year. He has another tough one this week against the Patriots. New England did a great job of slowing the Bucs high-powered offense last week and should give rookie Davis Mills all sorts of problems in Week 5. This is not good news for Cooks. Plus, New England allows the fifth fewest fantasy points to receivers.
Baker Mayfield, QB, Browns. Mayfield is off to a slow start this year, ranking 26th overall in fantasy quarterback scoring. He has more than 20 fantasy points just one game. He didn't even top 200-passing yards against a bad Vikings pass defense last week. He is always capable of the big game but is more of a matchup play at this point. And a matchup this week against the Chargers is not a good one for Mayfield. The Chargers allow the fourth fewest fantasy points to quarterbacks and rank fifth overall against the pass.
Miles Sanders, RB, Eagles. Sanders had seven carries for 13 yards last week and has nine carries for 40 yards his last two games. He had 28 carries his first two games, so his touches have really decreased in recent weeks. Plus, rookie Kenneth Gainwell is getting more looks, playing a season high 39 precent of the snaps last week. This is not good news for Sanders. And with a tough matchup against the Panthers this week, Sanders might be best left on fantasy benches. Carolina allows the third fewest fantasy points to running backs.
Robert Tonyan, TE, Packers. Tonyan had a season-high seven targets last week but finished with just two receptions for eight yards. He has fewer than 10 yards three of four games. He has just one good game all year, making him a big risk for fantasy teams to use right now. Things don't look much better for him this week against the Bengals. Cincinnati allows the fifth fewest fantasy points to tight ends and allowed double-digit fantasy points just once in four games. Go with other options at tight end in Week 5.
Melvin Gordon, RB, Broncos. For the first time all season, rookie Javonte Williams played more snaps than Gordon last week. Gordon was below 50 percent of snaps plays for the first time, playing 49 percent. Gordon failed to reach double-digit carries for the first time as well, rushing nine times for 56 yards. Gordon has fewer than double-digit fantasy points two of three games. Williams is going to emerge sooner than later as the lead back for the Broncos. Gordon also had a challenging matchup this week, playing the Steelers. Pittsburgh might trending the wrong way as a team but still do well against the run, allowing the fifth fewest fantasy points to running backs while ranking 11th overall against the run.
SLEEPERS
Damien Williams, RB, Bears. David Montgomery is banged up, likely leaving Williams as the starter for the Bears this week. Williams doesn't have many touches this year but did well with his work last week, rushing eight times for 55 yards and a touchdown. He knows the offense well and has past success as a starter in the NFL. Look for big things from this week against Las Vegas. The Raiders were torched on the ground last week by the Chargers and allow the seventh most fantasy points to running backs for the season.
Christian Kirk, WR, Cardinals. Kirk had his worst game of the season last week, catching a pass for five yards on just one target. He had at least 65 yards each of his first three games before that dud. There is some good news with last week's game, though. Kirk actually played the most snaps of the season, being on the field for 72 percent of the plays. He had not been above 62 percent all season before last week. So he was on the field but just didn't get the looks. Look for that to change in Week 5, playing the 49ers. San Francisco is middle of the pack against the pass and the Cardinals should have continued success throwing the ball in this game. Kirk will rebound.
Jared Goff, QB, Lions. Goff is having a fine first season with the Lions. He has 23-plus fantasy points three of four games. He has multiple touchdowns in three of those games. He has been very consistent. We look for more of the same from Goff against the Vikings in Week 5. Minnesota allows 253.5-passing yards per game and could be up big against the Lions, giving Goff more chances to throw. He has at least 30-pass attempts every game. Goff is a good streaming play.
Dalton Schultz, TE, Cowboys. Schultz has emerged as the top tight end for the Cowboys. He played 79 percent of the snaps last week compared to 54 percent for Blake Jarwin. Schultz has six receptions three of four games. He also has touchdowns two straight. It is flying under the radar a little, but Schultz is a legit No. 1 fantasy tight end in this explosive Cowboys passing game. He should keep his hot ways going this week against the Giants, a team that allows the fourth most fantasy points to tight ends.
Mike Davis, RB, Falcons. Davis has been a real disappointment to start the season. He has not topped 50-rushing yards in a game. The only thing keeping his fantasy value somewhat decent is his work in the passing game, having 16 receptions. If Davis is ever going to have a big game on the ground, it is this week against the Jets. We know Cordarrelle Patterson is producing huge but that is in the passing game. Davis still gets more carries and that should be the case again in Week 5 against the Jets, a team that allows the most fantasy points to running backs.
High/Low Scoring Games
Each week we will take a look at some of the high and low scoring games for the coming week. In high scoring affairs, get your marginal players on those teams in your lineup to take advantage of the possible points barrage. And in the low scoring games, keep those marginal players on the bench and make sure to have your defenses involved in those contests.
High Scoring Games: Rams/Seahawks, Packers/Bengals, Lions/Vikings, Eagles/Panthers, Browns/Chargers, Giants/Cowboys, 49ers/Cardinals, Bills/Chiefs.
Low Scoring Games: Broncos/Steelers.
Jeff Paur is a two-time finalist for FSWA Fantasy Football Writer of the Year and won the FSWA award for Best Fantasy Football Article on the Web in 2011. He also was the most accurate expert in 2012, winning the FSTA Fantasy Football Accuracy Award. If you have any questions for Jeff, email him at jeff@rtsports.com. Follow Jeff on Twitter @jeffpaur.