Lineup Prep: Wild Card Weekend
Wed Jan 12 10:26am ET
By JEFF PAUR
Sr Fantasy Writer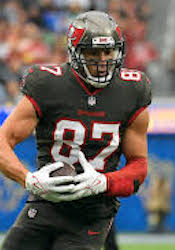 Gronkowski is setup for big game
More and more fantasy owners are playing in playoff leagues, and for good reason. They are a lot of fun contests and leagues out there these days. We run several on our site and you can click here to see all of them. Your fantasy leagues don't have to come to an end because the regular season is over. I highly suggest getting involved in a league if you can. It is a great way to get your fantasy fix a little longer. Plus, there are a lot of interesting formats for leagues, giving you a different fantasy dynamic than during the regular season. So we'll continue with this column throughout the playoffs, getting you ready for your games each week. With that said, here are my random thoughts for the week. . . . .
I think Rashaad Penny is going to be one of the toughest fantasy players to rank next year. He showed his huge potential in a starting role down the stretch and proved to be a difference maker for all the fantasy teams that had him on their roster. This was his fourth season in the league, though. The issue for Penny has always been health. He is yet to play a full season. That is going to make him a risky boom or bust pick for 2022. With a price tag that is likely to be pretty high, I'm a little worried about the big risk that comes with taking Penny. Plus, his lack of work in the passing game is a concern, having 23 catches in four seasons. That is going to limit his overall ceiling. Penny is sure to be a polarizing figure in the fantasy community next year.
I have two upsets for this weekend's games. I like the 49ers and Cardinals to both win. They are my only road winners for the weekend. I just think the 49ers have a team that is hard to match up against for any NFL team and when they are on their game, they are as good as any in the league. Plus, I think the Cowboys are a little overrated, beating up on a bad division while playing very close games against the rest of the league. Arizona was the best team in football early in the year, so I think the potential is there for them to make a run this postseason. The Cardinals are good on both sides of the ball and I trust Kyler Murray to make more big plays than Matthew Stafford this point.
Tom Brady continues to amaze me. I can't believe what he is doing at his age. He finished third overall in fantasy quarterback scoring. He threw for more than 5,000 yards and had 45 total touchdowns to just 12 interceptions. You keep thinking he has to start showing signs of age, but it just isn't happening. It is truly amazing what he is doing and I'm not counting him out to make another long playoff run despite being down two of his top receivers (Chris Godwin and Antonio Brown).
For the first time in a long time, Travis Kelce was not the top rated fantasy tight end this year. That honor went to Mark Andrews. Kelce still was a great fantasy player but I'm not sure I bite quite as high on him in drafts next year. He was a first or second round pick this year. This guy has a lot of wear and tear on his body and even missed a game this year. He remains an elite fantasy tight end, but I'm not sure he continues to post his monster numbers from past years. A decline could finally be happening for Kelce.
I see lot of people sour on D.J. Moore and I'm not sure I get it. He had another horrible quarterback situation this year, but managed to finish 17th overall in fantasy receiver scoring. He was ahead of guys like CeeDee Lamb, Tee Higgins, Terry McLaurin and Amari Cooper. Moore is a really good receiver that will benefit by getting competent quarterback play. If the Panthers can get a good option this offseason, I will like Moore even more in 2022.
If I were the Dolphins, I would be looking at another quarterback this offseason. I just don't see Tua Tagovailoa as a franchise quarterback, taking this team on a deep playoff run. He just hasn't progressed as expected. I don't think he has the arm strength to be a top NFL quarterback. He dinks and dunks too much. Miami has to be kicking themselves for passing on Justin Herbert to get Tagovailoa.
HOT PLAYS
Clyde Edwards-Helaire, RB, Chiefs. Edwards-Helaire is expected to return from his shoulder injury this week and could get a lot of work at running back with Darrel Williams hurting. He is more than capable of the big game. He has two 100-yard rushing games this year despite missing a lot of time and six touchdowns. Edwards-Helaire gets the Steelers, a team that is dead last against the run. Pittsburgh allows 146.1-rushing yards per game.
Rob Gronkowski, TE, Bucs. With the Bucs battling injuries in the passing game, Gronkowski has emerged as the top target for the Bucs late in the year. He has two straight 100-yard games and double-digit targets three of four games. He should get plenty of looks during the playoffs. And Gronkowski plays an Eagles team that has really struggled against tight ends this season. Philadelphia allows the most fantasy points to tight ends on the season.
Jalen Hurts, QB, Eagles. Hurts finished the season as the ninth rated fantasy quarterback despite missing two games. He took a big step forward this year and had plenty of big fantasy performances. He had four games with 30-plus fantasy points. He is going to have to do a lot if the Eagles hope to upset the Bucs this week. His ceiling is really high in this matchup - even if the Eagles lose. Tampa allows the ninth most fantasy points to quarterbacks and rank 21st overall against the pass.
COLD PLAYS
Jakobi Meyers, WR, Patriots. Meyers had a breakout season for the Patriots, posting the best numbers of his career. But even with that said, he didn't have a 100-yard game and had a few games that he disappeared. He is not a sure thing for big production. And a game this week against the Bills is not a favorable one for him. Buffalo allows the fewest fantasy points to receivers and are first overall against the pass. Expect the Patriots to run and run often against the Bills in this matchup.
Kyler Murray, QB, Cardinals. Murray had another very good season for his fantasy owners. He was 11th overall in fantasy quarterback scoring despite missing three games. He produced some very big games and was a consistent factor. He did slow down a bit near the end of the season, though. He had just one or no touchdowns four of his last five games. Murray also gets a Rams team that held him to two touchdowns in two games. Los Angeles allows the fifth fewest fantasy points to quarterbacks. It might be another ho-hum showing for Murray in this playoff opener.
Sony Michel, RB, Rams. Michel had a great season, serving as the No. 1 back for the Rams the second half of the season and producing big with his chances. He had one of his worse showings his last time out, though, rushing 21 times for just 43 yards. Plus, Cam Akers is back and expected to cut into Michel's playing time. Michel is no sure thing for big games in the playoffs. He also played the Cardinals just a few weeks back and ran 20 times for 79 yards without a touchdown or a catch. Arizona allows the sixth fewest fantasy points to running backs.
SLEEPERS
Ben Roethlisberger, QB, Steelers. Roethlisberger has really slowed down this season, but still had a few decent games. He has two three-touchdown games and attempted 40-plus passes five of eight games. It could be more of the same this week for Roethlisberger. The Steelers could be playing from behind, needing to throw to try to catch up. This means Roethlisberger should get plenty of chances against a Chiefs team that allows the second most fantasy points to quarterbacks.
Cedrick Wilson, WR, Cowboys. Wilson had his second 100-yard game of the season last week. He got a lot more playing time with Michael Gallup done for the season. He has 11 receptions the last two weeks, getting a lot of weekly looks for the Cowboys top passing game. Wilson gets a 49ers defense that allowed the 11th most fantasy points to receivers during the regular season. He could have another solid showing in this one.
C.J. Uzomah, TE, Bengals. Uzomah has been a pretty consistent tight end much of the year for the Bengals. He has enjoyed a few really big games along the way to go with his consistent production. Uzomah has at least three receptions six straight games if you take away last week. He was active last week but didn't get in the game because he was battling some injury issues. He'll be ready to go this week and might be an "x" factor for the Bengals. The Raiders have really struggled against tight ends, allowing the fifth most fantasy points to tight ends.
High/Low Scoring Games
Each week we will take a look at some of the high and low scoring games for the coming week. In high scoring affairs, get your marginal players on those teams in your lineup to take advantage of the possible points barrage. And in the low scoring games, keep those marginal players on the bench and make sure to have your defenses involved in those contests.
High Scoring Games: Raiders/Bengals, Eagles/Bucs, 49ers/Cowboys, Cardinals/Rams.
Low Scoring Games: Patriots/Bills.
Jeff Paur is a two-time finalist for FSWA Fantasy Football Writer of the Year and won the FSWA award for Best Fantasy Football Article on the Web in 2011. He also was the most accurate expert in 2012, winning the FSTA Fantasy Football Accuracy Award. If you have any questions for Jeff, email him at jeff@rtsports.com. Follow Jeff on Twitter @jeffpaur.