Lineup Prep: Week 3
Wed Sep 21 10:32am ET
By JEFF PAUR
Sr Fantasy Writer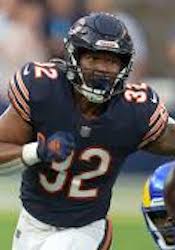 Montgomery can keep hot ways
The offenses around the league got going last week, seeing some huge fantasy performances. It was only a matter of time, right? You have to wonder if the slow start from some of these teams and offenses has to do with teams resting starters during the preseason. It might take some time for some of these offenses to get going as they get used to play with each other. Just something to keep in mind next year. Don't fly off the handle, making rash decisions after a week or two of action. Sometimes it takes time for these teams and players to get going.

Now for my random thoughts for the week. . . . .
The Bears offense might be one of the most disappointing fantasy starts for me this year. I really thought this unit could take some steps forward this year, and Darnell Mooney would be an elite fantasy option. He still has time to turn it around, so I like him as a buy-low candidate, but you have to be concerned with what you have seen to date. The offensive line has been terrible and the entire offensive scheme seems to be out of whack. Cole Kmet was another target of mine in this offense and he hasn't caught a pass. How does that even happen? This hast just been a frustrating situation to watch.
I have been slow to embrace takings receivers in the first round of drafts. Well, that might finally be changing for me after the start to this year. The running back position has been pretty bad, especially the top picks in the draft. Meanwhile, nearly all of the receivers picked early are producing and producing big. There is just a lot less risk when it comes to the receiver spot. The running back position is a lot more volatile. Things could change as the season progresses, but I'm starting to be a believer of going receiver early in drafts.
I know he is third in quarterback scoring right now, but I don't trust Carson Wentz at all. I do think he will continue to have some big games in this offense, but I also think he will disappear at times. I consider him more of a top QB2. The good news is he has some good pieces around him and an offense that seems to suit him pretty well. Remember, he played the Jaguars and Lions to open his season, two favorable matchups. He is going to come back down to earth. Plus, we all know how erratic he can be any given week. You just never know what you are going to get with him.
This year's rookie crop of receivers is sure living up to the hype. These youngsters have been great and should just keep getting better. This class might go down as one of the best ever at the receiver spot. Garrett Wilson, Jahan Dotson, Chris Olave, Treylon Burks and Drake London are all making an impact already. These guys are quickly acclimating to the pro game and could be elite fantasy players sooner than later.
I am a little worried about Derrick Henry. He has 34 carries for 107 yards in two games. He also has just a catch, so his fantasy production has not been good. He looks huge and can still break tackles with the best of them, but I don't think he looks quite as explosive as he has in the past. He has time to get it going but you have to wonder if his age and returning from a major foot injury is finally catching up with him.
The Eagles sure look like the real deal after two games. Jalen Hurts seems to have taken his game to a new level, making plays all over the field as a passer and runner. The addition of A.J. Brown has been huge for this offense and Hurts. And the running game has been near unstoppable with Miles Sanders and Hurts leading the way. This is a balanced offense with a ton of playmakers. Philadelphia is the real deal and could contend for a Super Bowl title.
D'Andre Swift had seven touches and finished with 16.7 fantasy points last week. This guy is unreal. Let's hope he can get healthy in a hurry and get those touches back up. If that happens, he can be the top fantasy running back in the game this season. He might be the most explosive back in the game right now. As always, health seems to be the only thing holding him back. Get that ankle better!
News and Notes: The Bucs signed receiver Cole Beasley on Tuesday, Sept. 20. He gives the team some much needed depth at the position and could quickly find his way into the lineup. . . . .The 49ers promoted running back Marlon Mack to the active roster on Tuesday. He adds some depth to the 49ers backfield, likely serving as the No. 3 back for the team. . . . .Bucs receiver Mike Evans was suspended one game because of his fight during the Week 2 contest. He is appealing the suspension, though, and should know his status for this week's game before the week is out.
HOT PLAYS
Kirk Cousins, QB, Vikings. Look for Cousins to rebound in a big way this week. He had a tough matchup on the road last week against a good Eagles team. He did not play well and never seems to play well when on a prime time game. Well, that won't be the case this week when he gets the Lions. Detroit has been involved in shootouts to start the season. The Lions allow the third most fantasy points to quarterbacks and are 27th overall against the pass. Don't hesitate to put Cousins back in your lineup Week 3.
Miles Sanders, RB, Eagles. Sanders is off to a fast start to this season. The Eagles are still rotating backs, but Sanders is getting the most work right now. He has 30 carries his first two games and double-digit fantasy points each of those games. He has at least 85 total yards each of his first two games and multiple receptions each of those games. Sanders should continue to post good numbers this week against the Commanders. Washington allows the sixth most fantasy points to running backs.
Tyler Higbee, TE, Rams. The tight end position is a disaster right now, but Higbee has been a bright spot. He had 14.1 fantasy points last week and been targeted 20 times in two game. Sure, he has some drops, but he is getting a lot of looks and posting consistent numbers. He is a legit TE1 for fantasy teams. He can produce once again for fantasy teams this week against the Cardinals, a team that has struggled to stop the tight end to start the year. Arizona allows the most fantasy points to tight ends
Jakobi Meyers, WR, Patriots. Meyers has double-digit fantasy points each of his first two games. He is the top targets in the Patriots passing game. He had 13 targets last week and finished with nine receptions for 95 yards. He is a consistent target in the Patriots passing game. Meyers can keep up his solid production in Week 3 against the Ravens. Baltimore is a disaster against the pass and allow the most fantasy points to receivers.
David Montgomery, RB, Bears. Montgomery was one of the few bright spots for the Bears last week. He had a 100-yard game last week, rushing 15 times for 122 yards. He has at least 17 touches each of his first two games. He is getting a lot of work and should get plenty again this week in an offense that has been a mess. Montgomery has been producing and should post good numbers against the Texans. Houston is 30th against the run, allowing 163-rushing yards per game.
COLD PLAYS
Jarvis Landry, WR, Saints. Landry had a great showing in the opener but did next to nothing last week against a very good Bucs defense. He had four receptions and played the least amount of snaps (68 percent) out of the big three Saints receivers. He isn't really a plug and play fantasy option in his current role and at this stage of his career. Landry is probably best to sit this week against the Panthers, a team that has allowed the fewest fantasy points to defenses.
Devin Singletary, RB, Bills. Singletary is getting the most playing time at running back for the Bills to start the season. He played 59 percent of the snaps Week 1 and 54 percent last week. This is good news for Singletary. The bad news is he is yet to top 50-rushing yards and has not hit double-digit fantasy points just yet. He is a hard player for fantasy teams to trust, especially this week against the Dolphins. Miami allows the fewest fantasy points to running backs after two games.
Tom Brady, QB, Bucs. It is always hard to bet against Brady, but things don't look great for him this week. He is going to be without Mike Evans (suspended) and his other main targets are hurting. It could be another long week for Brady throwing the ball. He is yet to have more than 14 fantasy points in a game this year and still doesn't have multiple touchdowns in any game. It is probably best to just leave Brady on your bench, especially this week against the Packers. Green Bay is fourth overall against the pass and looked great defensively last week, not allowing the Bears to do anything through the air.
Melvin Gordon, RB, Broncos. Gordon has double-digit carries each of his first two games, but is yet to have double-digit fantasy points. It seems a changing of the guard might finally be happening in Denver. Gordon played 32 percent of the snaps last week compared to Javonte Williams playing 65 percent. Gordon is going to be a hard play for fantasy teams going forward. He will be boom or bust. The Broncos play the 49ers in Week 3, a team that allows the seventh fewest fantasy points to running backs.
Zach Ertz, TE, Cardinals. Ertz got a lot of targets last week, getting 11 looks in the game. He played well, catching eight passes for 75 yards. Ertz had just two catches in Week 1, though, so he hasn't been great all season. He can be hit or miss, especially in a tough matchup. And this week's game against the Rams is a tough one for Ertz. In two games against the Rams last year, Ertz had eight receptions for 63 yards. He had fewer than double-digit fantasy points each of those games. The Rams allow the second fewest fantasy points to tight ends after two games this year.
SLEEPERS
Dameon Pierce, RB, Texans. Pierce was much more involved in the offense in Week 2. He played 62 percent of the snaps at running back and had 15 carries for 69 yards against a good Broncos defense. His fantasy numbers weren't great, but he got a lot of work and was on the field often. If that is the case again this week, Pierce should produce his best numbers to date. Pierce gets a Bears defense that is dead last against the run, allowing 189.5-rushing yards per game.
Donovan Peoples-Jones, WR, Browns. Peoples-Jones was a bust last week, failing to catch a pass. He did play 78 percent of the snaps, though, so he was on the field often. And he played 83 percent of the snaps in the opener and caught six passes for 60 yards on 11 targets. Don't get too down on him after a bad game. He is getting plenty of playing time and should see an uptick in targets in Week 3 against the Steelers. Pittsburgh is 30th overall against the pass and allow the fourth most fantasy points to receivers.
Marcus Mariota, QB, Falcons. Mariota is 12th overall in fantasy quarterback after two games. He has showed his fantasy potential, having multiple touchdowns last week against a good Rams defense and 72-rushing yards in the opener. Mariota has a high floor because of his ability to make plays with his legs. He can be a good spot play this week, especially this week against Seattle. The Seahawks are 24th overall against the pass, allowing 257-passing yards per game.
Chase Claypool, WR, Steelers. Claypool leads the Steelers receivers in playing time, playing 92 percent of the snaps each of his first two games. He has not done much with his playing time, having four receptions each of his first two games. Claypool is getting the looks, though, so that is a positive. He has 12 targets in two games and been on the field a ton. It just seems a matter of time before he posts a big game. And we think that might happen this week against the Browns, a team that allows the seventh most fantasy points to receivers.
Jordan Mason, RB, 49ers. Mason is yet to have a carry this year, but is set to take over as the No. 2 back for the 49ers because of injury. The 49ers backup played 39 percent of the carries last week. This bodes well for Mason, who showed well in the preseason and earned the trust of his coaching staff with his play. The 49ers get a struggling Broncos team this week. Mason has some potential as a flex play in deeper formats. He could post some decent total yardage numbers in this matchup.
High/Low Scoring Games
Each week we will take a look at some of the high and low scoring games for the coming week. In high scoring affairs, get your marginal players on those teams in your lineup to take advantage of the possible points barrage. And in the low scoring games, keep those marginal players on the bench and make sure to have your defenses involved in those contests.
High Scoring Games: Bills/Dolphins, Eagles/Commanders, Jaguars/Chargers, Chiefs/Colts, Lions/Vikings, Rams/Cardinals.
Low Scoring Games: Steelers/Browns, Falcons/Seahawks, Texans/Bears, Cowboys/Giants.
Jeff Paur is a two-time finalist for FSWA Fantasy Football Writer of the Year and won the FSWA award for Best Fantasy Football Article on the Web in 2011. He also was the most accurate expert in 2012, winning the FSTA Fantasy Football Accuracy Award. If you have any questions for Jeff, email him at jeff@rtsports.com. Follow Jeff on Twitter @jeffpaur.