Waivering: Week 2
Tue Sep 12 8:31am ET
By JEFF PAUR
Sr Fantasy Writer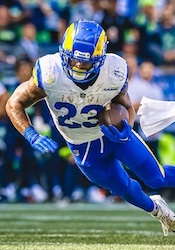 Williams is worth grabbing
Unfortunately, we have already seen a few major injuries. This will cause the waiver wire to be quite busy to find replacements. Plus, you always have the players that come out of nowhere in Week 1 that went undrafted. The big question is will those players continue to produce or be one-week wonders. It is a tough juggling act when it comes to those guys. You can't ignore them, but you also can't overpay for some of them. The big thing is to look at playing time. If these guys have a path to playing time, then good things can continue to happen. Just keep that in mind after one week of action.

QUARTERBACKS (owned %)
Mac Jones, Patriots (22.7%). The new Patriots offense sure looked a lot better than last year, including Jones. He scored three touchdowns and finished with 28.3 fantasy points against a good Eagles defense. It was a great first start and encouraging for his fantasy value the rest of the way. He could end up being a good spot play for fantasy teams.
Jordan Love, Packers (57.9%). Love looked great in his debut as the Packers new starting, franchise quarterback. He scored 25.5 fantasy points, throwing three touchdown passes. He sure looked the part of a true NFL quarterback. This might be the last week you can get him on waivers.
C.J. Stroud, Texans (30.2%). Stroud had a tough road matchup to open his career, but didn't seem phased at all. He was 28-of-44 for 242 yards and ran for 20 yards. He didn't score a touchdown but also didn't throw an interception. He is only going to get better as the season progresses and he gets more favorable matchups.
RUNNING BACKS (owned %)
Gus Edwards, Ravens (40.4%). The injury to JK Dobbins opens the door for a new starter in Baltimore. Edwards should get first shot. He was the best back last week after Dobbins went down, rushing eight times for 32 yards. It might be a timeshare but of the backs to own right now, Edwards probably has the best shot to start.
Justice Hill, Ravens (2.0%). Hill also got work when Dobbins got hurt but didn't do much with it besides finding the end zone. He ran eight times for just nine yards but scored two touchdowns. Hill will get his chances going forward as well but will need to play better to earn a bigger role in this offense.
Joshua Kelley, Chargers (41.5%). Kelley got plenty of work as the Chargers No. 2 back last week. He was used more than your typical backup, running 16 times for 91 yards and a touchdown. Kelley could get consistent work in the offense this year, making him more than a handcuff for Ekeler owners.
Tyler Allgeier, Falcons (76.1%). It was not sure how much Allgeier would be used with Bijan Robinson around. Well, Allgeier actually had the most carries and got the goal-line work. He ran 15 times for 75 yards and two scores. He is going to be used plenty this year in a run-heavy offense - even with Robinson around.
Kenneth Gainwell, Eagles (75%). Gainwell absolutely dominated the work at running back for the Eagles in Week 1. He got nearly all the work with Rashaad Penny inactive and De'Andre Swift barely seeing the field. At this point, it seems Gainwell is the clear lead back in this offense. He should be owned in all formats.
Kyren Williams, Rams (27.7%). Cam Akers started and led the Rams in carries, but was not effective. Williams was the best back and played well with his work. He scored two touchdowns and finished with 17.4 fantasy points. It would not surprise if Williams takes over as the starter at some point this season for the Rams.
WIDE RECEIVERS (owned %)

Puka Nacua, Rams (7.1%). The absence of Cooper Kupp opened the door for Nacua in Week 1 and he more than took advantage. He was the leading receiver with 15 targets. He had 10 receptions for 119 yards. Nacua has real value right now in this Rams offense. He could rack up the weekly targets.

Tutu Atwell, Rams (1.7%). Atwell hit the 100-yard mark in Week 1, catching six passes for 119 yards on eight targets. He got chances to make some big plays and took advantage. Atwell is going to be a big part of the Rams offense as long as Kupp is out of the lineup.
Rashid Shaheed, Saints (18.5%). Shaheed got some late-round love by fantasy owners and showed why in the opener. He had 20 fantasy points, having five receptions for 89 yards and a touchdown. He also ran twice for 11 yards. It was an impressive showing for Shaheed, who looks to be getting plenty of weekly work for the Saints.
Kendrick Bourne, Patriots (2.3%). Bourne was the surprise leading receiver for the Patriots, getting a lot more looks than JuJu Smith-Schuster. Bourne had six receptions for 64 yards and two touchdowns on 11 targets. Bourne has a real opportunity for playing time and targets in this new Patriots. This opener probably wasn't a fluke.
Robert Woods, Texans (8.5%). Woods has been quiet in recent seasons but a move to Houston could be a good one for his career. He is starting and got plenty of work Week 1. He caught six passes for 57 yards on 10 targets. With the Texans possibly playing from behind a lot, Woods could post some good games this season because of the volume.
Allen Robinson, Steelers (10.6%). Robinson could be getting a bigger role in the Steelers offense if Diontae Johnson has to miss any time because of his hamstring injury. Robinson had five receptions for 64 yards on eight targets to open his season. He would have some short-term fantasy value if given a chance to start.
TIGHT ENDS (owned %)
Hunter Henry, Patriots (28.0%). Henry was a big part of the Patriots offense in Week 1. He caught five passes for 56 yards and a touchdown on six targets. The Patriots love to use the tight end, so don't discount Henry this year. He has a high weekly season.
Luke Musgrave, Packers (40.2%). Musgrave looked solid in his NFL debut, catching three passes for 50 yards on four targets. He should continue to have a weekly role in this offense as their top pass-catching tight end.
Hayden Hurst, Panthers (16.4%). We think Hurst was overlook come draft day and his first week showed that. He had five receptions for 41 yards and a touchdown. His yardage totals might not be off the charts every week but he should get the volume as a safety net for Bryce Young.
Jeff Paur is a two-time finalist for FSWA Fantasy Football Writer of the Year and won the FSWA award for Best Fantasy Football Article on the Web in 2011. He also was the most accurate expert in 2012, winning the FSTA Fantasy Football Accuracy Award. If you have any questions for Jeff, email him at jeff@rtsports.com. Follow Jeff on Twitter @jeffpaur.