Undervalued Players
Thu Mar 18 10:28am ET
By MIKE BARNER
Contributing Writer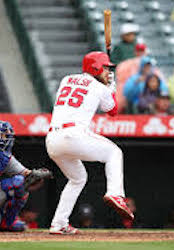 Walsh is worth a late-round pick
We are in the heart of fantasy baseball draft season. If you're looking for some players to target in the later rounds, we've got you covered. Here are six undervalued players that could end up being much more than just roster filler.
Jared Walsh, 1B, Los Angeles Angels: ADP 208
Walsh had a monster season at Triple-A in 2019, hitting .325 with a .423 OBP and 36 home runs. He was eventually called up to the majors, but he struggled, hitting .203 with a 40.2 percent strikeout rate across 87 plate appearances. However, he put that behind him in 2020, hitting .293 with nine home runs and a .354 ISO across 108 plate appearances. The big difference? He cut his strikeout rate down to 13.9 percent.
While it's unlikely that Walsh will continue to make contact at his 2020 rate, he wasn't a huge strikeout hitter during most of his stops in the minors. He's in line to play the majority of the Angels' games at first base this season, and he could find himself hitting ahead of the likes of Mike Trout and Anthony Rendon. I'd much rather take a chance on Walsh than the strikeout machine that is Miguel Sano, who has an ADP of 194. He could even end up providing similar numbers as Eric Hosmer, who has an ADP of 161.
Marcus Stroman, SP, New York Mets: ADP 216
Maybe this is a case of out of sight, out of mind with Stroman. After initially suffering a calf strain before the start of 2020, he eventually decided to opt out of the season. Now healthy, he's shown good velocity in the spring, and he should be a key member of the Mets' starting rotation behind Jacob deGrom and Carlos Carrasco.
Stroman isn't exactly a sexy fantasy option given his lack of strikeout upside. However, he's never had a FIP over 3.91 during his career and he does a great job limiting home runs, allowing 0.83 of them per nine innings. He's a heavy groundball pitcher, so he should be aided by the addition of Francisco Lindor at shortstop. If you've drafted some big-time strikeout pitchers in the early rounds, grabbing Stroman this late to be your third or fourth starter could leave you with a strong starting staff.
C.J. Cron, 1B, Colorado Rockies: ADP 240
Cron had been a reliable source for power entering 2020, slugging at least 25 home runs in both of the previous two seasons. He also batted exactly .253 in both of those campaigns, so he wasn't exactly selling out for power. A knee injury limited him to just 13 games last year, although he still managed to slug four home runs and three doubles.
Despite his power numbers, Cron now finds himself on his fifth team in the last five seasons. The Rockies have a hole at first base, so Cron is likely to receive regular playing time there. Although their lineup isn't nearly as potent as it has been in year's past, Cron getting to play half of his games at Coors Field could help him surpass his previous career-high of 30 home runs in a season.
Aaron Hicks, OF, New York Yankees: ADP 267
It's pretty clear why Hicks is going this late in drafts. The guy just can't stay healthy. He's played at least 100 games in a season only twice in his career and has never topped 137 games in a season. His best campaign came back in 2017 when he posted a .833 OPS to go along with 27 home runs, 79 RBI, 90 runs scored and 11 steals.
There is always injury risk that comes with drafting Hicks. Also, while he walks a ton, he only has a career .235 batting average. Still, he has a combination of power and speed, and is projected to hit towards the top of the potent Yankees' lineup. This late in drafts, he could be well worth the risk.
David Peralta, OF, Arizona Diamondbacks: ADP 288
Did Peralta put up flashy power numbers in 2020? No. However, it's difficult to complain about a player that hit .300 with five home runs and 34 RBI across 54 games. He posted a 20.6 percent strikeout rate and has never finished with a strikeout rate higher than 23 percent, which has helped him bat .291 for his career. He does have a 30-home run season to his name, but that performance in 2018 was likely an outlier given that he hasn't hit more than 17 in any other season of his career.
Peralta is expected to hit in the middle of the Diamondbacks' lineup, although it's not exactly one of the more potent lineups in the league. Still, it's not easy to find a player who has as high of a floor as he does this late in drafts. Expecting him to bat around .275, while approaching 20 home runs and 75 RBI, is certainly not out of the question.
Ryan Yarbrough, SP, Tampa Bay Rays: ADP 297
The Rays were one of the first teams to deploy the opener strategy and Yarbrough is one of the key players that they use to bring in to pitch the bulk of the innings after. He only started 20 of his 66 appearances during his first two seasons in the majors, but he logged at least 141 2/3 innings in both campaigns. He did start nine of 11 appearances last season, finishing with a 3.56 ERA that was supported by a 3.80 FIP.
Yarbrough doesn't strike out many batters, but he generally does a good job of inducing weak contact, allowing a 26.3 percent hard-hit rate for his career. He's also had excellent control, which has helped him produce a career 1.15 WHIP. Whether he starts or follows an opener, it really doesn't matter in fantasy, unless your league counts quality starts. Following an opener might actually be better for Yarbrough because he could have more opportunities to earn wins. He's basically free this late in drafts, so don't hesitate to select him, should the opportunity present itself.
Mike Barner has been covering fantasy sports since 2007. His work has appeared in Sports Illustrated, Yahoo, SportsLine and RotoWire. Mike was also a finalist for the 2018 FSWA Basketball Writer of the Year award. Follow Mike on Twitter @rotomikebarner.