Lineup Prep: Week 8
Wed Oct 28 10:00am ET
By JEFF PAUR
Sr Fantasy Writer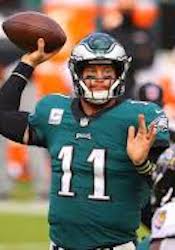 Wentz just keeps producing
It is getting to make or break time for many fantasy teams. Your season isn't over yet if you are struggling, but you are getting close to the point of no return. Make your move now. If you need to make a trade or bench a struggling starter to provide a spark to your team, go for it. Sitting back and doing nothing is likely not going to work. Get after it!

Now for my random thoughts for the week. . . . .
Lamar Jackson had a record-breaking season last year, averaging 28.6 fantasy points per game. He had a season for the ages, leading many fantasy teams to championships. But if you can believe this, there are two quarterbacks right now averaging more than 30 fantasy points per game. I think this is getting overlooked a little. Both Russell Wilson and Kyler Murray are on pace for monster seasons. Wilson is first overall in scoring right now, averaging 33.7 points per game. And Murray isn't too far behind, averaging 31.9 points per game. These guys are off to tremendous starts to their season. Don't take them for granted.
Josh Allen has cooled since his awesome start to the season. He has fewer than 22 fantasy points three straight games. He had 35-plus fantasy points each of his first three games. Remember, those games came against the Jets, Dolphins and Rams. He has struggled a little in tougher matchups against the Titans and Chiefs. He is still having a great year but it was going to be hard for Allen to keep his pace from the start of the year. He is coming back down to earth a little. I still think he is a top-10 fantasy quarterback but isn't in the same category as guys like Mahomes, Watson and Wilson.
While I'm worried about all options in the Cowboys passing game going forward, I am not too worried about Ezekiel Elliott. I'm good with him going forward despite all the issues in Dallas right now. I still think he'll produce big despite his recent ball security issues. He can rack up the rushing yards and receptions in this offense. Elite backs are hard to come by this year, so I would hold tight if you own Elliott. Don't give up on him after a bad showing in Week 7.
Cole Beasley might be the most underrated player in fantasy. He is 21st in fantasy receiver scoring and the model of consistency. Beasley had a huge game last week, catching 11 passes for 112 yards. But even before that, he had at least four receptions all but a game. He has at least 11 fantasy points all but the first game of the season. He gets his weekly looks and has some big-game ability because of his reception potential. He isn't flashy but gets it done. I'm not sure how he is still available in 25 percent of leagues. Crazy.
The Texans offense is starting to get it going and Brandin Cooks is a big reason way. He is getting on the same page as Deshaun Watson and producing big. Cooks is fourth overall in fantasy receiver scoring his last three games. He has at least seven receptions three straight games and scores two of those games. His slow start is becoming a distant memory for fantasy teams. Cooks is a must start right now in this offense.
I thought he would have a drop off this year with Tom Brady gone, but I didn't see this coming from Julian Edelman. At this point, I think he can be dropped in leagues. He has fewer than seven fantasy points four straight games. He has fewer than 40 yards all four of those games. Edelman has been a nonfactor since Week 2 and I don't see a sudden turnaround, especially with Cam Newton struggling. Edelman also finally looks to be slowing down. He has a lot of wear and tear on those tires, so slowing down isn't a big surprise.
News and Notes: The Ravens signed receiver Dez Bryant to the practice squad on Tuesday. Bryant will try to work his way back on the active roster but nothing is a given at this stage of his career. . . . .The Rams released kicker Samuel Sloman on Tuesday. Sloman was erratic in a starting role for the Rams, causing them to make the switch. Kai Forbath should take over the kicking duties for the Rams going forward. . . . .Carolina released cornerback Eli Apple on Tuesday. Apple was battling injury, so this isn't a surprise move, especially with the team looking for better options in the secondary. . . . .The Cowboys traded defensive end Everson Griffen to the Lions for a conditional sixth-round pick in the 2021 NFL Draft. Griffen provides a pass rusher off the edge for the Lions.
HOT PLAYS
Justin Herbert, QB, Chargers. Herbert is 11th overall in fantasy quarterback scoring and second overall his last three games. He is playing at a super high level for fantasy teams and about a must weekly start. He has two straight games with four touchdowns and three-touchdown games three straight. Herbert has at least 21 fantasy points all five games he has played this year. Expect more of the same this week against a middle of the road Broncos pass defense.
Brandon Aiyuk, WR, 49ers. Deebo Samuel is hurt again, leaving Aiyuk has the top receiver left on the roster. Aiyuk had his first 100-yard game as a pro last week and scored a touchdown the previous game. The entire 49ers offense is looking better in recent weeks, making their players better fantasy plays. Aiyuk can have more success this week against the Seahawks, a team that allows the most fantasy points to receivers and are dead last against the pass, giving up 369-passing yards per game.
Kareem Hunt, RB, Browns. Hunt hasn't been spectacular but solid as the starter for the Browns with Nick Chubb out. He had 102 total yards and a touchdown his last time out. He has scores all but two games this year. Hunt has fewer than 12 fantasy points all but a game. Hunt is a solid No. 1 for fantasy teams and should keep his hot ways going this week against the Raiders. Las Vegas has allowed the second most fantasy points to running backs and a league-high 12-rushing touchdowns.
Carson Wentz, QB, Eagles. Wentz is flying under the radar a little because his team is a mess, but he is 10th overall in fantasy quarterback scoring. And he is fifth overall his last three games. Wentz has been producing despite multiple injuries at receiver and tight end for the Eagles. Wentz has two straight with 32-plus fantasy points. He has five straight multiple touchdown games. Wentz should continue his hot ways against a terrible Cowboys defense. Dallas has allowed 16 passing touchdowns compared to just one interception.
Tyler Boyd, WR, Bengals. Boyd had his best fantasy game of the season last week, catching 11 passes for 101 yards. This was his third game of the year with more than 20 fantasy points. He has clearly emerged as the top target in the Bengals passing game, having at least four receptions every single game this year. Another good game is expected this week against the Titans, a team that allows the fourth most fantasy points to receivers.
COLD PLAYS
D'Andre Swift, RB, Lions. Swift is gaining value and getting more chances in recent weeks but Adrian Peterson still had more carries than him last week for some reason. Swift failed to reach double-digit carries in the game after having 14 carries for 116 yards in Week 6. You have to wonder what the Lions are thinking, giving Peterson more work than Swift at this point of the season. It is hard to trust Swift just yet, especially in a tough matchup. And he has a tough matchup this week anginas the Colts, a team that is third overall against the run. If you have better options, you might want to go with them in Week 8.
Tua Tagovailoa, QB, Dolphins. I'm excited to see Tagovailoa get the start this week, making his first NFL start. He has a lot of potential in a starting role because he is a bit of a dual threat and will start in an offense that likes to throw the ball. Ryan Fitzpatrick has been producing well for fantasy teams in a starting role this year. You might want to temper your expectations for Tagovailoa in his first game, though. He has a tough matchup against the Rams, a team playing much better defense in recent weeks. Los Angeles has a top pass rush and maybe the best cover corner in the game in Jalen Ramsey. The Rams allow the sixth fewest fantasy points to receivers.
Marquise Brown, WR, Ravens. Brown isn't having quite the breakout season most expected this year. He has just one touchdown and fewer than 10 fantasy points three of six games. He has been hit or miss in an offense that has struggled at times to throw the ball. It might be more of the same for Brown this week against Pittsburgh. Brown had five receptions for 37 yards in two games against the Steelers last year. Pittsburgh is sixth overall against the pass this season.
CeeDee Lamb, WR, Cowboys. Lamb had his first down game of his career last week, going without a catch. He was targeted five times in the game but couldn't connect with Andy Dalton and Ben DiNucci. This is a concern going forward, especially if DiNucci has to start this week for the Cowboys. The matchup isn't bad on paper, playing the Eagles, but it is hard to trust any pass catcher in the Cowboys offense with DiNucci as the starter. We would downgrade all options, including Lamb. You really might want to consider other options in Week 8.
Marquez Callaway, WR, Saints. Callaway was the surprise leader for the Saints at receiver last week, catching eight passes for 75 yards on 10 targets. He has been getting more looks in recent weeks because of all the injuries at receiver for the Saints, having 16 targets his last two games. Callaway is no sure thing in this offense, though, especially with Michael Thomas having a chance to return this week. Callaway also has a really tough matchup against a good Bears pass defense. Chicago allows the third fewest fantasy points to receivers. Callaway is probably someone to stay away from this week despite his good showing last week.
SLEEPERS
Teddy Bridgewater, QB, Panthers. Bridgewater topped 20 fantasy points once again last week, making that four of seven games hitting that mark. He was 23-of-28 for 254 yards and two touchdowns on the road against the Saints. He also didn't turn the ball over. Bridgewater has 235-plus passing yard all but a game this year. He has multiple touchdowns three of four games. He gets a Falcons team he played in Week 5, throwing for 313 yards and two touchdowns against. Atlanta allows the most fantasy points to quarterbacks this year.
La'Mical Perine, RB, Jets. Perine got the most work of his career last week, rushing 11 times for 39 yards and a touchdown. He also had two receptions, giving him 13 total touches. He is getting more chances in an offense looking towards the future. It makes sense for the Jets to phase out Frank Gore and see what they have in Perine. The Jets have a good matchup for the running game this week, playing the Chiefs. Kansas City is 30th against the run, allowing 150-rushing yards per game.
Nelson Agholor, WR, Raiders. Agholor had his first 100-yard game of the season last week and has scores three straight games. He has at least 14 fantasy points three straight games. He is getting his weekly chances for the Raiders and making plays. Agholor is a player to consider using for fantasy teams, especially if you need help this week because of a bye or injury. He plays the Browns, a team that allows the second most fantasy points to receivers.
Jimmy Graham, TE, Bears. Graham continues to get his weekly chances for the Bears. He had five receptions last week and has five catches each of his last two games. He has at least three receptions all but a game for the Bears. He isn't explosive but consistent and a top red-zone target. It wouldn't surprise to see his yardage numbers increase this week, though, playing the Saints. New Orleans really struggles to stop the tight end, allowing the second most fantasy points to tight ends.
JaMycal Hasty, RB, 49ers. Hasty is kind of the last man standing for the 49ers with Jeff Wilson getting hurt last week. Hasty and Jerick McKinnon are the top two backs left for the team for Week 8. Hasty has been getting more work in recent weeks, having nine carries each of his last two games. He had 73 total yards on 10 touches last week. He should get double-digit touches again this week, giving him some fantasy potential in a game that should be high scoring.
High/Low Scoring Games
Each week we will take a look at some of the high and low scoring games for the coming week. In high scoring affairs, get your marginal players on those teams in your lineup to take advantage of the possible points barrage. And in the low scoring games, keep those marginal players on the bench and make sure to have your defenses involved in those contests.
High Scoring Games: Falcons/Panthers, Titans/Bengals, Vikings/Packers, Steelers/Ravens.
Low Scoring Games: Colts/Lions.
Bye Weeks: Cardinals, Washington, Jaguars, Texans.
Jeff Paur is a two-time finalist for FSWA Fantasy Football Writer of the Year and won the FSWA award for Best Fantasy Football Article on the Web in 2011. He also was the most accurate expert in 2012, winning the FSTA Fantasy Football Accuracy Award. If you have any questions for Jeff, email him at jeff@rtsports.com. Follow Jeff on Twitter @jeffpaur.