Waivering: Week 8
Tue Oct 27 10:50am ET
By JEFF PAUR
Sr Fantasy Writer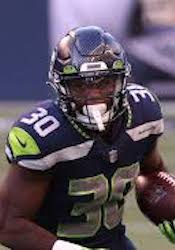 Carlos Hyde could start Week 8
There were a decent amount of injuries last week, making for a few more options on the waiver wire. Remember, the backup doesn't always mean great things in a starting role but there is always potential for any stater in the NFL. Sometimes it just takes a chance to play to make a name for yourself in the NFL. Maybe one of the guys on the list this week becomes a difference maker for fantasy teams the rest of the way. You never know, right?
QUARTERBACKS
Baker Mayfield, Browns. Mayfield was dropped in a lot of leagues last week after his disaster of a game against the Steelers. Well, he put that behind him in a hurry, posting his best game of the season in Week 7. Mayfield had five touchdowns passes and threw for 297 yards. He almost had more touchdown passes (five) than incompletions the game (six). Mayfield isn't going to do that every week, but showed his potential when all is right for him. He is available in 49 percent of leagues on our site.
Kyle Allen, Washington. Allen had his second straight start with multiple touchdowns. He has at least 18 fantasy points each of his two starts. Allen has been productive in a starting role for the Redskins and should continue to start. Allen has some streaming value in the right matchup.
RUNNING BACKS
JaMycal Hasty, 49ers. Hasty had nine carries for the second straight games. He had a season high in rushing yards, running nine times for 57 yards in Week 7. And with Jeff Wilson hurt, Hasty could be setup for a little more work going forward for the 49ers. He has some value in this run-heavy offense.
La'Mical Perine, Jets. Perine got the most work of the season last week, rushing 11 times for 39 yards and a touchdowns. He has 18 carries the last two games. The Jets might as well see what they have with the young back, especially with their season going nowhere. He could start to get more work than starter Frank Gore the next few weeks.
Carlos Hyde, Seahawks. Chris Carson has a foot injury and is expected to miss some time. This leaves Hyde as the starter for the Seahawks. He has good fantasy value in this role, getting a chance to start for a very good offensive team. Hyde had 68-rushing yards and a touchdown in an expanded role last week. He is available in 61 percent of leagues.
Wayne Gallman, Giants. Devonta Freeman hurt his ankle last week, leaving Gallman as the lead back for the Giants. Gallman had 54 total yards and a touchdown. He even caught five passes in the game. Gallman won't be a huge fantasy producer in a starting role but has some value to fantasy teams if he gets some starts. Freeman has a chance to miss some games, making Gallman a player worth looking at grabbing for fantasy teams in need of running back help.
WIDE RECEIVERS
Brandon Aiyuk, 49ers. Aiyuk had a touchdown in Week 6 and followed that with his first 100-yard game of his career last week. Aiyuk had six receptions for 115 yards. The 49ers offense is starting to click in recent weeks, so don't be surprised if Aiyuk starts getting more chances in the passing game. He is available in 36 percent of leagues.
Scotty Miller, Bucs. Miller had his best game of the season last week, catching six passes for 109 yards and a touchdown. He has 80-plus yards three of his last four games. His value might not be too high for long with Antonio Brown in the mix but until Brown is playing, Miller can help fantasy teams. He gets his weekly chances.
Marquez Callaway, Saints. Callaway was the surprise leader for the Saints in receiving last week with the team having all sorts of injury issues at the position. Callaway had eight receptions for 75 yards on 10 targets. He has 16 targets the last two games and has some fantasy value as long as the Saints continue to have injuries to starters at receiver.
Rashard Higgins, Browns. Higgins got a chance for an expanded role last week because of an injury to Odell Beckham. Higgins had a huge game with more work, finishing with six receptions for 110 yards. He has touchdowns two of three games and should start the rest of the way for the Browns. Higgins might be a little hit or miss, but has some streaming potential.
Nelson Agholor, Raiders. Agholor has touchdowns three straight games and enjoyed his first 100-yard game of the season last week. He has been the most consistent targets for the Raiders at receiver this year. He is getting chances and making big plays. Agholor remains available in 86 percent of leagues.
Cole Beasley, Bills. Beasley had his best game of the season last week, catching 11 passes for 112 yards on 12 targets. He kind of flies under the radar but has been super consistent for fantasy teams. He has at least four receptions all but a game. He also has double-digit fantasy points all but the first game. For some reason, Beasley remains available in 29 percent of league.
Randall Cobb, Texans. Cobb had a season high 10 targets last week. He caught eight of those targets for 95 yards. He has 17 receptions his last three games, posting solid numbers out of the slot for the Texans. Cobb isn't going to have many huge games but will be consistent in this role. Cobb remains available in 65 percent of leagues.
Sterling Shepard, Giants. Shepard finally returned from his toe injury last week and led the team in reciever. He had six receptions for 59 yards and a touchdown. Shepard can lead the team in receiving the rest of the way. He remains available in 68 percent of leagues.
TIGHT ENDS
Richard Rodgers, Eagles. Rodgers got the start last week for the Eagles and played well in an expanded role. He had six receptions for 85 yards on eight targets. Rodgers could get another start before the rest of the Eagles tight ends are healthy. He can help fantasy teams in a starting role.
Logan Thomas, Washington. Thomas found the end zone for the second straight game. He had four recpeioyns for 60 yards and a touchdown. He has three scores this year and three games with at least 13 fantasy points. Thomas has at last four receptions four of seven games. He remains available in 70 percent of leagues.
Harrison Bryant, Browns. It was Bryant that started last week for an injured Austin Hooper and not David Njoku. Bryant responded with a big game, catching four of five targets for 56 yards and two touchdowns. Hooper could miss another week or two of action, giving Bryant a few more starts. Bryant showed his potential in a starting role this past game, so consider him a spot play in a starting role.
Trey Burton, Colts. Burton is healthy and emerging in the Colts offense. He had four receptions for 58 yards and a touchdown last week. He has nine receptions his last two games and is becoming the tight end to own for the Colts. Burton can help as a tight end streamer and is available in 61 percent leagues.
Jeff Paur is a two-time finalist for FSWA Fantasy Football Writer of the Year and won the FSWA award for Best Fantasy Football Article on the Web in 2011. He also was the most accurate expert in 2012, winning the FSTA Fantasy Football Accuracy Award. If you have any questions for Jeff, email him at jeff@rtsports.com. Follow Jeff on Twitter @jeffpaur.