Waivering: Week 7
Tue Oct 20 10:27am ET
By JEFF PAUR
Sr Fantasy Writer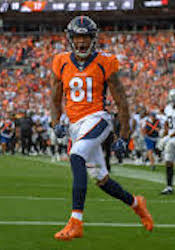 Patrick is emerging for Broncos
The season sure is flying by. It seemed like it might never happen, but now we are in Week 7, which is the halfway point in many fantasy leagues. Hopefully, you are in good standing in all your leagues. But if not, the waiver wire might be a good spot to help turn your fortunes around. There aren'a lot of top options out here but you never know. One of the guys on this list could end up being a huge factor down the stretch. It has happened in past years.
QUARTERBACKS
Tua Tagovailoa, Dolphins. Tagovailoa was named the starter for the Dolphins going forward. The team has a bye this week, making his first start in Week 8 against the Rams. Tagovailoa must be ready for the job because Ryan Fitzpatrick was playing pretty well in a staring role. Either way, Tagovailoa will have some fantasy value because he is a bit of a dual threat and gets a chance to air it out in an offense that likes to throw the ball. He is worth a speculative add for fantasy teams.
Philip Rivers, Colts. Rivers might not be playing the best for the Colts, but he produced big last week. He had his best fantasy game of the season last week, scoring nearly 30 fantasy points. He can still get it done in the right matchup, including one his next game against the Lions in Week 8.
RUNNING BACKS
Boston Scott, Eagles. Scott has done about nothing all season but could be setup for more work going forward with Miles Sanders hurt. Scott might the starter for the Eagles, a role he showed some potential in late last year. Scott is no sure thing by any means but any starter at this stage of the game has value to fantasy teams. He could get it done with more touches.
J.D. McKissic, Washington. McKissic reached double-digit fantasy points for the third straight game last week. He also tied a season high in rush attempts, running eight times for 41 yards. McKissic has been a big part of the passing game in recent weeks, catching at least six passes three straight games. He has value as a flex play and is available in 56 percent of leagues.
WIDE RECEIVERS
Travis Fulgham, Eagles. Fulgham got nabbed in most leagues last week but not all. He is still available in 32 percent of leagues. He now has touchdowns three straight games, having at least 13 fantasy points all three games. Fulgham has double-digit targets two consecutive games, getting tons of looks. This seems to be a trend rather than a fluke. Fulgham should be owned in all formats.
Keelan Cole, Jaguars. Cole enjoyed his best game of the season last week, catching six passes for 143 yards. He has at least four receptions all but one game this year. He has been a consistent factor in an offense that likes to throw a lot. Cole has value as a No. 3 fantasy receiver. He is available in 45 percent of leagues.
Marcus Johnson, Colts. Johnson is gaining value in the Colts offense. He had the best game of his season in Week 6, hitting the 100-yard mark. He had five receptions for 108 yards. Johnson has 50-plus yards two straight. He has some fantasy value as long as Michael Pittman is out of the lineup.
Tim Patrick, Broncos. Patrick ha his second straight 100-yard game. He had four receptions for 101 yards on eight targets. He has at least 14 fantasy points three straight games. He is producing consistent numbers in a starting role for the Broncos. Patrick has a knack for making the big play. He is available in 42 percent of leagues.
Breshad Perriman, Jets. Perriman returned from his ankle injury last week and led the Jets in receiving yards. He had four receptions for 62 yards on eight targets. Perriman has a shot to lead the Jets in receiving going forward. He was dropped in many formats after his injury, making him available in 90 percent of leagues.
Demarcus Robinson, Chiefs. Robinson had his best showing of the season last week, getting a chance for a bigger role in the offense with Sammy Watkins out. Robinson had five receptions for 69 yards in a rainy game Monday afternoon. He should continue to get more weekly chances while Watkins is out, giving him some value as a spot play for fantasy teams.
TIGHT ENDS
Anthony Firkser, Titans. Firkser had a game that came out of nowhere last week, catching eight passes for 113 yards. He has been getting a few more looks the last couple games, though, having 14 targets his last two. He is going to be a boom or bust play but this game showed his potential for the big game. He might be worth adding in deeper formats if you need the tight end help.
Rob Gronkowski, Bucs. It took some time but Gronkowski is making a bigger impact in the Bucs offense. He had his best game last week, catching five passes for 78 yards and his first touchdown of the season. Gronkowski has at least three receptions three of four games. He is available in 30 percent of leagues.
Dallas Goedert, Eagles. Goedert has not played since Week 3 but is due back soon from his ankle injury. And when he returns, he will return to the starting lineup with Zach Ertz out the next several weeks. Goedert has huge upside when on the field and starting. Remember, he had a 100-yard showing in Week 1, scoring 24 fantasy points. He was dropped in many formats because of the injury, so he is available in 48 percent of leagues.
Jeff Paur is a two-time finalist for FSWA Fantasy Football Writer of the Year and won the FSWA award for Best Fantasy Football Article on the Web in 2011. He also was the most accurate expert in 2012, winning the FSTA Fantasy Football Accuracy Award. If you have any questions for Jeff, email him at jeff@rtsports.com. Follow Jeff on Twitter @jeffpaur.