Location and Verification
Since 2016 numerous states have passed a variety of laws regulating fantasy sports play. RealTime Fantasy Sports is committed to being 100% legal and compliant with all applicable state and federal laws. We strive to make sure your entry fees and the prize funds are safe and that you can play with confidence.
Do all fantasy sites verify your identity and state location? The answer is certainly, "No." If sites choose to ignore state and federal laws in operating their games, ask yourself, "Can you trust your entry fees are safe and the prize fund will be at the end?"
Location
When we are required to ask for your state will see a pop-up similar to these. Please click "Allow". Again, this information will only be used for state law compliance.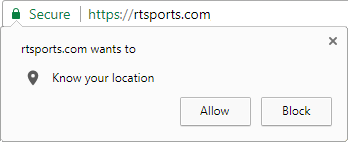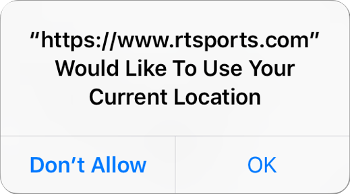 Identity Verification
Participants must create an account with RealTime Fantasy Sports in order to participate in any fantasy contest. Accounts must be verified using the participant's full, legal name, current address, date of birth. RealTime Fantasy Sports uses a third-party verification system to authenticate this personal information. Customers may also validate their accounts by submitting an up-to-date government issued ID (such as a driver's license) with the participant's current address and date of birth clearly displayed. RealTime Fantasy Sports reserves the right to close any account under suspicion of fraud or submission of invalid personal information.
Comments
We know this is an inconvenience and can be a bit of a hassle, but we must follow the law to bring you the best, most reliable, and most trusted games in fantasy sports.