Pitchers to Avoid
Wed Feb 27 1:50pm ET
By MIKE BARNER
Contributing Writer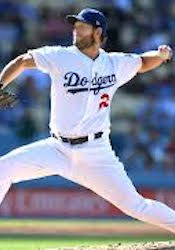 Kershaw has some red flags
Last week, I highlighted some undervalued pitchers that you shouldn't overlook on draft day. Let's take a look at the other side of things and examine some pitchers to potentially avoid when selecting your team. Granted, sometimes there comes a point in a draft where someone's upside is too good to pass up, but these four pitchers have me awfully worried heading into this season.
Clayton Kershaw, Los Angeles Dodgers: Kershaw has perennially been one of the best, if not the best, starting pitchers in baseball. Entering 2018, he hadn't finished with an ERA above 2.31 or an xFIP above 2.88 since 2012. He has a 27.6 percent strikeout rate for his career and has shown excellent control with a 6.5 percent career walk rate. He was even extremely durable, throwing at least 198 1/3 innings each season from 2010 through 2015.
Whether it be age or that heavy workload early in his career, Kershaw hasn't been able to stay healthy since logging a whopping 232 2/3 innings in 2015. He threw just 149 innings the following year and back issues limited him to 161 1/3 innings in 2018. While his numbers were still excellent by most standards, he did experience some decline last year with a 2.73 ERA, 3.19 xFIP and a 23.9 percent strikeout rate. His average fastball velocity was 91.4 mph, which is a significant decline from his career average of 93.7 mph. Also, he's allowed 40 total home runs over the last two years despite his limited workload. He had allowed 43 home runs across his previous four seasons, combined.
To add even more concerns to his recent injury issues, Kershaw is off to a slow start this spring because his shoulder hasn't felt right. While it's still early and there haven't been overly concerning reports yet, it's something to keep in mind. Kershaw's draft price has dropped, but his ADP Is still 32.93. Starters going after him include Carlos Carrasco (34.98), Trevor Bauer (36.04) and Walker Buehler (38.30). There's just too much injury risk for me to justify drafting Kershaw that high.
Madison Bumgarner, San Francisco Giants: Bumgarner had been just as durable as Kershaw, logging at least 200 innings each year from 2011 through 2016. During that stretch, he finished with an ERA of 2.98 or lower four times and never had an xFIP over 3.54. While not normally an overpowering pitcher, his 24.9 percent strikeout rate during that six-year stretch still made him one of the top fantasy options.
Unfortunately for Bumgarner and everyone who drafted him in fantasy, he injured his shoulder during a dirt bike accident in 2017 and was limited to only 111 innings. He suffered a broken finger during spring training last year, which left him to throw just 129 2/3 innings. During those two seasons, Bumgarner had xFIP's of 4.07 and 4.32, respectively, and his WHIP jumped up to 1.24 last year. His strikeout rate in 2018 fell all the way down to 19.8 percent, which was his lowest mark since 2010. His walk rate also climbed to 7.8 percent, which is two percentage points higher than his career mark.
While Bumgarner is healthy right now, his lack of strikeouts last year is a big concern. He wasn't fooling a ton of hitters with his 9.2 percent swinging strike rate. His current ADP sits at 70.25, which would be a lot to pay for someone who probably won't strike out at least a batter an inning.
Chris Archer, Pittsburgh Pirates: Archer's breakout campaign came in 2015. He posted a 3.23 ERA that was supported by a 3.01 xFIP and his strikeout rate jumped up all the way to 29 percent after being at 19.2 percent and 21.1 percent, respectively, the previous two seasons. One of the reasons for his improved strikeout numbers was the increased use of his slider. He hadn't thrown the pitch more than 33 percent of the time the previous two years, but he threw it 39.2 percent of the time in 2015. He never looked back after that, posting a strikeout rate of at least 27.4 percent in both 2016 and 2017.
The problem was that after that 2015 campaign, his other numbers outside of the strikeout department started to climb. He has finished with an ERA of at least 4.02 and an xFIP of at least 3.41 in all three seasons since, including last year when he split time between the Rays and Pirates. Home runs also became a problem for him, resulting in a 14.8 percent HR/FB rate during that three-year stretch. He had a 9.5 percent HR/FB rate over the previous three seasons.
So now the question is, what to do with Archer on draft day? He's likely still going to provide plenty of strikeouts, but with the potential for another year of an ERA above 4.00 and a WHIP that might hover around 1.30, his overall upside is limited. His current ADP of 120 isn't all that appealing. I'd rather take a chance on someone like Tyler Glasnow much later in the draft. His ADP currently sits at 180.20.
Wade Davis, Colorado Rockies: Davis had an excellent stretch from 2015 through 2017 where he made three straight All-Star teams. His 76 saves during that time frame wasn't a lofty total, but his 1.65 ERA, 1.00 WHIP and 30.5 percent strikeout rate made him extremely valuable. It also left him with a chance to cash in big as a free agent entering last season.
The Rockies were the team that decided to give him the keys to the vault, signing him to a three-year, $52 million contract. While that's a great deal for him, playing half of his game at Coors Field wasn't very appealing from a fantasy perspective. His ERA increased drastically to 4.13, although his xFIP remained largely the same at 3.63. His strikeout rate was still excellent at 29.9 percent and he did accumulate 43 saves, so he wasn't a total bust by any means. It should be noted that he allowed eight home runs after giving up three total from 2014 through 2016. Five of those eight home runs came at Coors Field.
While likely a safe source for saves, drafting Davis at his current ADP of 97.72 isn't a great bargain. I'd rather draft a hitter like Daniel Murphy (94.64 ADP), Josh Donaldson (96.23 ADP) or Scooter Gennett (99.28 ADP) around that spot and then grab someone like Kirby Yates (109.25) a round later.
Mike Barner has been covering fantasy sports since 2007. His work has appeared in Sports Illustrated, Yahoo, SportsLine and RotoWire. Mike was also a finalist for the 2018 FSWA Basketball Writer of the Year award. Follow Mike on Twitter @rotomikebarner.