Undervalued Hitters
Thu Mar 7 8:44am ET
By MIKE BARNER
Contributing Writer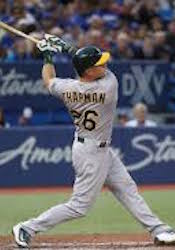 Chapman can build on last year
As we move through the beginning of March, we're deep into fantasy baseball draft season. We've already highlighted some undervalued pitchers to consider during your draft, so now it's time to switch over to the hitting side of things. While the players below might not be the flashiest of names, they could provide significant returns.
Matt Chapman, 3B, Oakland Athletics. Chapman passed his first full campaign in the majors last year with flying colors. He's already one of the best defensive players in the league and showed plenty of power with 24 home runs and 42 doubles. While he had his fair share of strikeouts, his 23.7 percent strikeout rate isn't bad considering his power and the fact that it was only his first full season in the big leagues. He also showed a nice eye at the plate with a 9.4 percent walk rate and a .369 wOBA.
Another encouraging stat is that Chapman posted a 142 wRC+ against right-handed pitchers after recording a 108 wRC+ across 84 games in 2017. He might not be able to duplicate his .278 batting average, but it wouldn't be surprising if he threatened to hit 30 home runs in 2019. His current ADP is 116.52, which is behind players including Travis Shaw (97.35), Edwin Encarnacion (112.31) and Joey Gallo (115.57). There's plenty of potential for him to finish as a top-100 option, so don't be afraid to select him higher than his current ADP.
Justin Turner, 3B, Los Angeles Dodgers. Although Turner was limited to 130 games in 2017, he had a stellar season with 21 home runs, 71 RBI and a sparkling .400 wOBA. He actually had more walks (59) than he did strikeouts (56) and slugged a career-high .530. Big things were expected of him heading into last season, but that all came crashing to a halt when he suffered a fracture in his left wrist after being hit by a pitch in spring training.
Turner didn't appear in his first regular season game until the middle of May and as is often the case with wrist injuries, he got off to an extremely slow start in the power department. He only hit five home runs across his first 50 games, but then he closed the season with nine long balls over his last 53 contests. On a positive note, he still finished the season with a .396 wOBA and only had slightly more strikeouts (54) than walks (47). Now a full offseason removed from his wrist injury, Turner looks like a steal at his current ADP of 121.49.
Austin Meadows, OF, Tampa Bay Rays. Meadows was a highly regarded prospect coming up through the Pirates organization, but they already have two good young outfielders in place with Starling Marte and Gregory Polanco. They also brought in Corey Dickerson before the start of last year, which blocked a path to playing time for Meadows. When they saw an opportunity to acquire Chris Archer in a trade with the Rays, the price of getting the deal done included shipping Meadows to Tampa Bay.
Meadows didn't play much with either team last year, but he absolutely mashed at Triple-A for the Rays by posting a 223 wRC+ across 27 games. With not much left to prove in the minors, Meadows enters spring training with his sights set on winning a starting job. If he does end up splitting time with Avisail Garcia, at least he has the strong side of the platoon as the left-handed hitter. If he wins the job outright, his production could far exceed his current ADP of 214.79.
Jesse Winker, OF, Cincinnati Reds. Winker didn't exactly hit for much power working his way through the Reds system. He only slugged .384 at Triple-A in 2016, but he showed a great eye at the plate with a 13.2 percent walk rate and a 13.2 percent strikeout rate. He followed that with a .362 wOBA at Triple-A in 2017 before making his debut with the Reds that same season. Amazingly, he slugged .529 across 137 plate appearances. He also kept his strikeouts down, setting up for a potential breakout campaign in 2018.
Unfortunately for Winker and the Reds, he hurt his shoulder and had surgery in July that knocked him out for the rest of the season. While he couldn't replicate his lofty power numbers from his brief stint in the majors the previous season, he was still productive with a .431 slugging percentage and a .366 wOBA before becoming injured. Now healthy, the Reds have expressed their desire to play him every day despite adding outfielders Yasiel Puig and Matt Kemp during the winter. With Winker's keen eye, he also has a shot at being their leadoff hitter. His ceiling is probably 20 home runs, but he should be able to hit for a high average and score plenty of runs as part of a potent Reds' lineup. His ADP of 221.72 is extremely appealing.
Domingo Santana, OF, Seattle Mariners. Santana had never played more than 77 games in a season before the Brewers allowed him to reach 607 plate appearances in 2017. To say he came through for them would be an understatement. He slugged 30 home runs to go along with 85 RBI, 88 runs scored and 15 stolen bases. Although he was prone to strikeouts, his 12 percent walk rate helped boost him to a .392 wOBA.
After a season like that, many teams would have tried to build around Santana, not reduce his playing time. However, the additions of Christian Yelich and Lorenzo Cain to their outfield and the emergence of Jesus Aguilar at first base left Santana to log just 235 plate appearances. With no clear spot for him moving forward, the Brewers shipped Santana to the Mariners during the offseason.
The trade certainly provides a boost in Santana's upside. He's locked in as a starting outfielder and should find himself hitting in the middle-third of the Mariners' lineup. Don't count on him to hit 30 home runs again, but 20-25 home runs with a chance for double-digit steals isn't out of the question. With an ADP of 221.85, he's another outfielder to keep your eye on as your draft unfolds.
Mike Barner has been covering fantasy sports since 2007. His work has appeared in Sports Illustrated, Yahoo, SportsLine and RotoWire. Mike was also a finalist for the 2018 FSWA Basketball Writer of the Year award. Follow Mike on Twitter @rotomikebarner.