From the Godfather: Tout Wars, Part I
Fri Mar 8 8:29am ET
By CHARLIE WIEGERT
Contributing Writer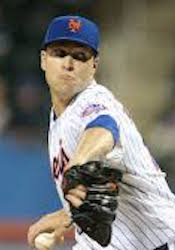 deGrom is Wiegert's first pick
To see the draft, go to: Tout Wars draft board.
The Tout Wars 15-team mixed draft is now history. It was a grueling three hours, picking against some of the best fantasy baseball minds in the industry. The one little quirk of this (and all Tout Wars leagues) is they use OBP instead of batting average, which changes the values of many hitters who will take a walk.
Having finished in the middle of the pack last year (seventh), the draft order is based on that finish with a KDS. I got my fifth choice of spots, 13th, hoping for solid contributions from the first four picks. And my plan was pitching and steals early.
The first round had a few surprises, with Bryce Harper going fourth overall. Seth Trachtman must like the upside of Citizens Bank Park in Philly. Plus, Harper has had a great OBP. As hitters went to the top eight picks, I was fantasizing Mighty Max Scherzer might fall to me at 13. No such luck, he went at nine.
And Trea Turner had gone at seven, so I decided to stay on plan and take Mets ace Jacob deGrom although my St. Louis ties wanted Paul Goldschmidt. I thought there was a better chance Goldschmidt would be there for my second pick than deGrom. Plus, I always like players who are playing with that next contract in mind, and deGrom definitely is!
But the plan ended when Goldy was taken with the 16th pick, and then another minor surprise when Gerrit Cole went next, the third pitcher off the board. So now it was decision time. Would I take Chris Sale and have a great pitching start, or take a hitter to build my offense around. I'm not bold enough to think I could get enough offense, so my choices were Francisco Lindor, Trevor Story, Jose Altuve or Javier Baez.
Lindor's early injury has me spooked, along with a weak Cleveland lineup. Altuve is recovering from leg injuries, so I'm guessing he'll run less. Baez is too much of a free swinger and his OBP could be an early problem to build around. So by process of elimination, Story became the pick. As I told Glenn Colton on SiriusXM radio, when in doubt, always go with the Colorado hitter. If he repeats last year's numbers, I'll be thrilled, especially with 20-plus stolen bases.
Sure enough, Altuve and Baez were the next two picks, and others must have had the same worries about Lindor, as he fell to the 29th pick.
By the time the draft got back to me, 13 pitchers were gone. James Paxton, Patrick Corbin, Mike Clevinger and Stephen Strasburg were the best still available, but I wasn't excited by any of them. So instead, I reached for Pirates outfielder Starling Marte, going for the 30-plus stolen bases he should get, along with solid numbers in the other four hitting categories. He's a year removed from injury, and his good 2018 second half points to his returning as one of baseballs best hitters. I deemed him to be a safer pick than Adalberto Mondesi (and I had a SS already), Victor Robles or Tommy Pham.
On the turn five picks later, I got my Cardinal, Matt Carpenter. Again, a bit of a reach, but hitting lead off in a solid lineup, he could score 100 runs with 80 RBI, 30-plus HRs and a great OBP. The top-five first basemen were gone, and he'll get 3B eligibility also, making for some flexibility.
Twenty-four picks later, all those starting pitchers I didn't like before were gone, along with eight more. Again, I wasn't impressed with who was still available, Jameson Taillon or David Price, and decided to go with the second reliever off the board (Diaz was gone), and took Blake Treinen, a similar path I went down in the FSTA draft.
And sure enough, both those starters I didn't like went with the next two picks. Now faced with the "you better get another starter now" or 25 picks later there won't be any pitcher I like left, I went with German Marquis.
I've always been biased with Colorado pitchers, but I needed the strikeouts with a number two pitcher. He had 230 Ks in 196 innings last year. His 4.74 home ERA was worrisome, but his 2.95 road ERA was good. My plan is in the early months the ball doesn't jump as much at Coors, so hopefully he'll get off to a good start, and I'll look to bench him in home starts when the weather warms. Not exactly what you want to do with your second picked pitcher, but it seemed like my best option.
My next four picks were all very solid, and all four will be great for the numbers needed in counting stats. Nelson Cruz at seven was a bargain. His only disadvantages are he locks up my DH spot and his age. But he's a good bet to hit 30 home runs and drive in 100, batting fourth in what appears to be a good offensive Twins team.
Travis Shaw will cover third base for me, another solid 25-plus HR guy, with 80-80 potential in a good Brewer lineup. He comes with the added benefit that he also qualifies at second base, which adds flexibility to my team.
Masahiro Tanaka is a solid number three pitcher if his arm/shoulder holds up. I'd be thrilled if he replicates last year's numbers.
Cesar Hernandez, leading off for a stacked Philly lineup, will score 100-plus runs and add 15 HRs and 20 SBs if he recovers from the spring training hip injury to start the season on time. I deemed it worth the risk, and the injury does not appear to be very serious. But I will need to be prepared for another option if he's not ready to go.
That's my first 10 picks, and while it does not seem spectacular, and nobody is going to say, "Wow, what a great start," I think I have a solid base to build.
Next article, the next 10 rounds.
Charlie Wiegert was the sixth person to be inducted in the Fantasy Sports Hall Of Fame in 2001. He is a founder of CDM Fantasy Sports and Fantasy Sports Trade Association. He has been playing and winning fantasy baseball leagues since 1984. If you have any questions for Charlie, email them to cwiegert@cdmsports.com. Follow him on Twitter @GFFantasySports.