From the Godfather: Tout Wars, Part II 
Mon Mar 11 10:30am ET
By CHARLIE WIEGERT
Contributing Writer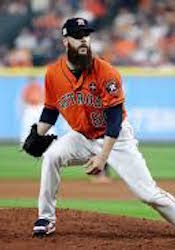 Wiegert takes chance on Keuchel
To see the draft, go to: Tout Wars draft board.
Having a solid base from the first 10 rounds, the strategy was to select players who could add to the counting stats categories, secure a second closer, get a catcher and build the starting staff.
By the time draft got back to me, I had missed the run of second tier catchers, so it was going to be a couple bums at the end that would be "safe" bets.
I went with the guy I thought could produce the most stats, Toronto 1B Justin Smoak. He stood out as someone that was a safe 30 HR, 80 RBI man, and his .350 OBP in this league is a lot more acceptable than a .240 AVG in most leagues. Next, back to Colorado for Ian Desmond, a 20-20 man who will qualify at 1B and OF. Corey Dickerson then became my third outfielder, hoping he can build on his success in Pittsburgh last year as their everyday right fielder.
I probably waited too long to get that second relief pitcher, so I rolled the dice with Arodys Vizciano. When healthy, he does a great job saving games. With AJ Minter already missing some spring training games, I think Vizcaino will have the closer job to open the season, and if he gets the job done, he'll keep it. Hopefully, he gets me 30 to 35 saves. In a 15-team league, having him paired with Blake Treinen could be enough to get 8-12 points in the saves category.
Having watched all the good young pitchers (Joey Lucchesi, Jon Gray, Sean Newcomb, Kyle Freeland, Jesus Luzardo, Jake Arrieta, Nathan Eovaldi, Jose Quintana, Ross Stripling, and Jack Godley) come off the board before my next pick, had me rethinking the risky Vizcaino pick. The guy I was targeting was Jake Arrieta, who I think will have a really good year in the much alive Philly team this year. I felt I really needed pitching with this pick, so I went with Jon Lester. To tell the truth, I don't really get why his stock has fallen as far as it has. I get that he's older, doesn't get the Ks (only 167 last year) he used to and doesn't go as deep into starts. But he won 18 games, has made 30-plus starts ever year for over 10 years, keeps the ERA under 4 and WHIP at 1.30. His second half numbers did fall off last year, but the one thing everybody forgets is he lost his catcher, David Ross. I expect a little bit of a bounce back. At 35, he's not through yet.
Dallas Keuchel, a man still without a team, was my next risky pick. But we are at that point in the draft, where I thought a little risk could pay huge dividends. Keuchel has had a great five-year run in Houston, surviving the short left field Crawford boxes, something not all southpaws can do. At 31, he still has the skills for a low three ERA, and with 180-plus innings, he'll have 160-plus Ks. Not bad for a fifth pitcher, and if he doesn't get the big multi-year contract he's holding out, he could be pitching for a contract next year also.
Through 16 rounds, I thought the team was shaping up nicely.
Charlie Wiegert was the sixth person to be inducted in the Fantasy Sports Hall Of Fame in 2001. He is a founder of CDM Fantasy Sports and Fantasy Sports Trade Association. He has been playing and winning fantasy baseball leagues since 1984. If you have any questions for Charlie, email them to cwiegert@cdmsports.com. Follow him on Twitter @GFFantasySports.