From The Godfather: Spring Training Notes
Fri Mar 15 10:56am ET
By CHARLIE WIEGERT
Contributing Writer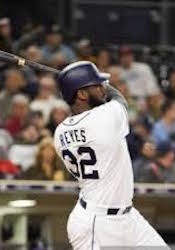 Reyes could be hitting fourth
We've all learned over the years not to put too much into what players are doing in Spring Training. While seeing a top pitcher getting lit up might give you fear of drafting him, or dropping him down in your rankings seems like a normal reaction, there could be an explanation why his outing was so bad. Trevor Bauer had a stinker a couple weeks ago, only to find out afterwards he was working on his change up, and not pitching like he would in a regular season game. That happens a lot with pitchers. They use Spring Training to work on a new pitch, arm slot or something else. So don't get too excited or down over a performance.
But at some point, and we are just about there now, what is happening in spring training will be relevant to predicting performance for the coming season. As we get closer, within 10 days of the start of the season, teams fine tune their lineups. Managers start to use a lineup that they will employ when the season starts. And pitchers start to work in order of what will be their teams rotation starting the season. You'll also see some relievers used in save situations, just as they'll be when the season starts.
I'm a box score junkie. I have been for over 40 years. There's always something I can learn from looking at box scores, and now that spring training games are becoming relevant, there are stories in each box score. During the season, I have to look at the box scores before I go to bed every night, only leaving a couple late west coast games for the next morning. And even those, I look at the box score through five or so innings.
So what can you learn from these box scores? My first analysis is the batting order. Who is batting leadoff? Did he take a walk, steal a base, score a run? The key to a good leadoff hitter is getting on base. If he's doing it, he'll keep the leadoff spot. If not, he gets bumped down the lineup and his value as a fantasy player gets bumped down, too. These days, if a guy doesn't bat leadoff, he bats eight or nine, which means less at bats, less scoring opportunities, less stolen bases, etc. So the last 10 days of Spring Training are important, as the manager is watching his performance. Just as important are the players batting in the top lineup spots as they have more opportunities to produce counting stats, so the final Spring Training games will determine who earns those spots.
Here's some observations from the Thursday, 3/14 games. A.J. Pollock has been leading off for the Dodgers the last couple games. His spring average is up to .268. If he becomes the Los Angles leadoff man, his fantasy value gets a boost. In the same game, Kenta Maeda looked ready for his turn in the rotation with four scoreless innings and six strikeouts.
Franmil Reyes continues to occupy the fourth spot in the Padres lineup, between Manny Machado and Will Myers. He looks to be winning everyday playing time, and with Myers in center, Manuel Margot looks like the odd man out. Reyes could be a great source of power and RBI.
Adam Frazier is locking down the second base and leadoff role for the Pirates, now hitting .313. He's going undrafted in most leagues, but has some value. Look for 15 to 20 stolen bases and 80-plus runs scored if he keeps the leadoff spot. Jeff McNeil has been in the leadoff spot, too, and with all the Met injuries, he has a good shot to be in their opening day lineup. Also noted is Mike Moustakas playing second base in Milwaukee. He could gain multiple eligibility in April if the experiment continues into the season.
Some pitcher performances to note. Red Sox starter Eduardo Rodriquez logged five innings with eight strikeouts, but did give up three hits, two walks and three runs. Luis Cessa had a good four-inning outing for the Yankees, giving up two hits and a walk, but no runs to go with three strikeouts. It worth noting the other two candidates, Domingo German and Jonathan Loaisiga, have not been impressive, so he could sneak into the rotation if they continue to struggle, and Cessa has a couple more spring appearances like this.
Yu Darvish, who the Cubs desperately need to return to "ace" form, pitched four solid innings with five strikeouts. More impressive was Shane Bieber, who threw five hitless innings with eight strikeouts. Cleveland looks to have the best fifth starter in the majors. Reds starter Sonny Gray, hampered with early spring injuries, had three perfect innings. Luke Weaver, part of the return for Paul Goldschmidt, showed the Snakes some promise with five scoreless innings and four strikeouts, lowering his spring ERA to 1.59.
I'll continue to provide comments on other spring performances in upcoming articles, noting players than could provide value in your upcoming fantasy drafts.
Charlie Wiegert was the sixth person to be inducted in the Fantasy Sports Hall Of Fame in 2001. He is a founder of CDM Fantasy Sports and Fantasy Sports Trade Association. He has been playing and winning fantasy baseball leagues since 1984. If you have any questions for Charlie, email them to cwiegert@cdmsports.com. Follow him on Twitter @GFFantasySports.