From The Godfather: Last Spring Training Notes
Tue Mar 26 10:21am ET
By CHARLIE WIEGERT
Contributing Writer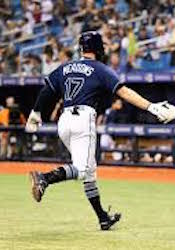 Meadows leads off for Rays
Here we go! We had two official games already, but the real season starts Thursday. Teams are making last-minute adjustments to their roster, dealing with injuries and setting opening day lineups. As I look over the projected lineups, rotations and closers of the 30 MLB teams, I see a few interesting items that can effect fantasy teams.
In Toronto, injuries have resulted in Lourdes Gurriel Jr. batting leadoff and playing second base, followed by Brandon Drury batting second and playing third until Vlad Guerrero Jr. gets his promotion. Both could provide some nice counting stats.
Not much about the Orioles lineup excites me other than Jonathan Villar, who is batting second. Same for Tampa Bay. Just Austin Meadows leading off and Ji-Man Choi batting cleanup and playing regularly at DH and first base. His .378 spring has earned him playing time. Cleveland could be missing their first three hitters with Francisco Lindor, Jason Kipnis and Jose Ramirez out. Look for Hanley Ramirez to provide some early offense for the Tribe. Detroit could surprise with their hitting. Their lineup is looking solid and Miguel Cabrera is heating up with three homers in his last four spring games. Cabrera could be a great late round pick this year.
The Twins have Michael Pineda slated at third in the rotation and Trevor May set to close. The White Sox should have Eloy Jimenez in the opening day lineup and Alex Colome has won the closer role. Rookie David Fletcher has secured second base for the Angels, but he's not much value for fantasy. Oakland first baseman Matt Olson will be out six to eight weeks. It looks like Chad Pinder to get extra at bats. Frankie Montas looks to have the inside shoot at a rotation spot with the A's. Word out of Seattle is that Yusei Kikuchi will have some one-inning starts, making him a tough play in fantasy. Ervin Santana will be the White Sox fifth starter, but he'll have to wait till April 10th for his first start.
The Braves rotation is in such turmoil. Rookies Bryce Wilson and Kyle Wright will get the second and third game starts. In Miami, shortstop Miguel Rojas will leadoff with third baseman Brian Anderson second. Drew Streckenrider looks to close, and Caleb Smith has a rotation spot. The Mets are hoping Brandon Nimmo and Peter Alonso can get their offense started, and injuries have given Jeff McNeal the starting third base job. And Corey Knebel's injury could lead to Josh Hader getting more saves in Milwaukee. In the "really" category, Arizona has decided to use Greg Holland as their closer. That didn't work in St. Louis last year. I expect by June (or sooner), Yoshihisa Hirano will have taken the job away. In St. Louis, I think the closer job is Jordan Hicks to lose. If he can limit the walks, he should keep it. Pedro Strop has recovered from his early spring injury to reclaim the closer job in Chicago until Brandon Morrow returns. Look for Kyle Schwarber to rebound this year. He's been impressive this spring. And with Ian Happ getting sent down to the minors, it looks like Albert Almora will get a full workload, playing center and batting leadoff.
In Cincinnati, Nick Senzel has been sent down to the minors to learn how to play centerfield. With Scooter Gennett out for a while, Jose Iglesias will be at short, Jose Peraza at second and Scott Schebler in center. In San Diego, their outfield is still unsettled, as the Wil Myers experiment in center has not gone well, so he'll be in a mix for a corner outfield spot with Franmil Reyes and Hunter Renfroe while Manuel Margot and French Cordero share centerfield. It wouldn't surprise me at all if the five outfielders get 350 to 400 at bats, making none fantasy worthy. Perhaps a sleeper looms at first base in the desert as Jake Lamb becomes Arizona's everyday starter. Look for 25 home runs and 80 RBI from Lamb. You'll find him on your waiver wire. The Colorado second base situation is still unsettled, which is leaning in the direction of a platoon with Ryan McMahon and Garrett Hampson. I would have preferred either to win the job, but the shared time doesn't help your fantasy team.
Let the games begin.
Charlie Wiegert was the sixth person to be inducted in the Fantasy Sports Hall Of Fame in 2001. He is a founder of CDM Fantasy Sports and Fantasy Sports Trade Association. He has been playing and winning fantasy baseball leagues since 1984. If you have any questions for Charlie, email them to cwiegert@cdmsports.com. Follow him on Twitter @GFFantasySports.