Pitching Primer: Week 6
Fri Apr 26 10:16am ET
By MIKE BARNER
Contributing Writer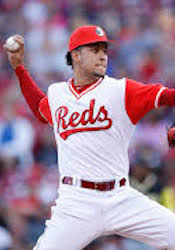 Castillo is off to hot start
There aren't a ton of two-start pitchers for Week 6 with plenty of off days throughout the MLB schedule. However, some of the pitchers that are scheduled to take the mound twice carry tremendous upside. Let's examine five that stand out and discuss whether or not they should be locked into your fantasy starting lineup.
Justin Verlander, Houston Astros: at MIN, at LAA
To no surprise, Verlander is off to another excellent start this season with a 3.48 xFIP and a 30.5 percent strikeout rate. His 13.3 percent swinging strike rate is down from last season, but it's still the second-highest mark of his career. He hasn't had the easiest of schedules, either, with his starts including matchups against the Mariners, Yankees and the Rangers twice at hitter-friendly Globe Life Park in Arlington. His first start this week will come against the Twins, a team he held to one run while recording eight strikeouts across eight innings in his last outing. He'll then get to face an Angels lineup that lacks talent outside of Mike Trout, so expect Verlander to have an extremely productive couple of outings.
Luis Castillo, Cincinnati Reds: at NYM, vs. SF
The Reds have to be excited about how well Castillo has pitched out of the gate. While he's had a few easy starts against the Pirates, Marlins and Padres, he's also faced the Brewers, Dodgers and Braves. He hasn't allowed more than two runs in any of his six starts, recording a 3.29 xFIP and a 29.9 percent strikeout rate. His .241 BABIP allowed is low, but it should be noted that he's induced a good amount of weak contact with a 19.8 percent line drive rate. That's down by two percentage points from last season. Even though the Mets have a much improved lineup from last year, they are in the top half of the league in strikeouts. Castillo's second start against the Giants is about as good as it gets considering they have scored the third-fewest runs (78), so start him with confidence.
Chris Paddack, San Diego Padres: at ATL, vs. LAD
It's refreshing to see a team not worry about a young star's service time and keep him with the big league club right out of spring training. That's exactly what the Padres did with Paddack, who is one of the jewels of their organization. He's rewarded them handsomely with a 1.67 ERA, 0.67 WHIP and a 30.3 percent strikeout rate across his five starts. It's highly unlikely that he'll be able to continue to provide such stellar ratios, especially when you consider that he has a 3.79 xFIP and has been aided by an absurdly low .138 opponents BABIP. This could be the week in which we start to see his numbers rise. The Dodgers have scored the second-most runs (146) and the Braves are no slouches, either, with the seventh-highest OPS (.806) in the league. It's still hard to bench Paddack based on his lofty strikeout upside, but you'll need to temper your expectations for him based on this schedule.
Mike Soroka, Atlanta Braves: vs. SD, at MIA
The Braves have a plethora of young arms with Soroka being among the most talented of the bunch. He hasn't had an xFIP above 3.28 during any of his stops in the minor leagues and he flashed strikeout upside last year with a 29.8 percent strikeout rate across five starts at Triple-A. After pitching well in his first couple of starts in the minors this year, the Braves called him up to help their injury-depleted rotation. He's made his case to stick around, allowing two runs and recording 13 strikeouts over 10 2/3 innings in his first two starts. Things are certainly set up nicely for him to continue to provide value in Week 6. The Marlins have scored the fewest runs (68) while the Padres aren't much better, scoring the fifth-fewest runs (84). If you're looking for a streaming option, look no further.
Kenta Maeda, Los Angeles Dodgers: at SF, at SD
The Dodgers are set to undergo further changes to their rotation with Rich Hill returning from the IL to start Sunday. That will push Ross Stripling to the bullpen and put Maeda on pace to start twice this week. If anyone needs a couple of easy matchups to get back on track, it's him. Among the teams that he has faced across his five starts are the Diamondbacks, Cardinals and Cubs, each of which is inside the top-10 in the league in runs scored. He also had the unenviable task of starting against the Rockies at Coors Field. That's left him with a 1.45 WHIP and a 4.77 xFIP, both of which are considerably higher than his career marks. With the struggles of the Giants and Padres already detailed, look for Maeda to finally provide some quality returns for those who invested in him on draft day.
Mike Barner has been covering fantasy sports since 2007. His work has appeared in Sports Illustrated, Yahoo, SportsLine and RotoWire. Mike was also a finalist for the 2018 FSWA Basketball Writer of the Year award. Follow Mike on Twitter @rotomikebarner.