Pitching Primer: Week 7
Fri May 3 11:07am ET
By MIKE BARNER
Contributing Writer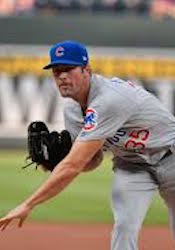 Hamels is off to good start
With the month of April firmly in our rearview mirror, we are starting to see some trends that we can build on when looking at starting pitchers moving forward. We have an interesting mix of two-start pitchers for Week 7, including some that can still be had on waivers in many leagues. Let's examine five that stand out and discuss whether or not they should be locked into your fantasy starting lineup.
Jacob deGrom, New York Mets: at SD, vs. MIA
One of the most dominant pitchers in baseball, deGrom is the anchor of many fantasy rotations. However, he entered Wednesday's start against the Reds having allowed 14 runs across his previous 13 innings. He also sent those who roster him into a panic with a brief stint on the IL due to an elbow injury. After recording six strikeouts across seven scoreless innings, he did alleviate some of those concerns. He also threw 101 pitches, which was just as reassuring as his final stat line. He's primed for a huge week with two juicy matchups on tap. The Padres have scored the seventh-fewest runs (119) and struck out the third-most times (308) in the league. The Marlins' lineup has been even worse since they've scored the fewest runs (86) and have the second-lowest OPS (.622). Start deGrom with confidence.
Cole Hamels, Chicago Cubs: vs. MIA, vs. MIL
Hamels must be ecstatic to no longer be on the Rangers and have to pitch at Globe Life Park in Arlington. He struggled mightily In Texas last year before rebounding in a big way after being dealt to the Cubs. He's picked up right where he left off, recording a 3.48 xFIP and a 1.09 WHIP across his first six starts this year. Since joining the Cubs, he's only allowed 10 home runs across his last 113 innings. He had allowed 23 home runs in 114 1/3 innings with the Rangers last year. His first matchup of Week 7 against the Marlins doesn't get much better. Facing the Brewers potent lineup is no easy task, but at least that game isn't being played in Miller Park. While you might need to temper your expectations for his second outing, he should still be locked into fantasy starting lineups.
Max Fried, Atlanta Braves: at LAD, at ARI
Fried is one of the up-and-coming pitchers in a Braves organization that has a few promising ones. He was excellent at Triple-A last year, recording a 3.45 xFIP and a 24.4 percent strikeout rate. He then recorded a 3.24 xFIP and a 31 percent strikeout rate across 14 appearances, five of which were starts, at the big league level. He's followed that up this year with 3.38 xFIP, although his strikeout rate has decreased to 21.7 percent. The good news is that he still has a 10.4 percent swinging strike rate, so his strikeout rate should be on the rise as the season progresses. The problem for him this week is that he has two tough matchups on the road against the Dodgers and Diamondbacks, who have scored the second-most and sixth-most runs in the league, respectively. As promising as Fried has looked, this might be the week to avoid deploying him for your squad.
Anthony DeSclafani, Cincinnati Reds: vs. SF, at SF
We've hit the streaming portion of the article here with DeSclafani. While he has a 3.48 ERA across his first six starts, it should be noted that he has a 4.36 xFIP and has been somewhat lucky with his .253 BABIP allowed. That's 51 percentage points lower than his career mark. On the bright-side, his 10.4 percent swinging strike rate is the highest mark of his career and it has helped him generate a 27.7 percent strikeout rate. After getting off to a bit of a slow start, he's allowed one run and recorded 20 strikeouts over his last 17 2/3 innings. This is about as favorable of a schedule as it gets considering the Giants have scored the fourth-fewest runs (98) and have the lowest OPS (.618), making DeSclafani a prime streaming candidate.
Martin Perez, Minnesota Twins: at TOR, vs. DET
This is one of the last two-start pitchers I thought I'd be recommending this year, but here we are. Perez has stormed out of the gate with four wins, a 3.41 ERA and a career-high 20.4 percent strikeout rate. This is on the heels of his 6.22 ERA and 13.1 percent strikeout rate last season. His ERA this year is a bit misleading based on his 4.62 xFIP, but luck hasn't exactly been on his side with opponents recording a .320 BABIP. The key has been his increased usage of his cutter while relying less on his slider. With that change in strategy, there is reason to believe that he can be useful moving forward. That's especially the case based on his two opponents this week. Both the Blue Jays and the Tigers are in the bottom-third of the league in runs scored. They have also struck out the fourth-most and ninth-most times, respectively.
Mike Barner has been covering fantasy sports since 2007. His work has appeared in Sports Illustrated, Yahoo, SportsLine and RotoWire. Mike was also a finalist for the 2018 FSWA Basketball Writer of the Year award. Follow Mike on Twitter @rotomikebarner.