Pitching Primer: Week 10
Fri May 24 2:20pm ET
By MIKE BARNER
Contributing Writer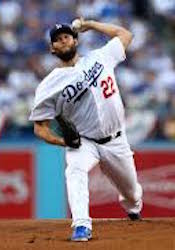 Kershaw off to solid start
Last week was not a good one if you were looking for two-start streaming options. While Week 10 still isn't great, there are at least a couple of pitchers who could provide value. There are also some bigger names that are worth discussing if they should be locked into fantasy starting lineups or not based on their matchups, so let's dive right in.
Clayton Kershaw, Los Angeles Dodgers: vs. NYM, vs. PHI
There was a lot of concern around Kershaw's shoulder injury this spring, which resulted in him falling down the draft board in many leagues. While he did miss some time to start the season, he's still made seven starts. Not only has he been able to stay healthy, but he's continued to be extremely valuable with his 3.17 xFIP and 0.98 WHIP. His strikeout rate is down a bit at 24.9 percent, but his 12.6 percent swinging strike rate is actually slightly higher than his career mark. His first matchup of the week against the Mets is very appealing since they are a left-handed heavy lineup that is also dealing with some key injuries. Even though the Phillies will be a tougher task, keep Kershaw locked into fantasy starting lineups.
Lucas Giolito, Chicago White Sox: vs. KC, vs. CLE
Last season was a disaster for Giolito with his 5.46 xFIP and 1.48 WHIP. However, the White Sox still have high hopes for him, so his spot in the rotation this year was never really in doubt. He's rewarded their faith in him by recording a 3.77 xFIP and a 1.06 WHIP through nine starts. The biggest reason for his improved numbers has been his strikeout rate jumping from 16.1 percent last year all the way up to 28.5 percent this season.
It should be noted that five of his nine starts came against bad lineups in the Royals, Indians and Blue Jays. He faced the Mariners, Yankees and Red Sox in three of his other outings, allowing 14 runs (12 earned) across 14.1 innings. His best start was actually his last when he recorded nine strikeouts over nine shutout innings versus the Astros. The good news for Week 10 is that he'll be facing the Royals and Indians again. He's held them to two runs while recording 21 strikeouts across 16 2/3 innings, so he could provide excellent value.
Jon Gray, Colorado Rockies: vs. ARI, vs. TOR
Gray is a bit of a fantasy enigma. At times, he's looked like he has the potential to be a dominating force. However, whether it be because of pitching at Coors Field or his inability to avoid giving up home runs, he just hasn't been very reliable. His ERA sits at 4.62 through his first 10 starts, although his 3.61 xFIP is more encouraging. The problem is that he had a 3.47 xFIP last year, but finished with a 5.12 ERA. With two starts at Coors Field on tap, one of which is against a potent Diamondbacks lineup, this might be the week to keep Gray anchored to your bench.
Jeff Samardzija, San Francisco Giants: at MIA, at BAL
Samardzija had been a workhorse by throwing at least 200 innings three straight seasons heading into 2018. However, injuries limited him to just 44 2/3 innings last year and he didn't pitch well even when he was able to take the mound, finishing with a 6.25 ERA. With a full offseason to regain his form, Samardzija has stormed out of the gate with a 3.27 ERA and a 1.17 WHIP. There could be some regression coming, though, based on his 5.31 xFIP and .226 BABIP allowed.
While that's something to keep an eye on moving forward, he's one of the better streaming options available for Week 10. First, he'll face a Marlins lineup that is off to a historically bad start. Entering play Friday, four teams had scored at least twice as many runs as they have this season. The Orioles haven't been much better themselves, ranking in the bottom-third of the league in runs scored and OPS.
Trevor Richards, Miami Marlins: vs. SF, at SD
It's hard to get excited about any of the starting pitchers on the Marlins other than Caleb Smith. Richards didn't exactly shine in his first taste of the majors last year, finishing with a 4.30 xFIP and a 1.39 WHIP. His 23.8 percent strikeout rate wasn't anything to write home about, but he at least did a good job of limiting home runs. That's an area he's struggled this season, having allowed nine homers in 54.1 innings. Add in his increased walk rate and it's not a surprise that his xFIP has shot up to 5.30.
Despite his poor start, he might actually be someone to target for this two-start week. The Giants and Padres are both in the bottom-third of the league in runs scored and OPS while the Padres have struck out the third-most times. Although you still shouldn't rely on Richards for strikeouts, he could provide value based on this schedule.
Mike Barner has been covering fantasy sports since 2007. His work has appeared in Sports Illustrated, Yahoo, SportsLine and RotoWire. Mike was also a finalist for the 2018 FSWA Basketball Writer of the Year award. Follow Mike on Twitter @rotomikebarner.