Pitching Primer: Week 11
Fri May 31 1:21pm ET
By MIKE BARNER
Contributing Writer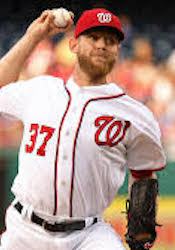 Strasburg is off to hot start
The bad news about Week 11 is that if you're looking for viable two-start streaming options, it's tough to find any. The good news is that several big names will take the mound two times each, which might make it so you don't need to add anyone. Let's discuss five that stand out and break down their matchups.
Stephen Strasburg, Washington Nationals: vs. CWS, at SD
If the Nationals are going to get themselves into the playoff hunt, they better get going. They entered play Friday nine-and-a-half games out of first place in the NL East and six games back of a Wild Card spot. The good news for them this week is that they will get two starts out of Strasburg, who has once again been excellent with a 2.93 xFIP, 0.99 WHIP and 31.3 percent strikeout rate. He's allowed one home run over his last six starts, which shouldn't be a huge surprise considering he's allowed 0.9 HR/9 for his career.
As far as two-start weeks go, this is a pretty favorable one for Strasburg. First, he'll face the White Sox at home, who will lose the DH playing in Washington. They've also had a difficult time making contact, striking out the fourth-most times (539) in the league. Then Strasburg will take the mound against the Padres, who have struck out the third-most times (545). Lock him into your lineup and enjoy the ride.
Walker Buehler, Los Angeles Dodgers: at ARI, at SF
After putting forth an excellent rookie campaign that included a 2.62 ERA, Buehler has regressed this year to record a 4.03 ERA. However, his xFIP has only increased from 3.21 to 3.80. He was aided by a .248 BABIP last year, which has increased to .283 this season. It's unlikely that he'll be able to record an ERA under 3.00 again even if he catches fire, but if he can maintain his 1.09 WHIP, he'll likely at least get it under 4.00.
He'll hit the road for two starts this week with his first one coming against a tough Diamondbacks lineup that lit him up for five runs across three innings earlier this season. The good news is that he'll then get to face the Giants, who have the second-lowest OPS (.649) and the third-fewest home runs (50) in baseball. You might have to temper your expectations a bit based on his first outing, but he's still someone to keep in your starting lineup.
Noah Syndergaard, New York Mets: vs. SF, vs. COL
It's been a rough start for Syndergaard, who enters Week 11 with a 4.90 ERA and a 1.27 WHIP. His strikeout rate of 24.5 percent is also down compared to his career mark. He's allowed a lot more fly balls, which has been a contributing factor as to why he's allowed 10 home runs across 75 1/3 innings. To put how rare that is for him into perspective, he gave up nine homers in 154 1/3 innings last season. Maybe one of the reasons for his decline in production has been the lack of use of his slider. After throwing the pitch at last 20 percent of the time in each of the last three seasons, he's only thrown it 12.8 percent of the time this year.
If Syndergaard is going to right the ship, this might be the week to do it. As previously stated, the Giants have one of the worst lineups in the league. The Rockies are a much more formidable foe, but playing them away from Coors Field is huge considering they only have a .289 wOBA on the road this season.
Shane Bieber, Cleveland Indians: vs. MIN, vs. NYY
This is going to be one of the tougher decisions of the week. If you just look at his numbers, starting Bieber seems like a no brainer. He's stepped up with the Indians missing a couple of key starters, recording a 3.46 xFIP and a 30.3 percent strikeout rate. However, it's concerning that he's allowed 13 home runs over 68 2/3 innings. That could end up being his downfall against the Twins and Yankees, who boast two of the most powerful lineups in the league. As crazy as this sounds, putting him on your bench might be the wise move to make.
Max Fried, Atlanta Braves: at PIT, at MIA
While the Braves bullpen has been a disaster, their young starters have shined. Fried has already appeared in 13 games, 11 of which were starts, and has recorded a 3.51 xFIP and a 1.21 WHIP. He's not a force in the strikeout department like some of the other pitchers that we have already discussed, but he's shown excellent control with a 6.3 percent walk rate and has allowed only seven home runs over 62 innings.
The Pirates and Marlins have struggled to score runs for the majority of the season, but both teams have actually swung the bats much better of late. The Marlins have even averaged 5.1 runs across their last 10 games. With that being said, these two lineups are not very imposing. Fried's upside might not be off the starts, but he has a favorable chance of coming away with a couple of quality starts.
Mike Barner has been covering fantasy sports since 2007. His work has appeared in Sports Illustrated, Yahoo, SportsLine and RotoWire. Mike was also a finalist for the 2018 FSWA Basketball Writer of the Year award. Follow Mike on Twitter @rotomikebarner.