Pitching Primer: Week 17
Fri Jul 19 2:33pm ET
By MIKE BARNER
Contributing Writer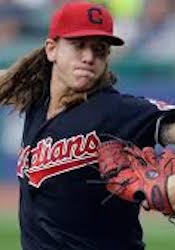 Clevinger is a must start
If you're looking for two-start streaming options for Week 17, the cupboard is pretty bare. There are a few teams with multiple off days, which certainly doesn't help our cause. However, there are several pitchers who are already owned in the majority of leagues who could be primed for significant value. Let's dive into the matchups and discuss the potential prognoses for pitchers set to take the mound twice.
Chris Paddack, San Diego Padres: at NYM, vs. SF
To say Paddack pitched well in his first start following the All-Star break would be an understatement. He took a no-hitter into the eighth inning against the Marlins on Wednesday, eventually finishing the game having allowed one run and recording eight strikeouts across 7 2/3 innings. He gave up only one hit and one walk, lowering his WHIP to a sparkling 0.87 for the season.
The talented youngster has the chance to provide tremendous value with two starts this week, the first of which will come against a Mets team that has just a 92 wRC+ on the road. He'll then face a weak Giants lineup that could be even more compromised with Evan Longoria (foot) on the IL. Lock Paddack into your lineup and enjoy the ride.
Mike Clevinger, Cleveland Indians: at TOR, at KC
As good as Paddack was Wednesday, Clevinger was almost as spectacular in his start against the Orioles. He allowed one only run over six innings and finished with 12 strikeouts. He's only made seven starts all season due to injury, but he's managed to record at least 10 strikeouts in three of them. The Indians could be getting a dominant force for their stretch run with Clevinger allowing two runs while recording 27 strikeouts over 17 innings in his last three outings.
Although he has two road starts this week, his opponents are nothing special. The Blue Jays are a little more threatening now that they have called up some of their better prospects, but they have still struck out the eighth-most times (888) in baseball. The Royals don't exactly instill fear in their opponents since they rank inside the bottom-third of the league in runs scored, home runs and OPS. Clevinger has the potential to be a league-winner here.
Robbie Ray, Arizona Diamondbacks: vs. BAL, at MIA
Ray has been pretty much what many people expected from him heading into the season, myself included. His 3.92 ERA and 4.24 FIP aren't great and he allows too many baserunners, leaving him with a 1.30 WHIP. However, he also provides significant strikeout upside with his 30.7 percent strikeout rate.
Sometimes the best approach to take with Ray is to pick your spots when considering starting him. As far as matchups go, it doesn't get much better than what he's looking at this week. First, he'll face the Orioles, who have already scored the fourth-fewest runs (396) and won't even have the benefit of the DH with their game being played in Arizona. Then, he'll face arguably an even worse lineup in the Marlins. No need to overthink this one, start Ray.
Eduardo Rodriguez, Boston Red Sox: at TB, vs. NYY
Rodriguez has started to come on strong for the Red Sox, allowing six runs and recording 23 strikeouts over 23.2 innings in his last four starts. While he did face a couple of easy foes in the Tigers and Blue Jays, he also pitched against the Dodgers and Yankees during that stretch, so the results are encouraging. With that being said, his overall numbers are very pedestrian with his 4.34 ERA and 4.22 FIP.
He'll be faced with two important starts with the Red Sox chasing both the Rays and the Yankees in the AL East standings. As well as he pitched against the Yankees his last time out, they have one of the most potent lineups in the league. He's also had his share of problems against the Rays, allowing eight runs (seven earned) across 11 innings in two previous meetings. There will be plenty more weeks when you want Rodriguez in your lineup, but this isn't one of them.
Chris Archer, Pittsburgh Pirates: vs. STL, at NYM
The Pirates have to be kicking themselves for acquiring Archer in a deal that sent Tyler Glasnow and Austin Meadows to the Rays. Archer has had a disastrous first full season with the team, posting a 5.36 ERA that is supported by an even worse 5.59 FIP. He's allowed 2.2 HR/9, which is a recipe for disaster when his 1.41 WHIP is also factored in.
With how poorly his season began, he's been cut loose in a lot of leagues. If he's now available in yours and you need a streaming option, rolling with him this week isn't the worst idea. He's shown signs of improvement over his last five starts, posting a 4.15 ERA and a 1.15 WHIP. More importantly, he registered 37 strikeouts over 26 innings during that stretch. The Cardinals are dealing with some key injuries and the Mets don't have the deepest of lineups, either. There is a path to him being successful, although he's far from a sure thing.
Mike Barner has been covering fantasy sports since 2007. His work has appeared in Sports Illustrated, Yahoo, SportsLine and RotoWire. Mike was also a finalist for the 2018 FSWA Basketball Writer of the Year award. Follow Mike on Twitter @rotomikebarner.