Pitching Primer: Week 20
Fri Aug 9 11:00pm ET
By MIKE BARNER
Contributing Writer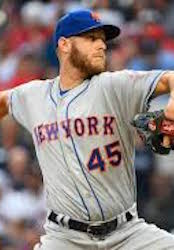 Wheeler has two starts this week
While some teams like the Yankees and Dodgers are running away with their respective divisions, there are still a lot of exciting races across baseball. We'll see several important series in Week 20, including a big one between the Braves and the red-hot Mets. It's a pretty packed schedule, in general, leaving us with a lot of two-start pitching options. Let's dive into the matchups and discuss which players should be started or avoided in the majority of fantasy leagues.
Gerrit Cole, Houston Astros: at CWS, at OAK
It's difficult to find many flaws with the Astros' roster. Their starting rotation is certainly special, led by the likes of Justin Verlander and Cole. Cole has once again been one of the most dominant pitchers in the league, recording a 3.11 FIP and a 36.8 percent strikeout rate. His 0.98 WHIP would be the best mark of his career, which is a big reason why he's allowed two or fewer earned runs in 13 of his last 14 starts.
Not only should Cole be locked into your lineup this week if you're lucky enough to have him on your roster, but his upside has the potential to make him a league winner. The White Sox have scored the third-fewest runs in baseball while striking out the seventh-most times. The last time we saw Cole face the A's, he struck out 11 batters and allowed one run over seven innings. Their lineup is even further compromised without Ramon Laureano (lower leg), which won't help their chances of putting up some runs on Cole.
Zack Wheeler, New York Mets: at ATL, at KC
The Mets deciding to be buyers at the trade deadline has proven to be a wise move so far. They've gone on an incredible hot streak that has them right in the playoff hunt. Wheeler has been as hot as anyone, throwing 15 shutout innings over his last two starts. In fact, he's allowed two runs or fewer in five of his last seven outings.
Wheeler's first start of the week against the Braves is a big one. If the Mets are going to catch them in the division, they need to gain some ground in this series. The Braves did get to him for five runs (four earned) across six innings back in June, but Wheeler also held them to two runs over six innings in a prior matchup, so this outing could go either way. His second start could be a great one against the Royals, who are in the bottom 10 of baseball in home runs, OPS and runs scored. That matchup is so appealing that Wheeler is still worth starting in the majority of leagues despite having to face the Braves in his first outing.
Jose Quintana, Chicago Cubs: at PHI, at PIT
Quintana might not excel in any one particular area, but that doesn't mean he can't be a valuable fantasy option. He enters the week with a 3.93 FIP despite having an uninspiring 20.1 percent strikeout rate. In this homer-happy environment, he's been able to limit the damage by giving up just 1.1 HR/9. He's been particularly impressive in that department lately having not allowed a home run in five of his last seven starts.
He has a couple of splits working in his favor for Week 20. First, the Phillies only have an 83 wRC+ on the road compared to a 99 wRC+ at home. Second, the Pirates have the worst wRC+ (74) against left-handed pitchers in baseball. Don't count on Quintana to provide much in the way of strikeouts, but he could still be in line for a couple of productive outings.
Zach Plesac, Cleveland Indians: vs. BOS, at NYY
With the Indians losing several starting pitchers throughout the season due to injury, Plesac has become a fixture in their rotation. His 3.13 ERA looks great, but his supporting numbers paint a much bleaker picture. He's been aided by a .228 BABIP and his FIP sits at 4.95. His stuff isn't overpowering, either, leaving him with an 18.5 percent strikeout rate.
As tough matchups go, it doesn't get much worse than the schedule facing him. The Yankees and Red Sox are the top two teams in baseball in runs scored and are both locked in at the plate right now, especially the Yankees. With him already providing little value in the strikeout department, starting him this week is a risk that isn't worth taking.
Brendan McKay, Tampa Bay Rays: at SD, vs. DET
Like the Indians, the Rays have had their share of injuries to starting pitchers. They remain in the hunt for a playoff spot, but Blake Snell (elbow), Tyler Glasnow (forearm) and Yonny Chirinos (finger) are all currently on the IL. That's forced them to call up McKay, who has a 4.55 ERA through six starts. His 26.4 percent strikeout rate is encouraging and his 3.93 FIP also indicates he's certainly held his own despite having no previous experience in the majors.
As streaming options go, he's one of the more appealing ones to consider. He'll get to face the Padres in San Diego, so he'll be able to avoid the DH in his first start. The Padres have struck out the third most times in baseball, leaving McKay with the potential to really do some damage in that department. His second start against the Tigers is about as favorable as it gets considering the only team that they have scored more runs than is the Marlins.
Mike Barner has been covering fantasy sports since 2007. His work has appeared in Sports Illustrated, Yahoo, SportsLine and RotoWire. Mike was also a finalist for the 2018 FSWA Basketball Writer of the Year award. Follow Mike on Twitter @rotomikebarner.