Pitchers Looking to Repeat
Fri Feb 7 11:35am ET
By MIKE BARNER
Contributing Writer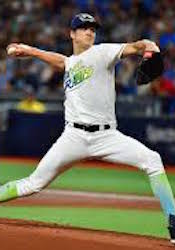 Glasnow has high expectations
Heading into this fantasy baseball draft season, there seems to be a heavy emphasis on selecting top-tier pitchers early in drafts. After last year's pitching nightmare in which the different baseballs caused offensive numbers to soar, it does make some sense to try and at least grab one ace in the first round or two that can anchor your staff. If offensive numbers stay up across the league, there are more viable bats to grab later on.
However, what do we do with some potentially key starting pitchers that exceeded expectations last year? Should we expect a repeat performance or some regression in 2020? Let's dive into three of them and discuss how to possibly handle them this season.
Tyler Glasnow, Tampa Bay Rays: Coming up through the Pirates' organization, Glasnow was considered as one of the potential anchors of their starting rotation. He showed massive strikeout upside, but his control was an issue. His first significant taste of action in the majors came in 2017 when he logged 62 innings. His strikeout rate was a surprisingly-low 18.4 percent while his walk rate was 14.4 percent. The result was a bloated 7.69 ERA. The Pirates then decided to trade him to the Rays the following season in a deal that also saw the Rays land Austin Meadows for Chris Archer.
It's only been one full season, but this already seems like one of the most lopsided deals in recent memory. Not only has Meadows become one of the Rays' best hitters, but Glasnow seems to have worked out his control issues. Injuries did limit him to just 60 2/3 innings last year, but his walk rate was an impressive 6.1 percent while his strikeout rate soared to 33 percent. That left him with a 1.79 ERA. What's encouraging is that his advanced stats help support his stellar ERA. His FIP checked in at 2.26 and his .265 BABIP allowed was not abnormally low.
With that being said, it's highly unlikely that he posts an ERA under 2.00 again. He didn't exactly have a large sample size given his limited time on the mound. Also, it's difficult to envision the Rays letting him approach 200 innings this season, even if he does stay healthy. A more reasonable expectation is somewhere around 150 innings. Still, if you miss out on the top-tier of aces and need strikeouts, Glasnow is an intriguing target given his current ADP of 75.9.
Sonny Gray, Cincinnati Reds: Gray's tenure with the Yankees did not go well. After being acquired from the A's during the 2017 season, he posted a 3.72 ERA across 11 starts, but his 4.87 FIP was worrisome. Things then fell apart in 2018 with him recording a 4.90 ERA and a boated 1.50 WHIP. His FIP was a little better at 4.17 and another stat that indicated he might not have pitched so poorly was his unlucky .326 BABIP allowed. That was significantly higher than his career mark of .280 allowed.
It was clear things weren't going to work out for Gray with the Yankees, so the team decided to ship him to the Reds before last season. A move to the National League figured to help Gray, but no one could have expected him to have the type of stellar campaign that he did. His 2.87 ERA was his lowest mark since 2015 and it was somewhat supported by a 3.42 FIP. His WHIP was also just 1.08, which duplicated his mark from that same impressive 2015 season.
As good as those numbers are, though, the thing that really improved his fantasy value was his 29 percent strikeout rate. He's never produced strikeouts at that rate before and has a mark of only 22.2 percent for his career. Facing the pitcher a couple of times a game does help in that regards, but that's an awfully significant increase. An interesting note, though, is that he threw his sinker only 18.9 percent of the time last season, according to Statcast data. In 2018, he threw that pitch 30.5 percent of the time. He also threw his slider 20.4 percent of the time last year compared to 14.7 percent of the time in 2018.
While he might not be able to duplicate his improved strikeout rate, I think he can come close to matching his ERA and WHIP considering he posted similar numbers during most of his tenure with the A's. Even if his strikeout rate regresses closer to his career numbers, being able to get him at his current ADP of 94.5 isn't a bad spot.
Mike Soroka, Atlanta Braves: The Braves didn't waste any time moving the highly-touted Soroka through their organization. A first-round pick of the 2015 Draft, he never had a FIP above 3.19 during any of his stops in the minors. He also did a great job of limiting home runs, allowing only 13 across 361 1/3 innings in the minors from 2015 through 2018. The Braves gave him his first taste of the majors in 2018, then made him a full-time member of their starting rotation in 2019.
Soroka certainly didn't disappoint in his new role, posting a 2.68 ERA that was backed by a 3.45 FIP. Even with balls flying out of the park left and right across the league, he only allowed 0.72 HR/9. He showed great control with a 5.9 percent walk rate and his 51.2 percent ground ball rate was a big reason why he did so well keeping hitters inside the park. The good news is that Soroka's favorable FIP and .280 BABIP allowed are good indicators that he can be successful again this season. However, unlike Glasnow and Gray, he didn't miss many bats with just a 20.3 percent strikeout rate.
I think a good comp for Soroka is Kyle Hendricks. He also has excellent control, doesn't allow a lot of home runs and doesn't record a lot of strikeouts. Last season, he posted a 3.46 ERA, 3.61 FIP and allowed 0.97 HR/9 to go along with a 20.6 percent strikeout rate. The question is, do you take Soroka at his current ADP of 92.57, or Hendricks at his ADP of 132.04? I think I'd wait the roughly 40 picks and roll with Hendricks. Valuable hitters who are still on the board in Soroka's ADP range are Nelson Cruz (95.9), Matt Chapman (96) and Josh Donaldson (98.8).
Mike Barner has been covering fantasy sports since 2007. His work has appeared in Sports Illustrated, Yahoo, SportsLine and RotoWire. Mike was also a finalist for the 2018 FSWA Basketball Writer of the Year award. Follow Mike on Twitter @rotomikebarner.