Mock Draft Army Recap
Fri Feb 14 10:58am ET
By MIKE BARNER
Contributing Writer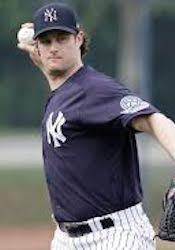 Cole goes fifth overall in draft
Wednesday night, I participated in a fantasy baseball mock draft that was part of Fantasy Alarm's Mock Draft Army series on RealTime Fantasy Sports. The mock was for a 12-team, 5 X 5 roto league in which there was 28 rounds. Of note, it was a one catcher league, not two. You can see the accompanying draft board for the full results, but here is a quick breakdown of my team. I listed when I selected each player (round, pick number) next to their name.
C: Yadier Molina (25.5)
1B: Jose Abreu (7.5)
2B: Cavan Biggio (12.8)
3B: Justin Truner (13.5)
SS: Javier Baez (3.5)
MI: Amed Rosario (14.8)
CI: Gio Urshela (16.8)
OF: George Springer (4.8), Austin Meadows (5.5), Victor Robles (6.8), Nicholas Castellanos (8.8), Alex Verdugo (17.5)
UTL: A.J. Pollock (19.5), Mike Yastrzemski (21.5)
P: Gerrit Cole (1.5)
P: Stephen Strasburg (2.8)
P: Sonny Gray (9.5)
P: Zach Wheeler (10.8)
P: Raisel Iglesias (11.5)
P: Ian Kennedy (15.5)
P: A.J. Puk (18.8)
P: Griffin Canning (20.8)
P: Jon Gray (24.8)
BN: Austin Riley (22.8)
BN: Kevin Newman (23.5)
BN: Adrian Houser (26.8)
BN: Yandy Diaz (27.5)
BN: Ryan Pressly (28.8)
When I learned that I had the fifth overall pick, I assumed that Ronald Acuna Jr., Mike Trout, Christian Yelich and Cody Bellinger would all be selected before me, and they were. That left me to decide if I go with a bat like Mookie Betts or Trevor Story, or roll with the top pitcher in Gerrit Cole. I decided I wanted to play this out selecting an ace first. The top starting pitchers have mostly all been gone by the end of the second round in most mocks drafts that I've seen, so I was hesitant to take my chances with a bat and see what came back to me at the eighth pick in the second round.
As it turns out, Stephen Strasburg was still sitting on the board when it became my pick. I was hoping to get Freddie Freeman, but he was selected three picks ahead of me. I debated between Strasburg and Anthony Rendon, but decided to lean further into starting pitching. I'm glad I did because by the end of the second round, eight starting pitchers had already been selected. The moral of the story is, if you want one of the top-tier pitchers, be ready to pounce early.
With my pitching base now complete, it was time to go heavy on hitters. I followed with Javier Baez, George Springer and Austin Meadows the next three rounds, giving me a trio that can all hit for power and provide a little speed while also helping me in batting average.
Steals were flying off the board early, so I decided to go with Victor Robles in the sixth round after my targeted player, Keston Hiura, went three picks ahead of me. The nice thing about Robles is that while he provides a lot of speed, he can also help out with home runs, slugging 17 of them last season. Even if he regresses some in that category this season, the potential for 15 home runs and 30 steals is certainly there.
I won't dive into every one of my picks in detail, but I'd like to point out what happened to me with Jose Abreu in the seventh round. Even though I selected pitchers with my first two picks, I was debating taking Tyler Glasnow at that spot. The thought of that electric trio had me dreaming of absolutely dominating with my ratios and strikeouts. However, a further look at the options at first base was worrisome. Max Muncy was still there and eventually went in the eighth round. So was Rhys Hoskins, who was selected in the ninth. Abreu is a rock-solid as it gets, posting a .293 career batting average while also recording at least 25 home runs and 100 RBI in five of his six seasons. The only time that he didn't reach that threshold was when he played just 128 games in 2018. Going with Glasnow would have been a luxury, so I decided to solidify my hitting even further with Abreu and avoid having to plug in someone at first base that I didn't have high on my board.
It goes without saying that the weakness of my team is my closers. I was going to take Liam Hendriks in the 10th round, but he was sniped one pick before me. I ended up going with Raisel Iglesias in the 11th, who could get a lot of saves on an improved Reds team. I was hoping Nick Anderson would sneak back to me in the 12th, but he didn't make it that far. In retrospect, I maybe should have selected him in the 11th round. My only hesitation was that the Rays can sometimes do some strange things with their bullpen and they do have other options outside of Anderson that could muddy the waters.
Although Ian Kennedy will be playing for a bad team in the Royals, he still managed to grab 30 saves for them last season. There is the risk that he is traded during the season, but I'll cross that bridge if I get to it. With how volatile the closer spot is across baseball, I could have already fortified the position by then picking up players off waivers.
With regards to my last few selections, I think it's worth highlighting Austin Riley. He was one of the rising stars coming up through the Braves' organization and most fantasy managers paid through the nose in FAAB money when he was called up last season. Yes, he hit .226 with a 36.4 percent strikeout rate, but the fact that he fell to the 22nd round surprised me. He still has a ton of power and he had a wOBA of at least .357 during both of his seasons at Triple-A. With a path to playing time open for him at third base, I was more than happy to take a flier on him that late.
As much as I like my top-four starting pitchers, my options after them all come with some sort of risk. That, combined with my less-than-stellar closers, made my want to grab an elite setup man with my last pick. Having one or two of them on your roster can really help with your ratios. They are also just one injury away from being presented with regular save opportunities. Ryan Pressly plays on one of the best teams in baseball and had a 2.66 FIP to go along with a 0.90 WHIP last season, so I'll happily put him in my starting lineup, especially when John Gray is looking at unfavorable matchups.
This was a fun exercise, especially since I was able to participate in the mock with several of the talented people over at Fantasy Alarm. I encourage you to participate in as many mock drafts as possible and to try different strategies in each one. That way, you'll have a leg up on your league mates when it comes time to draft your real squad.
Mike Barner has been covering fantasy sports since 2007. His work has appeared in Sports Illustrated, Yahoo, SportsLine and RotoWire. Mike was also a finalist for the 2018 FSWA Basketball Writer of the Year award. Follow Mike on Twitter @rotomikebarner.