Stolen Base Targets
Fri Feb 14 2:13pm ET
By LOGAN GLASER
Contributing Writer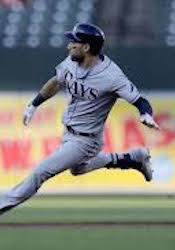 Kiermaier may bring good value
Every year I search for ways to improve my teams in roto leagues, and the one category that has improved my teams the most is stolen bases. Stolen bases isn't a popular category to target, but it's an important one where you can gain an edge on the other teams.
Last year, Mallex Smith led the league in steals with 46 stolen bases. Smith's ADP finished at 107 to end the year, meaning he was picked in the ninth round of most drafts. This is a category leader going in the ninth round. Remember, you gain the same amount of points from steals as home runs!
Another steal in the draft for this category last year was Jarrod Dyson. Dyson stole 30 bases and wasn't even being drafted in leagues. Dyson's ADP was as high as 499. If you can get a threat like this that late in the draft, you take it instead of a mediocre player who will bat .230 with 13 home runs.
Last year, my team finished third out of 15 in stolen bases and helped me to finish second overall in the league. Trevor Story, Smith, and Billy Hamilton led my team in stolen bases. I drafted Story in the second round, Smith in the ninth, and then Hamilton in the 10th. While Smith and Hamilton lack in all other categories, it was late enough in the draft to select them to provide an edge in the stolen base category. I used my early and middle round picks on power hitting and pitching to help balance out my team.
Full Chart: https://rtsports.com/site/img/content/2020-steal-projections.png
This year, the favorite for leading stolen bases is Alberto Mondesi, who projects to have 47 stolen bases. This is an interesting pick because Mondesi is a more of an overall player being drafted around 46th overall. However, the chart above shows two of the best value plays this year for stolen bases are Smith and Kevin Kiermaier. I'm going to be targeting Kiermaier in almost every draft I'm in if he stays at his current 287 ADP.
Above are the players being drafted near Kiermaier. All four of the players are putting up pretty even numbers across the board except for the stolen base column. Kiermaier projects to be ranked in the top 25 in all of baseball for stolen bases. This screams value to me and it should to you as well.
I'm targeting 135 stolen bases for my roster this year, which should put you in the top four in a 12-man roto league. Currently, there are 12 players with an ADP of 200 or higher that are projected to be in the top 50 for stolen bases this year. If you can get either Turner/Mondesi/Smith and pair them up with three late stolen base leaders with an ADP of 200 or higher, you should be set to finish around 135 steals depending on the rest of your roster.
Below is a list of players I'm targeting to help me reach my stolen base goals for the coming season:
Oscar Mercado – ADP: 154.22
Mercado finished his rookie year with a stat line of 70/54/15/15 while hitting .269. Mercado is entering this year with a season under his belt and is now slotted into the two-hole for the Indians. With an improved OBP and more at bats this year, Mercado should be good for at least 20-plus stolen bases.
Kevin Kiermaier – ADP: 287.80
Like I mentioned above, this is a value play because Kiermaier's current ADP. A lot depends on Kiermaiers health this year, as the past four years he has been plagued with injuries, but if given 450-plus at bats, you can pencil him in for at least 15 or more stolen bases.
Kolton Wong – ADP: 209.76
Last year Wong broke out in the stolen base department, putting up 24 stolen bases last year after a productive season by getting on base. Earlier this offseason he set a goal for 30-plus stolen bases for this year. That goal may be a stretch, but going in the 17th round is a tremendous value for a player that should get at least 20 steals.
Mallex Smith – ADP: 151.63
Smith led in steals last year and is coming off back-to-back years with 40-plus stolen bases. The only concern I have with Smith is his inability to get on base. Last year, he finished with a .300 OBP and still managed to steal 46 bases, but he needs to improve on that number to have another successful year.
Trea Turner – ADP: 13.49
If Turner is available at pick 11 or later, you take him. With only one full healthy season to date, Turner has put up 157 steals in four years. The frustration with him is the ability to stay healthy for a full season, but he is a potential five-category machine.