Closer Preview
Fri Feb 21 11:44am ET
By MIKE BARNER
Contributing Writer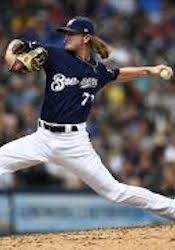 Hader is the top closer this year
One of the more frustrating positions in fantasy baseball can be that of the closer. If you're playing in a traditional 5 X 5 roto league, it's tougher to just flat out punt saves like you could in a head-to-head league. Let's dive into the position to try and make your task of drafting closers a little easier.
"Safe" Options
I put the word safe in quotation marks because closers are the most volatile position in baseball. With that being said, the quartet of Josh Hader, Aroldis Chapman, Kirby Yates and Roberto Osuna are about as reliable as it gets. Hader has been the first reliever coming off the board with an ADP of 55. When you are coming off of a season in which you had 37 saves to go along with a 0.81 WHIP and a 47.8 percent strikeout rate, that's what's going to happen. Even if the Brewers give Corey Knebel (elbow) some save chances after his expected return at some point in May, Hader should still receive the bulk of the opportunities and continue to rack up strikeouts at a staggering rate.
Chapman and Osuna are in great situations with very good teams. Not only do both they have excellent lineups and starting rotations, but they have enough quality depth in their bullpens to get leads to the ninth inning. Chapman has the higher strikeout floor of the two, but Osuna was not slouch in that department with a 28.9 percent strikeout rate last season. He also has a sparkling 0.91 WHIP for his career.
Yates showed what he could do when given a chance to close games in 2018, but he really shined as the full-time closer in 2019. He racked up 41 saves across his 60 appearances and missed plenty of bats with his 41.6 percent strikeout rate. He has produced a WHIP of 0.92 or lower back-to-back seasons and should continue to thrive for an improving Padres team.
Can They Continue?
Two players who surprisingly became excellent closers last year were Liam Hendriks and Taylor Rogers. Hendriks emerging in the role was certainly a surprise given the A's had Blake Treinen on their roster, who was one of the most dominant closers in all of baseball in 2018. However, injuries and ineffectiveness made him lose the job, giving Hendriks an opportunity to shine. He did just that, finishing with 25 saves and a 1.80 ERA that was supported by a 1.87 FIP. There are a lot of things to like about Hendriks that suggest he can be successful again this season. He had a 37.4 percent strikeout rate last season and didn't walk many batters, which helped him post a 0.96 WHIP. He threw a heavy dose of his four-seamer (career-high 69.3 percent of the time) and then went to his curve and slider as his put away pitches, both of which had a whiff rate of at least 54.2 percent.
Another thing to like about Hendriks is that he doesn't really have much competition behind him for saves. The same can't be said for Rogers, who is part of a deep bullpen that also includes Trevor May. Still, he should enter the season with the closer's job and would likely have to struggle for a prolonged stretch to lose it given how well he pitched in 2019. His 30 saves were obviously great, but so was his increase in strikeouts, which resulted in a 32.4 percent strikeout rate.
Can They Bounce Back?
Edwin Diaz was the first closer drafted in many leagues last season. While his collapse wasn't as drastic as Treinen's was, he finished with a staggering 5.59 ERA after posting a 1.96 mark with the Mariners in 2018. What changed? Well, he gave up a ton of home runs, allowing 2.3 per nine innings. To put that into perspective, his 15 home runs allowed in 2019 matched his total from 2017 and 2018 combined. On the plus side, he did have a 39 percent strikeout rate and the Mets are still heavily committed to him moving forward. He should get a chance to close again to start out the season, but he comes with plenty of risk at his current ADP of 111.
Craig Kimbrel had a difficult time finding a job last season before eventually landing with the Cubs. He did rack up 13 saves over 23 appearances after joining the team, but he finished with an ugly 6.53 ERA to go along with a 1.60 WHIP. Over 20 2/3 innings, he walked 12 batters and gave up nine home runs. That's a recipe for disaster. The good news is that he'll now have a regular offseason to prepare and a chance to close with the Cubs heavily committed to him financially. Expect him to still record plenty of strikeouts, but to think that he will return to posting a sub-three ERA might be not be wise.
No Thanks
Even in the deep leagues, there are still some closers that I want no part of. One of them is Mychal Givens, who should get a shot to close again for the Orioles. He's a flyball pitcher, which is not good in today's game. Last season, he allowed 13 home runs over 63 innings. The Orioles shouldn't have many save chances, to begin with, so I'll pass on Givens.
Believe it or not, the Rockies are going to give Wade Davis a chance to close games again. Yes, the same Wade Davis who had an 8.65 ERA and a 1.88 WHIP last year. Having to play half of his games at Coors Field combined with his career 22.3 percent strikeout rate is a really bad combination. Don't be surprised if he loses the job before the end of May, if not sooner.
The Giants figure to be a mess in the ninth inning. They don't have great options and have Gabe Kapler as their new manager, who wasn't exactly consistent with his closers during his tenure with the Phillies. The front runners for the job figure to be right-hander Shaun Anderson and lefty Tony Watson, so they could actually split the job based on which batters are due up in the ninth. The Giants aren't likely to have many save opportunities as it is, so if they do split up the closer responsibilities, no one is likely to provide much help in fantasy.
Mike Barner has been covering fantasy sports since 2007. His work has appeared in Sports Illustrated, Yahoo, SportsLine and RotoWire. Mike was also a finalist for the 2018 FSWA Basketball Writer of the Year award. Follow Mike on Twitter @rotomikebarner.