Pitching Values
Fri Mar 6 1:46pm ET
By MIKE BARNER
Contributing Writer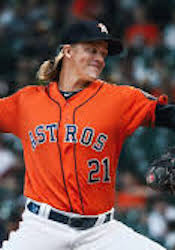 Zack Greinke carries some risk
Last week, I highlighted some overvalued and undervalued hitters based on their current ADP's. This week, it's time discuss the pitchers that fit those categories. The position has already been hit hard by injuries, so starting yourself off on the right foot with a strong group of pitchers coming out of your draft could be key.
Overvalued
Zack Greinke, Houston Astros: As far as ratios go, Greinke is a valuable option. He finished with a 2.93 ERA last season that was supported by a 3.22 FIP. His WHIP checked in at 0.98 in large part because of his miniscule 3.7 percent walk rate. With teams hitting home runs at record paces, Greinke wasn't impacted in that category since he allowed just 0.9 HR/9. A move to the Astros and the American League didn't hurt him, either, considering he went 8-1 with a 3.02 ERA and a 1.07 WHIP after being dealt at the trade deadline.
As good as those numbers are, what worries me about Greinke is his lack of strikeouts. His strikeout rate was just 23.1 percent last year and has been over 23.7 percent only one time across the last five seasons. His current ADP of 42 puts him in the same range as Luis Castillo (41.2), Clayton Kershaw (42.5), Aaron Nola (42.7) and Blake Snell (42.7). Charlie Mortin (47.7) is not too far behind, either. Snell and Morton have considerably higher strikeout upsides while Kershaw has also been excellent with regards to his ratios throughout his career. As reliable as Greinke has been, I'd only draft him ahead of Nola out of this group. Even that is a close call.
Madison Bumgarner, Arizona Diamondbacks: Watching Bumgarner pitch for the Diamondbacks is going to be a strange sight to get used to. He's spent all 11 years of his career with the Giants, becoming one of the faces of the franchise. He's not close to the pitcher that he was in his prime anymore, finishing last season with a 3.90 ERA that was backed by a 3.90 FIP. His strikeout rate was only 24.1 percent, although his 1.13 WHIP was impressive and not at all aided by his .289 BABIP allowed.
Now a member of the Diamondbacks, there is plenty to be worried about with him this season. For his career, he has a 2.96 FIP and a 1.05 WHIP at pitcher-friendly Oracle Park compared to a 3.68 FIP and a 1.17 WHIP on the road. Those numbers have become particularly more contrasting the last couple of seasons. In 2018, he had a 3.99 FIP and a 1.24 WHIP at home compared to a 4.99 FIP and a 1.45 WHIP on the road. Last season, he had a 3.48 FIP and a 0.93 WHIP at home compared to a 4.51 FIP and a 1.41 WHIP on the road. His current ADP is 102, which puts him right around some excellent hitters in Josh Donaldson (96.8), Yasmani Grandall (97.8), Matt Chapman (98.5) and Mike Moustakas (100.5). Even Jeff McNeil (108.1) and Ramon Laureano (108.5) are being selected after him. Given the hitters available in this range, it might be best to avoid the uncertainty that comes with Bumgarner and his new surroundings.
Undervalued
David Price, Los Angeles Dodgers: Last season didn't exactly go well for Price. He was limited to 107 1/3 innings because of injuries and finished with a 4.28 ERA, which was the first time he had an ERA over 4.00 since 2009. If we are looking for positives, though, he did have a 3.62 FIP and he was a bit unlucky with a .336 BABIP allowed. His strikeout rate even jumped up to 28 percent, which was the highest mark of his career.
The Red Sox decided to move on from him during the offseason, shipping him to the Dodgers in the trade that also saw them deal away Mookie Betts. A change in scenery might be just what Price needs, especially considering the issues that he had with the Boston media. There is also far less pressure on him with Walker Buehler and Clayton Kershaw leading the Dodgers' rotation. His recent injury issues are a bit worrisome, but at his current ADP of 157.3, he could be well worth the risk. I'd argue he's a much better option than James Paxton, who is already set to start the season on the IL and has had a history of injury issues, as well. His current ADP sits at 140.
Nick Anderson, Tampa Bay Rays: Anderson couldn't make his way to the majors as a member of the Twins organization, but he finally broke through with the Marlins last season. He wasn't exactly lights out, but he pitched well for them with a 3.92 ERA and a 1.28 WHIP across 43 2/3 innings. It wasn't until he was traded to the Rays that he really took off, posting a 2.11 ERA and a 0.66 FIP across 21 1/3 innings. One area that he did excel in for both teams was racking up strikeouts, leaving him with a 41.7 percent strikeout rate.
The Rays can sometimes be a tricky bullpen to navigate from a fantasy perspective because they are usually pretty fluid with the closer's job. However, after Emilio Pagan was dealt to the Padres, Anderson should receive one of the first opportunities to earn saves. With his strikeout upside, he could easily become a top-10 closer if he has the role exclusively. His current ADP of 164.8 seems like a steal when you consider it's not too far ahead of the likes of Jose Leclerc (171.4) and Ian Kennedy (177.4).
J.A. Happ, New York Yankees: Happ couldn't have looked much better after the Yankees acquired him from the Blue Jays during the 2018 season, posting a 7-0 record to go along with a 2.69 ERA and a 1.05 WHIP across 11 starts. However, his 4.21 FIP might have been a warning that things wouldn't go as smoothly during his first full season in the Bronx. Things did come crashing down with Happ posting a 4.91 ERA and a 5.22 FIP last season. He gave up a whopping 34 home runs across 161 1/3 innings, which was rare considering he has allowed a respectable 1.2 HR/9 for his career.
The Yankees were reportedly thinking of trading Happ at one point during the winter, but it's a good thing that they didn't based on all of their injuries. He's now their number three starter and likely isn't going anywhere anytime soon. He's looked good so far this spring, allowing only one run across nine innings. He even struck out six hitters across four innings against the Phillies on Wednesday. While he's certainly not someone to build your fantasy staff around, his current ADP of 243.9 could leave him as a bargain if he can carry over his strong start to the spring into the regular season.
Mike Barner has been covering fantasy sports since 2007. His work has appeared in Sports Illustrated, Yahoo, SportsLine and RotoWire. Mike was also a finalist for the 2018 FSWA Basketball Writer of the Year award. Follow Mike on Twitter @rotomikebarner.