Pitching Primer: Week 2
Fri Jul 24 9:56am ET
By MIKE BARNER
Contributing Writer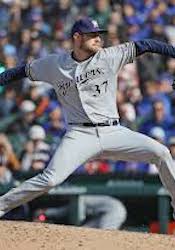 Houser is worth using this week
Welcome back to our Pitching Primer article! For those who are new to the column, I'll examine some pitchers who will each have two starts in the upcoming week and whether or not you'll want to include them in your fantasy baseball lineups. Let's dive in and examine what's on tap for Week 2, which is the first full week of the season.
Gerritt Cole, New York Yankees: at PHI, vs. BOS
Cole made his Yankees debut Thursday against the Nationals in what turned out to be a rain-shortened victory. He was once again stellar, allowing one run and recording five strikeouts across five innings. He threw 75 pitches and was stretched out heading into the outing, so limited pitch counts should be of no concern for him during his two-start week.
These aren't exactly two favorable matchups. The Phillies have a more potent lineup with the DH now available to them, and the Red Sox might have a terrible starting rotation, but their lineup still boasts some dangerous hitters, including J.D. Martinez, Rafael Devers and Xander Bogaerts. Still, there's no need to overthink it with Cole. His strikeout upside is off the charts, so make sure he's locked into your lineup.
Chris Bassitt, Oakland Athletics: vs. LAA, at SEA
Now we've hit the streaming portion of the article. There are a few viable streaming options to discuss, with Bassitt being one of them. He's not flashy, but he finished 2019 with a 3.81 ERA and a 1.19 WHIP. He was also excellent at home, posting a 3.33 FIP compared to a 5.38 FIP on the road. While he doesn't miss a ton of bats, his 23 percent strikeout rate is at least respectable.
Facing the Angels is no easy task, but at least he'll face them at home. The Mariners, on the other hand, are an excellent matchup. Their lineup is already lacking depth and has been made even worse by the continued absence of Mitch Haniger (back). As someone that is still available in 71 percent of leagues, Bassitt could provide value.
Adrian Houser, Milwaukee Brewers: at PIT, vs. STL
The Brewers certainly have some intriguing young arms in their rotation. One of them is Houser, who bounced between the starting rotation and the bullpen last season. He faired well, overall, recording a 3.72 ERA that was supported by a 3.88 FIP. He also did a good job of keeping the ball inside the park, allowing just 1.1 HR/9. Even his 25.3 percent strikeout rate was intriguing.
Houser starts off his 2020 campaign with a stellar matchup against the rebuilding Pirates. They do have a few potent bats in their lineup, but it is weak, overall. It doesn't help their cause that Gregory Polanco (illness) is out. There is some concern surrounding Houser's second start against the Cardinals, but working in his favor is that he recorded a 3.42 FIP and a 1.14 WHIP at home last season. Still available in 16 percent of leagues, there is upside here for him to be a valuable contributor.
Luke Weaver, Arizona Diamondbacks: at SD, vs. LAD
The Diamondbacks acquired Weaver with the hopes of making him one of the anchors of their starting rotation for years to come. He rewarded them early last season, posting a 3.07 FIP and a 1.07 WHIP. The problem was he only appeared in 12 games because of a forearm injury. Healthy now, he has the potential to take another step forward on a team that is looking to make a run at a playoff spot.
As good as things look for Weaver, this may not be the week to put him into your lineup. The Padres batting order is going to be deeper this season with Fernando Tatis Jr., Manny Machado, Tommy Pham and Eric Hosmer all healthy out of the gate. Then he has to face the Dodgers, who have the potential to have the best lineup in baseball after acquiring Mookie Betts from the Red Sox. If you have other viable starting options, sending Weaver to your bench could prove to be a smart move.
Austin Voth, Washington Nationals: vs. TOR, at MIA
The defending champions aren't exactly off to a great start. They've lost some of their depth with Ryan Zimmerman and Joe Ross opting out of the season and suffered a tough blow when Juan Soto tested positive for COVID-19 on Thursday. Ross might not be the biggest name out of that trio, but his absence means that Voth is locked in as the team's fifth starter. He showed some promise during his brief tenure with the team last year, recording a 3.79 FIP and a 1.05 WHIP across nine appearances.
Voth's first start against the Blue Jays won't exactly be a walk in the park. They've assembled an extremely talented young core, led by Vladimir Guerrero Jr. and Bo Bichette. If there is one hole, it's that they are prone to striking out. Last season, the Blue Jays had the seventh most strikeouts in all of baseball. Voth's second start of the season against the Marlins is about as good as it gets. They did add Jonathan Villar, Jesus Aguilar and Corey Dickerson over the winter, but their lineup still has plenty of holes and doesn't boast a lot of power. Still available in 93 percent of leagues, Voth should at least be on your radar if you need a streaming option.
Mike Barner has been covering fantasy sports since 2007. His work has appeared in Sports Illustrated, Yahoo, SportsLine and RotoWire. Mike was also a finalist for the 2018 FSWA Basketball Writer of the Year award. Follow Mike on Twitter @rotomikebarner.