From the Godfather: Week 2
Mon Jul 27 11:05am ET
By CHARLIE WIEGERT
Contributing Writer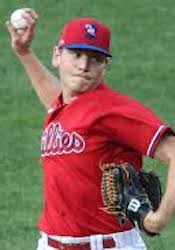 Howard makes debut this week
Some leagues have a long first week that runs from when games started on Thursday thru Sunday, August 2nd. I'm not a big fan of the long week because many players have already hit the IL, and I wish I could put a healthy player in the lineup.
Gone are top pitchers Clayton Kershaw, Justin Verlander, Corey Kluber and Steve Strasburg. If you had those four pitchers on your team last Wednesday, you were probably feeling pretty good about dominating the pitcher categories. In four days, you've gone from the top of the heap to the bottom! You knew this was going to be a crazy year, but not this crazy!
Unfortunately, there are not a lot of good options on the waiver wire. Oakland's Chris Bassitt should have two starts, as will one of the pitchers he'll be facing, Angels Griffin Canning. Michael Wacha joins the Mets rotation in Boston, and Josh James in Houston. Brewer's Adrain Houser, White Sox's Dylan Cease, Indian's Aaron Civale, and Brave's Kyle Wright are all streaming options. Good luck with them!
Looking for a sleeper? Spencer Howard gets his first major league start Friday against Toronto in a Blue Jay home game being played in Philadelphia as their new Buffalo home isn't ready yet. The Phillies waited with him so his service time clock doesn't start, but he appears to be the real deal. The young Blue Jays will be a good test.
Looking for a closer? Oliver Drake got the first save for Tampa Bay this year, but I think Nick Anderson will lead the team. Kwang-Hyun Kim looked shaky getting the Cardinals first save, and Giovanny Gallegos should get activated this week. I think both will share save opportunities as Kim shouldn't be used back-to-back days. Greg Holland looks safe in Kansas City, as does Wade Davis in Colorado. If you're desperate, go get em! With Keone Kela out in Pittsburgh, Nick Burdi looks to be the guy to close games.
Seattle outfielder Kyle Lewis is off to a good start. Get him if you can. I lost Mike Moustakas in a couple leagues, and my waiver choices are slim; Asdrubal Cabrera, Wilmer Flores, Kiki Hernandez, Hanser Alberto, Colin Moran and Jake Lamb. Not too exciting!
The schedule maker has given the Cardinals, Rockies and Rangers two days off in the next seven. Eight teams have one day off, leaving 19 playing all seven. With the short season, it's important to get as many at bats as possible, so consider sitting the five game guys if you have a good alternative.
The first team to get hit with COVID-19 problems is the Miami Marlins, who won two of three at Philadelphia this weekend. Several players have tested positive and games have already been cancelled. This is a situation to avoid for now.
But it's great to have baseball back. Enjoy it while you can!
Charlie Wiegert was the sixth person to be inducted in the Fantasy Sports Hall Of Fame in 2001. He is a founder of CDM Fantasy Sports and Fantasy Sports Trade Association. He has been playing and winning fantasy baseball leagues since 1984. If you have any questions for Charlie, email them to cwiegert@cdmsports.com. Follow him on Twitter @GFFantasySports.