Pitching Primer: Week 3
Fri Jul 31 12:21pm ET
By MIKE BARNER
Contributing Writer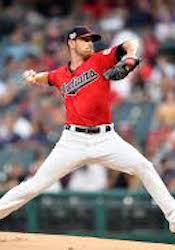 Shane Bieber is a must start
There has never been a season in which projecting starting rotations has been more difficult. With outbreaks of COVID-19 impacting multiple teams, things can change significantly at a moment's notice. However, if you are able to cash in with a two-start pitcher or two on your fantasy squad, it could make a huge difference. Let's discuss a few pitchers that are currently projected to start two times in Week 3 and whether or not your want to put them in your lineup based on the matchups.
Shane Bieber, Cleveland Indians: at CIN, at CWS
Talk about a masterful performance. Facing one of the best lineups in baseball Thursday, Bieber threw eight shutout innings against the Twins. He allowed only three hits, did not issue a walk and recorded 13 strikeouts. Through 14 innings this season, he hasn't allowed a single run while racking up 27 strikeouts. He's pretty much matchup proof, so he could be a difference maker this week despite having to face two good lineups in the Reds and White Sox. No need to overthink this one. Keep him in your lineup.
Lucas Giolito, Chicago White Sox: at MIL, vs. CLE
Unlike Bieber, Giolito couldn't hold down the Twins when he faced them in his season opener. In fact, they tagged him for seven runs and two home runs across 3 2/3 innings. The good news is that he bounced back in style Wednesday, throwing six shutout innings and recording six strikeouts versus the Indians. That's much more in line with the pitcher that had a 3.41 ERA and 3.43 FIP during his 2019 breakout campaign.
Giolito might be facing two teams with playoff aspirations, but they don't exactly have overwhelming lineups. The Brewers have only averaged four runs through their first six games, mainly because Christian Yelich is slumping. The Indians have been even worse, averaging 3.4 runs through their first seven contests. With Giolito's upside, he could be in line for a very productive week.
Sonny Gray, Cincinnati Reds: vs. CLE, at MIL
Gray being traded from the Yankees to the Reds has revitalized his career. He had arguably his best season in 2019, finishing with a 2.87 ERA and a 3.42 FIP. His biggest area of improvement was in the strikeout department since he recorded a 28.9 percent strikeout rate. That number sits at just 22.4 percent for his career.
Gray has shown that last season was no fluke. Through his first two starts, he's accumulated a whopping 20 strikeouts across 12 2/3 innings. He's also allowed just three runs, only one of which was earned. On top of that, his WHIP sits at a sparkling 0.55. That obviously won't hold up over the course of the season, but his 1.08 WHIP last year shows that he can excel in that area. With the Brewers and Indians offensive deficiencies already detailed, Gray is also a pitcher to lock into your lineup.
Madison Bumgarner, Arizona Diamondbacks: vs. HOU, at SD
There are certainly a lot of big-name pitchers that are scheduled to start two times this week. Bumgarner adds to the list, although he's not the pitcher that he once was during his prime with the Giants. Now in his first season with the Diamondbacks, he allowed five runs across 11 innings in his first two starts. One of those matchups came against these same Padres, a team that recorded three runs against him in their season opener. Facing them again should be a challenge, considering the Padres have scored the most runs in baseball. Add in Bumgarner having to face the potent Astros before that and this could be a prime week to move him to your bench.
Rich Hill, Minnesota Twins: vs. PIT, at KC
The delay to the start of the season has been beneficial for Hill, who wasn't expected to be ready in March because of elbow surgery. When healthy, he can be a very productive pitcher. He has a 3.93 FIP for his career and has finished with a FIP over 4.00 only one time since 2009. He's also an excellent source for strikeouts, posting a strikeout rate of at least 27.4 percent in each of the last seven seasons. He started off his Twins' career on the right foot, shutting out the Cardinals through five innings Wednesday. If there was a negative to his start, it was that he only recorded two punchouts.
This is a prime two-start week to make sure that Hill is in your lineup. The Pirates lineup is among the worst in baseball and the Royals aren't too far behind them. The Royals had one game that they scored 14 runs against the Tigers, but they combined to score 17 runs across their other six games. The Royals are also tied for the fourth-most strikeouts in the league.
Mike Barner has been covering fantasy sports since 2007. His work has appeared in Sports Illustrated, Yahoo, SportsLine and RotoWire. Mike was also a finalist for the 2018 FSWA Basketball Writer of the Year award. Follow Mike on Twitter @rotomikebarner.