Pitching Primer: Week 4
Fri Aug 7 12:21pm ET
By MIKE BARNER
Contributing Writer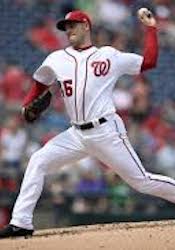 Patrick Corbin is off to hot start
It's been a few days since we had any negative news regarding COVID-19 outbreaks in baseball, so things might be headed in the right direction for every team to be in action during Week 4. There are a lot of pitchers that are set to start two times each with there being so few off days this season. Let's dive into the matchups for five of them and discuss whether or not you want to include them in your lineup.
Yu Darvish, Chicago Cubs: at CLE, vs. MIL
Darvish has already made three starts this season, allowing four runs across 17 innings. He also has 16 strikeouts during that stretch, which is actually a bit of a letdown given his career 29.8 percent strikeout rate. Still, it's encouraging that he hasn't shown any lack of control, issuing just two walks. He also hasn't allowed a home run yet, which is big since he allowed 33 across 178 2/3 innings last season.
Darvish's first matchup against the Indians is a favorable one. Despite having a few dangerous hitters, the Indians' lineup is very top heavy. Their big bats haven't been able to carry the lineup so far, leaving the team to average only 3.4 runs per game. The Brewers have also had their problems offensively, averaging just 3.9 runs per contest. They did get to Darvish for three runs across four innings in his season debut, but these two matchups still leave Darvish with a ton of upside this week.
Patrick Corbin, Washington Nationals: at NYM, at BAL
With Max Scherzer (hamstring) and Stephen Strasburg (hand) both dealing with injuries, the Nationals are lucky to get two starts out of Corbin this week. He's made two starts in the early going, recording 16 strikeouts over 12 innings. He's emerged in that department the last two seasons, recording a 30.8 percent and 28.5 percent strikeout rate, respectively.
Corbin's first start of the week will actually mark his second straight outing against the Mets. While his first start wasn't off the charts, it was respectable with him allowing three runs and recording eight strikeouts across 5 2/3 innings. The Mets are currently dealing with injuries to Jeff McNeil (back), Robinson Cano (groin) and Amed Rosario (quadriceps), although McNeil and Rosario could be back before Corbin's start against them. Still, this is not a bad matchup. His second start of the week against the Orioles has the potential to be a great one with the Orioles averaging 4.1 runs a game. No need to overthink this one. Be sure to keep Corbin locked into your lineup.
Sean Manaea, Oakland Athletics: at LAA, at SF
Manaea was limited to five starts last season because of injury, but he still managed a 1.21 ERA across those outings. However, his 3.42 FIP indicate he wasn't nearly that dominant. Things have gone in the opposite direction for him this season with him allowing 13 runs (11 earned) over 12 1/3 innings. His control hasn't been an issue since he's issued only one walk, but he's allowed 17 hits and two home runs.
The Angels proved to be a tough foe for Manaea earlier this season when they touched him up for four runs across 4 2/3 innings. Their lineup is much more dangerous now with Anthony Rendon in the fold and their upside could be even higher if Shohei Ohtani continues to DH more after being shut down from pitching. Manaea's second start against the Giants isn't exactly terrible, but the Giants have shown some life, offensively, by averaging 4.6 runs per contest. It might be time to put Manaea on your bench while he tries to work things out.
Steven Matz, New York Mets: vs. WAS, at PHI
Matz has plenty of potential, but he hasn't been able to put it all together yet. He's registered a FIP of at least 4.60 in each of the last three seasons, also allowing at least 1.5 HR/9 during each of those campaigns. He came out of the gate with two strong starts against the Braves and Red Sox, but flopped in his last outing by allowing five runs across three innings versus the Nationals.
It's important to note that the two games that Matz performed well were at Citi Field, where he had a 3.46 FIP and a 1.15 WHIP in 2019. His poor start versus the Nationals came on the road, where he had a 6.04 FIP and a 1.58 WHIP last season. He might fare better against the Nationals during their rematch in New York, but that's still a tough lineup to navigate with Juan Soto back. His second start against the Phillies could be a disaster, so staying away from Matz might be a wise move.
Tyler Mahle, Cincinnati Reds: vs. KC, vs. PIT
Mahle's career with the Reds has been anything but impressive. In his first two full seasons as a starter, he's never finished with an ERA below 4.98 or a FIP below 4.66. His problem has been the long ball, allowing 1.6 HR/9 for his career. His career 1.43 WHIP isn't helping matters, either. On the bright side, he has surprised in his first two starts this season, allowing two runs across 10 innings.
As far as two favorable matchups go, Mahle has them this week. The Royals and Pirates are among the worst teams in the league and both have struggled to put up runs. They have also struck out the ninth-most and 10th-most times in the league, respectively. Mahle has a stellar lineup behind him with Nicholas Castellanos back in the fold, so run support could be plentiful for him against two bad rotations. Mahle is still available in 98.9 percent of leagues, making him one of the top streaming options to pursue.
Mike Barner has been covering fantasy sports since 2007. His work has appeared in Sports Illustrated, Yahoo, SportsLine and RotoWire. Mike was also a finalist for the 2018 FSWA Basketball Writer of the Year award. Follow Mike on Twitter @rotomikebarner.