Pitching Primer: Week 5
Fri Aug 14 1:17pm ET
By MIKE BARNER
Contributing Writer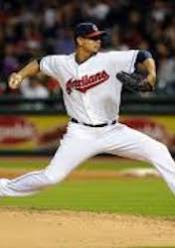 Carrasco looks great in return
While the Cardinals are still trying to find their way back onto the field after their COVID-19 outbreak, the rest of baseball continues to churn on. We have a bevy of two-start pitchers this week, which could lead to some significant production for those that roster them in fantasy. There are also some two-start pitchers that have the potential to torpedo your staff. Lets' discuss a few of the options and whether or not they should be locked into your starting lineup.
Carlos Carrasco, Cleveland Indians: at PIT, vs. DET
The fact that Carrasco is even back in the majors after dealing with Leukemia last season is an achievement in of itself. Not only is he back with the team, but he's been stellar through four starts, allowing eight runs and recording 30 strikeouts over 22 1/3 innings. He's been an excellent source for strikeouts throughout his career, recording a strikeout rate of at least 28.1 percent in four of the last five seasons.
It doesn't get much better than these two matchups for Carrasco. The Pirates lineup has a ton of holes, which has resulted in them entering play Friday with the second-lowest OPS (.623) in baseball. Although the Tigers haven't been as anemic, they suffered a tough break this week when C.J. Cron (knee) was placed on the IL. There is no need to overthink this one. Lock Carrasco into your starting lineup and enjoy the ride.
Dylan Bundy, Los Angeles Angels: vs. SF, at OAK
Desperate for starting pitchers, the Angels took a chance by acquiring Bundy after he failed to live up to expectations with the Orioles. During his tenure in Baltimore, he never finished with an ERA under 4.02 and he had a FIP of at least 4.70 in three of the last four years. He also struggled to keep hitters inside the ball park, which has resulted in him allowing 1.6 HR/9 for his career.
No longer having to pitch his home games at hitter-friendly Oriole Park at Camden Yards, Bundy has thirved with his new squad. He hasn't allowed more than three runs in any of his first four starts and has racked up 35 strikeouts across 28 2/3 innings. He's faced the A's twice so far, holding them to one run over 13 2/3 innings. The Giants present an even more favorable matchup, considering their .697 OPS is the eighth-worst mark in baseball. There's no reason to believe that Bundy can't continue his success given these two favorable opponents.
Matthew Boyd, Detroit Tigers: at CWS, at CLE
Boyd was a perplexing fantasy option last season. The strikeouts were excellent with his 30.2 percent strikeout rate, but he allowed 1.9 HR/9. He was especially hammered down the stretch, allowing 16 home runs and a 1.52 WHIP across 47 1/3 innings in his last nine starts. Despite those struggles, the Tigers entered this season looking for him to be the ace of their staff.
Unfortunately for the Tigers, Boyd has been rocked in his first four starts, allowing 22 runs over 19 1/3 innings. He's once again been done in by the long ball, giving up five of them already. What's also concerning is that he only has 18 strikeouts. Until he shows signs of turning things around, he's way too risky in a two-start week. Consider that he allowed 14 runs over 9 1/3 innings in his last two starts and the potential downside is downright scary.
Kyle Freeland, Colorado Rockies: at HOU, at LAD
Freeland has had a couple of seasons at both ends of the extreme lately. He was stellar for the Rockies in 2018, posting a 2.85 ERA and 3.67 FIP. His 1.25 WHIP wasn't off the charts, but he was able to be successful in large part because he allowed only 0.8 HR/9. Everything fell apart for him in 2019, though, leaving him with a 6.73 ERA and a 5.99 FIP. His WHIP jumped to 1.58 and he allowed 2.2 HR/9, so it's no surprise that his final numbers were atrocious.
Is the 2018 version of Freeland back? He's only allowed seven runs across 25 2/3 innings so far and he's sporting a much-improved 1.09 WHIP. However, don't get too excited just yet. He has allowed four home runs and his 4.91 FIP is not nearly as encouraging. These are two tough matchups against teams that have plenty of dangerous hitters in their lineups. There might be other weeks in which Freeland can provide value, but this might not shape up to be one of them.
Jordan Montgomery, New York Yankees: vs. BOS, at NYM
Montgomery has sandwiched two good starts around one bad one out of the gate. He started off his season strong against the Red Sox by allowing only one run over 5 2/3 innings. After getting touched up for five runs against the Phillies, he rebounded to hold the Braves to three runs over six innings in his last outing. All three of those teams have potent offenses, so the Yankees have to be encouraged by his results.
Facing the Red Sox a second time around is no walk in the park, but Montgomery's results against them earlier this season can't be overlooked. Taking on the Mets in his second start could lead to a boost in strikeouts since the Mets have struck out the fifth-most times in the league. With a potent offense to provide him with run support and a strong lineup behind him, Montgomery is a viable option who is still available in 30 percent of leagues that could pull off a couple of wins.
Mike Barner has been covering fantasy sports since 2007. His work has appeared in Sports Illustrated, Yahoo, SportsLine and RotoWire. Mike was also a finalist for the 2018 FSWA Basketball Writer of the Year award. Follow Mike on Twitter @rotomikebarner.