Pitching Primer: Week 8
Fri Sep 4 4:03pm ET
By MIKE BARNER
Contributing Writer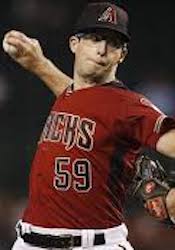 Gallen has become must start
We are more than half-way through this abbreviated baseball season, so it's now our never if you are going to emerge victorious in your fantasy league. There are several two-start pitchers lined up for Week 8, so let's discuss five of them and the impact that they could have.
Zac Gallen, Arizona Diamondbacks: at SF, vs. SEA
Gallen is emerging as the ace of the future for the Diamondbacks. He dominated a potent Dodgers' lineup in his last outing, allowing one hit and recording seven strikeouts over seven scoreless innings. He hasn't allowed more than two runs in any of his eight starts this season and opposing hitters have just a 29.3 percent hard-hit rate against him. His WHIP also checks in at a miniscule 0.94.
Gallen is basically a set-it-and-forget-it type pitcher at this point. However, it's still noteworthy that he has two starts this week since he has the potential to be a difference maker in leagues. He's already faced the Giants twice this season, allowing two runs and recording 11 strikeouts across 13 innings. The Mariners are also a favorable matchup since their .689 team OPS is the sixth-lowest mark in baseball.
Zack Wheeler, Philadelphia Phillies: at NYM, at MIA
The Phillies spent big during the offseason to bring Wheeler in to help their starting rotation. He's lived up to expectations so far, recording a 2.20 ERA and a 1.07 WHIP through seven starts. His 3.22 FIP is also encouraging, although his strikeouts have dropped off dramatically. He has a 22.5 percent strikeout rate for his career, but that mark sits at just 16.5 percent this season. On the plus side, his 5.1 percent walk rate is on pace to be the best mark of his career.
Wheeler will face his former squad in his first start, which comes at Citi Field. He produced a FIP of 3.35 or lower and a WHIP of 1.18 or lower there in both of the last two seasons. The Marlins made a big splash by acquiring Starling Marte at the trade deadline, but they are still a team that has averaged 4.1 runs a game for the season. This week is setting up nicely for Wheeler to thrive.
Kyle Hendricks, Chicago Cubs: vs. STIL, at MIL
Hendricks is coming off of one of his best starts of the season, recording six strikeouts and allowing one run across six innings versus the Pirates. Yes, the Pirates are a terrible team. Still, Hendricks has once again pitched well by allowing three runs or fewer in six of his eight starts. He has a 1.12 WHIP, which should come as no surprise since he has never finished with a WHIP over 1.19 in his career.
The downside that comes with Hendricks is his general inability to record strikeouts. He has only 40 across 50 innings this season and he has a 20.8 percent strikeout rate for his career. Also, if his control is off, he can be hit very hard. He has allowed at least five runs in a game twice this season, although both of those outings came against the Reds. The Cardinals are not a terrible matchup and he held them to three runs across 6 1/3 innings in their previous matchup. The start that sticks out this week is the one against the Brewers, a team he pitched a complete-game shutout against in his season debut. They have not been a good offensive team with their .683 OPS checking in as the fifth-lowest mark in baseball. This is still a week to lock Hendricks into your starting lineup.
Jon Gray, Colorado Rockies: at SD, vs. LAA
Gray is coming off of a horrible outing against the Giants in which he allowed seven runs across 2 2/3 innings. He's pitched fewer than five innings in four of his eight starts this season and has a bloated 6.69 ERA to go along with a 1.44 WHIP. As bad as those stats are, what's really alarming is that his strikeout rate has plummeted to 12.6 percent.
If you're looking for a streaming option, look elsewhere. His first start against the Padres has the potential to be another disaster with how potent their lineup has been. Things might not get much easier for him in his second start against Mike Trout and the Angels at Coors Field. Gray could single-handedly tank your team's ratios.
Triston McKenzie, Cleveland Indians: vs. KC, at MIN
The Indians made a splash at the deadline by trading away Mike Clevinger. The result of that move is that McKenzie is now locked into a spot in their starting rotation. Despite never pitching above Double-A prior to this season, McKenzie has come out of the gate firing with a 33.3 percent strikeout rate through three starts. He's been able to translate that into a 1.69 ERA and a 0.75 WHIP. He has had a bit of luck on his side, though, given his .188 BABIP allowed.
McKenzie's first start in Week 8 will come against the Royals, who he just shut out across six innings in his last outing. They have only averaged 3.9 runs a game this season, so McKenzie has a favorable opportunity to perform well against them in their rematch. The Twins have some dangerous hitters, but their .722 OPS actually ranks inside the bottom-third of baseball. Don't let that matchup scare you away from starting McKenzie.
Mike Barner has been covering fantasy sports since 2007. His work has appeared in Sports Illustrated, Yahoo, SportsLine and RotoWire. Mike was also a finalist for the 2018 FSWA Basketball Writer of the Year award. Follow Mike on Twitter @rotomikebarner.