Mock Draft Results
Fri Feb 26 10:32pm ET
By MIKE BARNER
Contributing Writer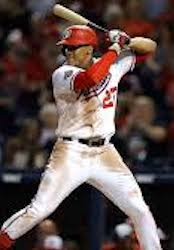 Soto goes third overall in draft
Wednesday night, I participated in a fantasy baseball mock draft in preparation for The Great Fantasy Baseball Invitational, which kicks off March 1st. For those who are not familiar with the league, it is a large contest comprising of both fantasy baseball analysts and fans. There are individual league winners (15 teams in each league) and overall leaderboard for all participants. It is a 5X5 roto league with the categories being AVG, HR, R, RBI, SB, W, K, SV, ERA and WHIP. You can see the accompanying draft board for the full results, but here is a quick breakdown of my team from the mock draft. I started out with the third overall pick and listed when I selected each player (round, pick number) next to their name.
C: Jorge Alfaro (20.13)
C: Tom Murphy (23.3)
1B: Eric Hosmer (11.3)
2B: Cavan Biggio (4.3)
3B: Yoan Moncada (6.13)
SS: Dansby Swanson (8.13)
MI: Jean Segura (14.13)
CI: Jared Walsh (12.13)
OF: Juan Soto (1.3), Michael Conforto (5.3), Jarred Kelenic (15.3), Randal Grichuk (17.3), David Peralta (18.13)
UTL: Austin Hayes (21.3)
P: Max Scherzer (2.13)
P: Zac Gallen (3.3)
P: Kyle Hendricks (7.3)
P: Kirby Yates (9.3)
P: Alex Colome (10.13)
P: Corey Kluber (13.3)
P: Joakim Soria (13.3)
P: Jordan Montgomery (19.3)
P: Devi Garcia (24.13)
BN: Isiah Kiner-Falefa (22.13)
BN: Adam Wainwright (25.3)
BN: Harrison Bader (26.13)
BN: Evan White (27.3)
BN: Adam Ottavino (28.13)
BN: Daniel Ponce de Leon (29.3)
The first two selections in the draft were Ronald Acuna Jr. and Fernando Tatis Jr., so I was debating between Soto and Mookie Betts with the third pick. I don't think you can go wrong either way if faced with the same decision, but I decided to go with Soto because I think he will hit for more power than Betts. He has also mentioned wanting to steal more bases this season, which makes him even more appealing.
Among the interesting first-round picks was Trea Turner being selected fourth overall, ahead of Betts and Mike Trout. In a 15-team league, steals can be very hard to come by, so getting them out of the way early by selecting Turner does take some of the pressure off. Also, Gerrit Cole fell to the ninth pick after Christian Yelich was selected eighth. Can Yelich rebound from his disastrous 2020 campaign? I think he can, but he'll need to improve on the ugly 30.8 percent strikeout rate that he posted last season.
Being this is a 15-team league, I wanted to try out addressing pitching early. After getting an anchor like Soto for my offense, I decided to go with Scherzer and Gallen with my next two picks. Gallen is an ace in the making, posting a 2.78 ERA, 3.64 FIP, 1.17 WHIP and 28.5 percent strikeout rate through his first 27 starts. With those two in the fold, the pressure was off for me to address my staff with pitchers I wasn't as high on in the next few rounds.
Even with two pitchers among my first three picks, I couldn't pass on Hendricks in the seventh round. I have enough of a strikeout base with Scherzer and Gallen, so I could take a hit with Hendricks in that regards. Hendricks isn't flashy, but he's never had an ERA above 3.95 and he has a career WHIP of 1.10.
With my hammering starting pitching early, while also trying not to fall too far behind offensively, I was forced to mostly ignore closers in the early rounds. However, I couldn't just punt saves altogether in a contest like this that has an overall winner. If I did, not only would it be difficult to win my individual league, but I'd have virtually no chance of winning the overall competition. I took a chance on Yates bouncing back from injury. He's the best closing option on an improved Blue Jays team and he can also be an asset in the strikeout department. I followed his selection with Colome in the next round, who now finds himself as a member of the Twins. Taylor Rogers could steal away some save opportunities, but Colome could threaten for 25 saves, while also providing a low ERA and WHIP.
In case Yates or Colome don't work out, I went with Soria as my third closing option. He hasn't been named the outright closer for the Diamondbacks, and he might never be. However, he should at least have a share of the role, which could lead him to 15 to 20 saves. An interesting flier I took towards the end of the draft was Ottavino, who could close out some games for the Red Sox if he can rebound from his rough 2020 campaign with the Yankees. Even with his struggles last season, he recorded 25 strikeouts across 18 1/3 innings.
As far as my hitters go, I'm certainly lacking depth. If this league were to play out, I'd probably have to start the season with Kiner-Falefa in my lineup since Kelenic is likely to begin the season in the minors. Still, Kelenic shouldn't be down for long, and he's a threat to post 20 home runs and 20 steals, so I couldn't pass him up in the 15th round. If he's called up towards the end of April, he could provide a tremendous return given the draft capital that I spent on him.
A key note is that, if you haven't participated in any mock drafts yet, you quickly realize how shallow the depth is at first base. Since I didn't grab one of the top options, I decided to wait at the position. I was very happy to grab Hosmer in the 11th round. There's no flash to his game, but he's also a reliable source of power who has a career .278 batting average. I was actually thrilled to pair him with Walsh, who I could slide into my corner infielder spot. After an impressive 2019 season at Triple-A, Walsh showed plenty of promise last season with a 153 wRC+ and a .354 ISO.
Overall, I think this team could be competitive to win my individual league. I'd likely have to do so on the strength of my starting pitchers, and I could be in trouble in my outfield if Kelenic is held down past the month of April. I did basically punt the catcher position, but with so few quality options to begin with, rolling with Alfaro and Murphy won't make or break me. If you haven't done any mock drafts yet, I highly recommend doing at least one before your actual league draft. It's a valuable exercise that helps you gauge the overall market and try out different strategies for building a team.
Mike Barner has been covering fantasy sports since 2007. His work has appeared in Sports Illustrated, Yahoo, SportsLine and RotoWire. Mike was also a finalist for the 2018 FSWA Basketball Writer of the Year award. Follow Mike on Twitter @rotomikebarner.