Pitching Primer: Week 19
Fri Jul 30 11:15pm ET
By MIKE BARNER
Contributing Writer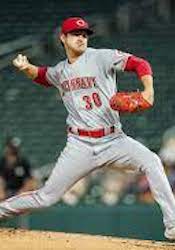 Mahle is setup for big success
It's been a wild week of moves leading up to Friday's trade deadline. When the dust settles, several contending teams will have made significant additions to their pitching staffs. As we start to turn the page to Week 19, let's highlight five projected two-start pitchers and what their matchups could mean for their fantasy outlooks.
Tyler Mahle, Cincinnati Reds: vs. MIN, vs. PIT
The Reds have spent the days leading up to the trade deadline adding to their bullpen. They don't really need to address their starting rotation, in part, because of how well Mahle has pitched. He has a 3.71 ERA that is supported by a 4.01 FIP and he's once again missing a lot of bats, posting a 28.2 percent strikeout rate. Also, he's been able to stay healthy, making 21 starts and throwing 111.2 innings.
It doesn't get much better than these two matchups for Mahle. The Twins' lineup isn't nearly as scary now that they dealt Nelson Cruz to the Rays. The Pirates have the second-worst OPS in baseball and made their lineup even worse by dealing Adam Frazier to the Padres. Mahle could put forth two monster stat lines this week.
Madison Bumgarner, Arizona Diamondbacks: vs. SF, at SD
Bumgarner looked sharp in his last outing against the Rangers, allowing two runs over seven innings. He only allowed five total base runners, lowering his WHIP to 1.16 for the season. While his 4.87 ERA and 4.20 FIP don't jump off the page, it's a major improvement over the 6.48 ERA and 7.18 FIP that he had last year.
At this stage of his career, Bumgarner is a matchup-dependent fantasy option. That means this might be the week to sit him. The Giants have the fourth-highest OPS in baseball and just activated Brandon Crawford from the IL. The Padres are just as dangerous with Fernando Tatis Jr. and Manny Machado leading their lineup. Add in Bumgarner's underwhelming 22.3 percent strikeout and the risk of starting him might not be worth the potentially limited return.
Zach Davies, Chicago Cubs: at COL, vs. CWS
It's been a rough season for Davies, who has a 12.2 percent walk rate that has resulted in a 1.51 WHIP. His 16.3 percent strikeout rate isn't helping his cause, but he has done a good job of keeping hitters inside the park, allowing 0.8 HR/9. While he appears to have improved lately with a 3.82 ERA over his last seven starts, he's been lucky to remain relatively unscathed given his 1.56 WHIP during that stretch.
Davies is a lot like Bumgarner in that he's only worth streaming for favorable matchups. The problem is, neither of his two starts in Week 19 are that. First, he has to pitch at Coors Field, which is still dangerous, even with a compromised Rockies' lineup. Then he has to face a loaded White Sox team that is starting to get healthy. No need to overthink this one. Stay away from Davies.
Tylor Megill, New York Mets: at MIA, at PHI
Injuries forced the Mets to turn to Megill to fill innings. He had only pitched a total of 14 1/3 career innings at Triple-A, so a rough adjustment period could have certainly been possible. He's looked great, though, posting a 2.04 ERA and a 3.44 FIP across seven starts. After striking out a lot of hitters at his various stops in the minors, he has a 27.1 percent strikeout rate in the majors.
Megill begins Week 19 with a great matchup against the Marlins, who have the fourth-worst OPS in baseball and have now traded away Starling Marte. While the Phillies haven't been as inept, they have struck out the ninth-most times in baseball, which fits right into Megill's wheelhouse. This could be a great week to insert Megill into your starting lineup.
Nestor Cortes, New York Yankees: vs. BAL, vs. SEA
The Yankees have had their own injury issues to their starting rotation, which resulted in a starting opportunity for Cortes. He was stellar in his last outing against the Rays, allowing one run and recording five strikeouts over five innings. He also previously had an impressive outing against the Astros, holding them scoreless across 4 2/3 innings.
If you're in a league that counts quality starts, Cortes is less appealing because he hasn't pitched more than five innings in a game this season. However, these are two favorable matchups against the Orioles and Mariners. The Orioles only have .656 OPS on the road, so both of these outings being at Yankee Stadium might not be a bad thing. If you're in search of a viable streaming option, look no further.
Mike Barner has been covering fantasy sports since 2007. His work has appeared in Sports Illustrated, Yahoo, SportsLine and RotoWire. Mike was also a finalist for the 2018 FSWA Basketball Writer of the Year award. Follow Mike on Twitter @rotomikebarner.