Overvalued Players
Tue Mar 21 12:16pm ET
By MIKE BARNER
Contributing Writer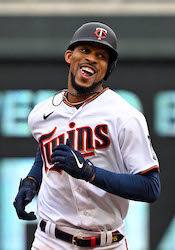 Buxton carries plenty of risk
Opening Day is less than two weeks away. As we prepare for what should be a busy fantasy baseball draft weekend, let's highlight some players who are being selected inside the top-150 that might be overvalued heading into the season.
Fernando Tatis Jr., San Diego Padres (ADP 16)
The talent is there with Tatis. He quickly burst onto the scene in 2019 with 22 home runs, 16 steals and a .969 OPS over 84 games. His 2021 season was off the charts, with him recording 42 home runs, 25 steals and a 157 wRC+ over 130 games. All signs were pointing to him being an elite fantasy options for years to come.
However, he missed all of the 2022 season because of injuries and an 80-game PED suspension.The injuries that Tatis had to both his shoulder and wrist ended up requiring surgery. Those injuries can lead to hitters taking a long time to return to full production, even after they have started to play in games again. On top of the uncertainty regarding Tatis's return from injuries, he won't be able to make his debut until April 20 as he continues to serve his suspension. Spending a second-round pick on a player with so many question marks is just too risky for me, regardless of the upside that Tatis showed to begin his career.
Byron Buxton, Minnesota Twins (ADP 93)
Speaking of injury-prone players. When healthy, Buxton has shown to be a fantasy unicorn. A perfect example was the 61 games that he played in 2021. He finished that season with 19 home runs, nine stolen bases and a 1.005 OPS. His batting average fell off in a big way last season, but he still launched 28 home runs and had a .526 slugging percentage over 92 games.
Buxton is an excellent outfielder, and his all-out play in the field has contributed to his checkered injury history. He has appeared in more than 100 games only one time in his career. His power and speed combination make him very appealing in fantasy, but the Twins might want to try and limit his stolen base attempts in order to keep him healthy. Last season, he only had six steals. Add the possible decline in steals to the potential for him to play limited games and Buxton is a risky top-100 selection.
Tim Anderson, Chicago White Sox (ADP 100)
Anderson hasn't had as many injury issues as Tatis and Buxton, but he hasn't exactly been a pillar of health. His season was cut to just 79 games last year because of a hand injury. He also finished with just a .734 OPS, marking the second straight season in which he declined in the category.
As good as Anderson has been when he's healthy, his career 3.6 percent walk rate has left him with a career .324 wOBA. Also, his .207 ISO that resulted in him hitting 10 home runs over just 49 games in 2020 appears to have been an outlier. He has a .155 ISO for his career, and he had just a .093 ISO last season. Shortstop is a deep position in fantasy with a ton of talented options, so taking a chance on Anderson might not be wise
Tyler Glasnow, Tampa Bay Rays (ADP 120)
I very rarely feel good about drafting pitchers who are already expected to begin the season on the IL. Glasnow will miss the start of things as he works his way back from an oblique injury. We might not see him pitch for the Rays again until May, even if all goes well in his recovery.
As if this oblique injury wasn't enough, Glasnow only pitched in two games at the end of last season after working his way back from Tommy John surgery. Maybe the oblique injury was somewhat of a blessing because the Rays were going to need to limit his workload. He has never thrown more than 111 2/3 innings in a season in his career and he has logged a combined 152 innings over the last three seasons. Best case scenario, he could throw around 100-125 innings this season. That's not enough to warrant his current ADP.
Trevor Story, Boston Red Sox (ADP 136)
Story's first season with the Red Sox was nothing short of a disaster. His strikeout rate shot up to 30.8 percent, which contributed to his .316 wOBA. His .196 ISO was also the lowest mark of his career. When it was all said and done, he hit just .238 with 16 home runs and a 100 wRC+ over 94 games.
With Xander Bogaerts departing this offseason for the Padres, Story was in line to take over as the Red Sox's starting shortstop. That hope quickly ended with him needing surgery on his UCL that is expected to keep him until at least June. Given the extent of his surgery, who knows how long it will take Story to return to the productive ways that he had during his years with the Rockies. Players who have been available around when Story has been selected include Whit Merrifield (ADP 137), Hunter Renfroe (ADP 139), Anthony Rizzo (ADP 140) and Amed Rosario (ADP 143). Give me any of them over the uncertainty that comes with Story.
Mike Barner has been covering fantasy sports since 2007. His work has appeared in Sports Illustrated, Yahoo, SportsLine and RotoWire. Mike was also a finalist for the 2018 FSWA Basketball Writer of the Year award. Follow Mike on Twitter @rotomikebarner.