Lineup Prep: Super Bowl
1548868951
By JEFF PAUR
Sr Fantasy Writer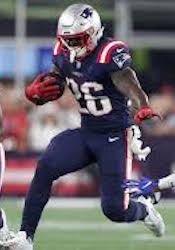 Michel setup for more success
It is hard to believe but this is the last weekend with football for a while. Boo! It had to happen, though. Hopefully, the game lives up to the hype. The Super Bowl is certainly setup to be a good one. We'll see. Now for my random thoughts. . . . .
For my thoughts on the game, I am not happy with the matchup. I am a St. Louis native, so rooting for the Rams is not going to happen. I have a huge disdain for the owner (Stan Kroenke) and how he left our town. I can't root for that man to hold up a Super Bowl trophy. I can't watch it.
And on the other side is the Patriots, a team that is in the Super Bowl almost every season. New England is a team you have to respect because they just keep winning, but I am not a fan. I still have a sour taste in my mouth over their video taping ways early in this great run for them. I don't think the league handled the punishment correctly, letting the Patriots off way to easy for their crimes. So for me, this is going to be a hard one to watch. I'm just hoping for some good, entertaining football. . . . .and great commercials.
As for the game, I think the Patriots will win, winning 31-21. I just think the Patriots will game plan well against this offense, an offense that hasn't been quite as explosive down the stretch. New England has been there before and won plenty, so I think the experience will help. So as much as it pains me to say this, I look for the Patriots to take home the title once again.
I think Cam Newton will be a big question mark next season, having major shoulder surgery recently. This is a major injury to return from, especially for a quarterback. He'll be a tough quarterback to gauge going forward. You will want to watch his progress closely this offseason. I do know that you can never count Newton out, so don't be surprised if he returns to play at a high level next season. You can't rule out that scenario, either.
I'm already starting my research for next year and started looking into David Johnson. He is an intriguing fantasy player for me in 2019. Most considered last year a bust for him and he was ninth in fantasy running back scoring. He had nearly 1,400 total yards, 50 receptions and 10 touchdowns for a brutal offensive team. I'm am truly excited to see what he can do in a new offense. Johnson could be a great buy-low candidate for fantasy teams.
Baker Mayfield is another player I'm really excited about for next season. This guy showed me a ton down the stretch, playing at a very high level as a rookie and with a somewhat suspect receiving corps. If the Browns add the right pieces around him this offseason, I think Mayfield can be a legit fantasy starter and a top-10 option. He really has a high ceiling in my view.
HOT PLAYS
Sony Michel, RB, Patriots. The Patriots have made it a point to get Michel heavily involved offensively in the playoffs. He had a season-high 29 carries in their last game. Michel has 100-yard games in each playoff game and multiple scores each of those games. He has 100-yard games three of four. Michel should get a workout again this week as the Patriots try to keep the Rams potent offense off the field. Michel is setup for a strong showing in the Super Bowl.
Robert Woods, WR, Rams. Woods doesn't have the big yardage totals in the playoffs but six receptions in each of the two playoff games. He has at least six receptions five of six games. He is getting consistent work in the Rams offense and should see his chances again this week. The Patriots are just 22nd against the pass, allowing 246.4-passing yards per game during the regular seasons. Woods could have a much better yardage game in this matchup.
COLD PLAYS
C.J. Anderson, RB, Rams. Anderson has been a huge surprise for the Rams, having 100-yard games three of four. He actually had more carries than Todd Gurley in the Rams last game and outproduced the star back. The bad news is Anderson ran 16 times for just 44 yards in that game. Gurley is an elite talent that has an extra week off to get healthy, so expect the Rams to lean on him heavily in the Super Bowl. We would be surprised if Anderson led the team in carries again.
Jared Goff, QB, Rams. Goff has played fine during the playoffs but his fantasy numbers haven't been great. He has just one touchdown in two games and failed to throw for at least 200 yards in one of those games. Goff is playing in his first Super Bowl this weekend. The Patriots have a week to prepare for him, which is usually bad news for a young quarterback. It would not be a surprise to see Goff struggle in this one.
SLEEPERS
Chris Hogan, WR, Patriots. Hogan is gradually getting more involved in the Patriots offense. He did not top 50 yards his last game but caught five passes. He has at least five receptions two of three games. Hogan had six receptions for 128 yards and a touchdown in last year's Super Bowl. He is no stranger to coming up big in the big game. This could be another week Hogan steps up big for the Patriots.
Josh Reynolds, WR, Rams. The Patriots usually try to take away a player or two in the offense, leaving some secondary options opportunities to make plays. So Reynolds could get his chances this week against a team that was 22nd against the pass. Reynolds had four receptions for 74 yards on seven targets his last game and has at least four receptions three of five games. He is capable of the big game and could be the surprise player in the Super Bowl for the Rams.
High/Low Scoring Games
Each week we will take a look at some of the high and low scoring games for the coming week. In high scoring affairs, get your marginal players on those teams in your lineup to take advantage of the possible points barrage. And in the low scoring games, keep those marginal players on the bench and make sure to have your defenses involved in those contests.
High Scoring Games: Rams/Patriots.
Low Scoring Games: None.