Daboll, Pederson, Shanahan up for AP NFL Coach of the Year
Wed Jan 25 8:46am ET
By ROB MAADDI
AP Pro Football Writer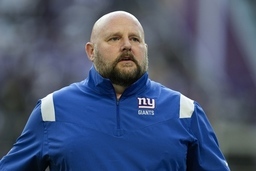 New York Giants head coach Brian Daboll is seen beforean NFL wild card football game against the Minnesota Vikings Sunday, Jan. 15, 2023, in Minneapolis. (AP Photo/Abbie Parr)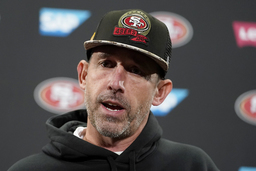 San Francisco 49ers head coach Kyle Shanahan speaks at a news conference after an NFL wild card playoff football game against the Seattle Seahawks in Santa Clara, Calif., Saturday, Jan. 14, 2023. (AP Photo/Godofredo A. Vsquez)
Brian Daboll, Doug Pederson and Kyle Shanahan are the finalists for The Associated Press 2022 NFL Coach of the Year award.
The winners will be announced at NFL Honors on Feb. 9. A nationwide panel of 50 media members who regularly cover the league completed voting before the start of the playoffs.
Daboll led the New York Giants to a 9-7-1 record in his first season as head coach. Pederson guided the Jacksonville Jaguars to a 9-8 record and an AFC South title in his first year with the team. Shanahan led the San Francisco 49ers to a 13-4 mark, including 5-0 down the stretch with third-string rookie quarterback Brock Purdy.
Purdy, Seattle Seahawks running back Kenneth Walker III and New York Jets wide receiver Garrett Wilson are the finalists for AP Offensive Rookie of the Year.
Purdy, the last player selected in the draft, stepped in after injuries to Trey Lance and Jimmy Garoppolo. He is 7-0, including two playoff wins, and helped the Niners reach the NFC championship game at Philadelphia this Sunday.
Walker led all rookies with 1,050 yards rushing and nine TDs. Wilson led all rookies with 83 catches and 1,103 yards receiving.
Jets cornerback Ahmad ''Sauce'' Gardner, Detroit Lions defensive end Aidan Hutchinson and Seahawks cornerback Tariq Woolen are the finalists for AP Defensive Rookie of the Year.
Lions offensive coordinator Ben Johnson, 49ers defensive coordinator DeMeco Ryans and Eagles offensive coordinator Shane Steichen are the finalists for AP Assistant Coach of the Year.
This was the first year for the AP's new voting system. Voters chose a top 5 for MVP and top 3 for all other awards. For MVP, first-place were worth 10 points. Second through fifth-place votes were worth 5, 3, 2 and 1 points.
For all the other awards, first-place votes equaled 5 points, second were 3 and third were 1.