Conference title games are most evenly matched in 25 years
Wed Jan 25 12:28pm ET
By ROB MAADDI
AP Pro Football Writer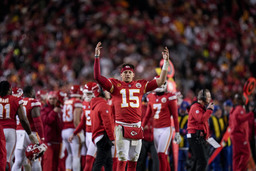 Kansas City Chiefs quarterback Patrick Mahomes (15) cheers during the second half of an NFL divisional round playoff football game against the Jacksonville Jaguars, Saturday, Jan. 21, 2023, in Kansas City, Mo. The Kansas City Chiefs won 27-20.(AP Photo/Jeff Roberson)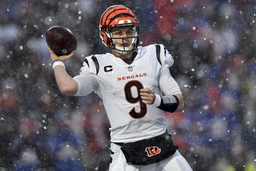 Cincinnati Bengals quarterback Joe Burrow (9) passes against the Buffalo Bills during the third quarter of an NFL division round football game, Sunday, Jan. 22, 2023, in Orchard Park, N.Y. (AP Photo/Adrian Kraus)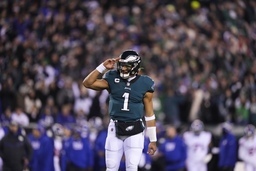 Philadelphia Eagles quarterback Jalen Hurts reacts after throwing a touchdown pass to wide receiver DeVonta Smith during the first half of an NFL divisional round playoff football game against the New York Giants, Saturday, Jan. 21, 2023, in Philadelphia. (AP Photo/Matt Slocum)
It's been 25 years since both NFL conference championship games were this evenly matched from an oddsmakers standpoint.
The San Francisco 49ers are 2 1/2-point underdogs against the Philadelphia Eagles on Sunday in the NFC championship game, according to FanDuel Sportsbook.
In the AFC title game, the Cincinnati Bengals are 1 1/2-point favorites on the road against the Kansas City Chiefs.
The previous time both conference championship games featured spreads under 3 points was 1998. The Packers were 2 1/2-point favorites at San Francisco in the NFC game. The Broncos were 2 1/2-point favorites at Pittsburgh in the AFC matchup. Both road teams won.
The Eagles and Chiefs have history on their side. No. 1 seeds are 32-14 in conference championship games, but only 4-3 since the 2017 season when the Eagles became the last No. 1 seed to win a Super Bowl.
Home teams are 34-18 in the NFC title game, 36-16 in the AFC.