Free Agent Landing Spots
Tue Mar 5 10:03am ET
By JEFF PAUR
Sr Fantasy Writer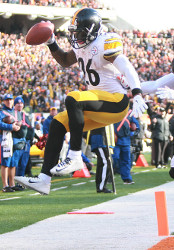 Le'Veon Bell will be hot item
Free agency is about to kick off in the NFL. It is always an exciting time of the year, especially for fantasy players. Players change teams, impacting the entire fantasy landscape. Some players land in good spots. Others land in spots that likely won't help their fantasy value. We are going to take a look at some of the top free agents and discuss their best landing spots. These aren't necessarily spots where they will likely sign, but where we hope they will sign from a fantasy perspective.
Nick Foles, QB. Talk is that Foles has already agreed to terms with the Jaguars, taking over as their starting quarterback. This isn't a great spot from a fantasy perspective. The Jaguars don't have a top passing game and are more of a run-first team. A better spot for Foles might be Washington or even Denver. These teams have better overall options in the passing game.
Le'Veon Bell, RB. Bell is the top offensive free agent on the market. He will be coveted by several teams. The Jets seem to be the front runner but his fantasy value might be best if he signs with the Texans. Houston has the best offense of the teams in need of a starting back. Bell would serve as a three-down back for an explosive Texans offense. HIs value would be really high with a move to Houston. The Jets wouldn't be a bad spot for him, either, but his ceiling might be a little more limited in that offense.
Mark Ingram, RB. Ingram has been a mainstay in the Saints offense several seasons, but gets his chance to have more of a feature role with a new team. He has shared a lot of work in recent seasons. There are a lot of teams looking for running back help. A team that might make good sense for Ingram is the Eagles. This team hasn't settled on a back in recent years. Ingram seems a good fit for the offense and could shine in a lead role for a rushing attack that can be very good.
Tevin Coleman, RB. Coleman might fly under the radar a little but this guy has big-time talent. He is an explosive back that can do well on three downs. He will be heavily sought after in free agency. The Jets might be a team that makes the most sense from a fantasy perspective, getting a chance to serve as a three-down back with the team. He could get a workout in that offense, providing a lot of total yardage potential for fantasy teams. The Texans also are intriguing but he could lose out on some carries in that offense with D'Onta Foreman probably a better inside runner than Coleman.
Golden Tate, WR. Tate didn't exactly take off with the Eagles after his trade but still produced pretty well. He is getting older but is a top possession receiver that can still get the job done. He is the top free agent receiver on the market right now. An ideal landing spot for Tate would be the Patriots. We aren't sure New England spends the money to get him, but his fantasy value would be high with a move to New England. Tate would be a great fit for the offense and rack up a ton of catches with the Patriots.
Adam Humphries, WR. The best spot for Humphries might be to just stay put, re-signing with the Bucs. He has been getting his targets in that offense as the No. 3 receiver and fills the role well. New head coach Bruce Arians should be a plus for the offense and passing game. Humphries should get plenty of targets if he were to stay with the Bucs.
Devin Funchess, WR. Funchess has not lived up to his potential with the Panthers. A change of scenery should do him some good. A nice landing spot for him to reach his potential is the Colts. The Colts are looking for a legit No. 2 receiver opposite T.Y. Hilton. Funchess could flourish in a more pass-friendly offense, getting to showcase his abilities.
Tyrell Williams, WR. Williams isn't a game changer but a solid receiver that does a good job of stretching the field. He has shown the ability to start in past seasons with the Chargers, so it is not out of the question for Williams to start with his new team. And a team that seems to be a good fit for Williams is the Jets. New York needs to shore up their receiving corps and Williams would seem a good fit for this up and coming offense. The Jets might be the team to best showcase his talents.
Tyler Eifert, TE. Eifert can't seem to stay healthy but when he is on the field, he produces. Eifert has a top skill set for the position and can be a difference maker in the passing game. There are a lot of teams that could use an upgrade at tight end, but the Saints seem the best option for Eifert. This s a team that has featured the tight end in the past and produced big fantasy numbers. Eifert could flourish in this offense.
Jared Cook, TE. Cook had a career season with the Raiders last year. He was an elite fantasy tight end for the first time in his career. So it seems logical that re-signing with the Raiders would be best for his fantasy value. A new team might not do him much good from a fantasy perspective. Cook would be best served staying put with the Raiders.
Jeff Paur is a two-time finalist for FSWA Fantasy Football Writer of the Year and won the FSWA award for Best Fantasy Football Article on the Web in 2011. He also was the most accurate expert in 2012, winning the FSTA Fantasy Football Accuracy Award. If you have any questions for Jeff, email him at jeff@rtsports.com. Follow Jeff on Twitter @jeffpaur.