Bounce-back Candidates
Fri Aug 16 10:05am ET
By JEFF PAUR
Sr Fantasy Writer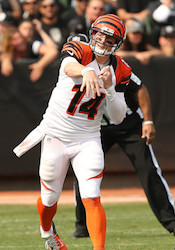 Dalton could surprise this year
For the most part, winning your fantasy league means taking a few chances. You can win by playing it safe but playing it safe isn't going to work most of the time. So thinking outside the box a little is a good way to put your team over the top.
One way to think outside the box is to look at some bounce-back candidates. These are guys that underperformed last year or the previous few years, but seem primed for a better season. They are important players to grab because these players carry less value come draft day. Bounce-back players can become great values for fantasy teams as the season progresses. Here are a few of our favorite bounce-back candidates for the coming season. You might want to target some of them come draft day.
Matthew Stafford, QB, Lions. Stafford had a season to forget last year, finishing 20th overall in fantasy quarterback scoring. He was a top-10 fantasy quarterback three straight seasons before last year, though. The Lions had injury issues last year and made some trades for the future, so things were stacked against him as the season progressed. He can get back to his big ways this year and is a good buy-low candidate for fantasy teams. The track record of success is certainly there for Stafford.
Andy Dalton, QB, Bengals. The Bengals were a bit of a mess last year, but Dalton was producing. He missed the five games because of injury but if he plays a full year, he has 31 touchdowns and nearly 4,000 yards. New head coach Zac Taylor is an offensive minded coach that should be a plus for the offense and Dalton. This offense could be a lot better with Taylor running the show. Don't discount Dalton to have one of his better seasons as a pro.
Marcus Mariota, QB, Titans. Mariota struggled with injury last year, posting pretty poor numbers throughout the season. He did have a career best 69 percent completion percentage, though, which is encouraging. He is over his arm issues now and has some new weapons to work with offensively. The Titans have assembled a lot of talent at receiver, which is a big plus for Mariota. He also gets back a healthy Delanie Walker. Mariota has the potential to have a career season.
Leonard Fournette, RB, Jaguars. Fournette was a bust last year. Many had high hopes for him to be an elite No. 1 back but injury issues and ineffectiveness while on the field marred his season. He is back healthy this year, though, and seems to have a chip on his shoulder. Remember, he had nearly 1,400 total yards as a rookie. He also has little competition for touches, which bodes well for his production. Fournette is setup for a big year three in Jacksonville.
Dalvin Cook, RB, Vikings. Cook has played 15 games in two seasons. He has been a disappointment to date but showed flashes last year. He had 920 yards in 11 games and averaged 4.6 yards per carry. Cook just needs to stay healthy. If that happens, the sky is the limit for him, especially in this offense. He can be an elite fantasy back. His stock might never be this low again. Grab him while you can.
DeVante Parker, WR, Dolphins. Parker had another disappointing season last year, getting just 309 yards in 11 games. He was in the dog house much of the year and didn't get the playing time as expected. He is the most talented receiver on the roster, though, and a new coaching staff should be a plus for him. He can work his way into good graces with the new staff and be the top target in the passing game. Parker certainly has the talent to be a big-time NFL player. He is worth the risk at a very reasonable price. He could lead this offense in targets.
Ted Ginn, WR, Saints. Ginn missed most of last year with injury, playing just five games. He had three of five games with 50-plus yards, though, and caught six passes for 102 yards in the playoffs. Ginn has a chance to be the No. 2 receiver in this offense. And even if he isn't starting, he will have a role. He knows the offense and had three straight seasons with 700-plus yards before last year.
DeSean Jackson, WR, Eagles. Jackson was erratic last year with the Bucs. He started really fast but struggled most of the rest of the season. He even missed some time because of injury. He gets a fresh start with his old team this year, heading back to the Eagles. He will start in this offense and should be the top big-play threat for the team. Jackson had his best years with the Eagles, so don't be surprised for a big rebound season. He is always capable of the big game.
Jordan Reed, TE, Redskins. Reed didn't play a full season once again, missing three games because of injury. He did have 54 receptions, though, which was a nice rebound from the previous year. He is a big part of this offense and should see plenty of targets. HIs big issue continues to be his health. But if on the field, Reed will produce. He could even lead this team in targets. The Redskins lack top options in the passing game. Reed will get plenty of work when he is on the field.
Delanie Walker, TE, Titans. Walker broke his ankle last year, playing just a game. He had at least 800 yards four straight seasons before last year. He is going to be 35 years old before the start of the year, but the time off last year might help him have one more big season. He is a big part of this passing game and will get plenty of weekly looks. The Titans added more weapons at receiver this offseason, but Walker might remain Marcus Mariota's favorite target. At a position that is weak, Walker has good potential for fantasy teams at a pretty good price tag.
Jeff Paur is a two-time finalist for FSWA Fantasy Football Writer of the Year and won the FSWA award for Best Fantasy Football Article on the Web in 2011. He also was the most accurate expert in 2012, winning the FSTA Fantasy Football Accuracy Award. If you have any questions for Jeff, email him at jeff@rtsports.com. Follow Jeff on Twitter @jeffpaur.