Lineup Prep: Week 10
Wed Nov 6 8:57am ET
By JEFF PAUR
Sr Fantasy Writer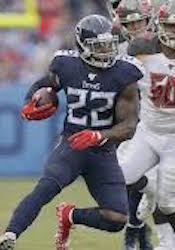 Henry is setup for big Week 10
Notice
: Undefined variable: league in
/home/rtfs/football/php/syndicated-news.php
on line
136
Notice
: Trying to get property of non-object in
/home/rtfs/football/php/syndicated-news.php
on line
136
There are six teams on a bye this week, making it really tough to set lineups for many fantasy owners. So get those lineups set early. Make your waiver wire moves and decisions early, so you aren't left hanging come Sunday. You don't want to be late to the game and have no quality players left to start for Week 10. Get those lineups in order in a timely fashion. This could be a tough week.
With that said, here are my random thoughts for the week. . . . .
Packers running back Jamaal Williams has really surprise me this year. I was expected Aaron Jones to really get most of the work at running back with a new coaching staff around, finally becoming the focal point of the running game. Jones has gotten plenty of work, but Williams keeps hanging around and producing. He has receiving touchdowns four straight games. He also has at least three receptions (17 total) all four of those games. Williams has been a productive fantasy back and useful flex play in his current role with the Packers.
I'm really impressed by the Lions passing attack. Kenny Golladay and Marvin Jones have really taken their games to new levels while Danny Amendola has been a great fit for the slot. These three make it very tough for the opposition, providing something different at the receiver spot. Matthew Stafford has been the biggest benefactor of this, producing his best season in a while. He has five three-touchdown games and I don't think that is a fluke. He is going to keep producing.
Lamar Jackson has fewer than 200-passing yards three of four games. His passing numbers might be down but that doesn't mean his fantasy numbers are suffering. Jackson has 60-plus rushing yards five straight games, including two 100-yard games during that stretch. He just keeps getting it done, getting his points in many different ways. I would expect his production to continue to be high the rest of the way because of his dual threat ability. We are nine weeks into the season and Jackson is No. 1 overall in fantasy quarterback scoring.
I'm kind of anxious to see Bengals rookie quarterback Ryan Finley in action. He was pretty impressive in preseason action and the Bengals possess a pretty good passing attack in this offense. I'm not sure he is going to be a fantasy help at quarterback, but his insertion into the lineup might not be as big of a detriment as many are thinking. I'll be watching him closely this weekend to see how he runs this offense.
I know Jameis Winston is a turnover machine and could be on his way out as the starter in Tampa after the season, but that doesn't mean he isn't a help to fantasy teams. Winston is all the way up sixth overall in the fantasy quarterback rankings. He has multiple touchdowns five of six games and 300-yard games three straight. He has five total 300-yard games for the season in the Bucs pass-first offense. Winston is getting it done for fantasy teams despite the turnovers.
It sure looked like Evan Engram was going to have a breakout season but things haven't gone his way since a fast start. He had 100-yard games two of his first three, but hasn't topped 55 yards since Week 3. He also is battling some sort of foot injury now, which is another concern. We might have to wait one more season for that huge year from Engram. He certainly has the potential, but needs to be on the field for that to happen. He is still yet to have a full season and his best season as a pro came his rookie year.
Tevin Coleman is having a bit of an uneven season. He has some huge games, including a three-touchdown performance in Week 8. But he has fewer than 10 fantasy points two of his last three games. He isn't a sure fantasy thing every week despite playing in a good 49ers run-first offense. The issue is with his consistency. He just isn't getting the work in the passing game to make up for down rushing numbers. Coleman has not topped two receptions in a game this year. He would look like a better fantasy back if his work in the passing game saw an uptick in production. Until that happens, there could be more inconsistency from Coleman.
As always, don't forget to check out my weekly rankings here: Week 10 rankings.
News and Notes: The Jets signed linebacker Paul Worrilow on Tuesday. . . . .The Jaguars announced quarterback Nick Foles will return as the starter following the team's bye this week. Rookie Gardner Minshew is heading back to the bench, making Foles the starter once again now that he is healthy. . . . .The Bills signed defensive tackle Corey Liuget on Tuesday. . . . .The Ravens added some more depth at receiver and special teams, signing receiver De'Anthony Thomas on Tuesday.
HOT PLAYS
Derrick Henry, RB, Titans. Henry didn't have his greatest rushing performance last week but still found the end zone and finished with 99 total yards. He had a season-high three catches in the game, which was good to see for his fantasy owners. Henry has been very good at finding the end zone all season, having scores six of nine games. He also has 75 or more rushing yards six of nine games. Henry should keep his solid play going this week against the Chiefs. Kansas City allows the third most fantasy points to running backs and rank 29th overall against the run. Henry is a legit No. 1 fantasy back in this matchup.
Kyler Murray, QB, Cardinals. Murray had his most impressive showing of the season his last time out. He played a great 49ers defense and threw for 241 yards and two touchdowns without a turnover. It was great to see after two straight games without a score, especially against such a great defense. Murray is 10th overall in fantasy quarterback scoring as a rookie and that is with getting shut out of the end zone three times. He has been a consistent producer. He is setup to build on last week, getting a weak Bucs secondary in Week 10. Tampa allows the third most fantasy points to quarterbacks and are 31st against the pass.
Hunter Henry, TE, Chargers. Henry has returned to the lineup with a vengeance. He has at least four receptions his last four and 80-plus yards three of those games. He was targeted a season-high 10 times last week, having seven receptions for 84 yards. He has moved into must-start territory for fantasy teams. Things are looking good for him to have another big performance in Week 10, playing the Raiders. Oakland allows the fourth most fantasy points to tight ends and are dead last against the pass.
Mark Ingram, RB, Ravens. Ingram had his highest rushing total of the season last week, rushing 15 times for 115 yards. He also had two receptions for 29 yards, giving him 144 total yards in the game. He had three straight games with fewer than 55-rushing yards before that one, so his production was good to see for his fantasy owners. Ingram didn't score last week but has touchdowns four of eight games. He has produced consistent fantasy numbers much of the year because of all his work and ability to find the end zone. Ingram plays the Bengals this week, a team he scored against just a few weeks back. Cincinnati allows the second most fantasy points to running backs and rank dead last against the run, allowing 178-rushing yards per game.
Michael Gallup, WR, Cowboys. Gallup has quieted some in recent weeks, having fewer than 50 yards three straight games. He did find the end zone last week, though, and has been targeted 17 times his last three. So he is getting the chances and is always capable of big things in this passing attack. Gallup also has touchdowns two of four games. The Vikings are likely to have shutdown corner Xavier Rhodes on Amari Cooper, giving Gallup favorable coverages. Plus, the Vikings allow the 10th most fantasy points to receivers. Gallup could see his reception and yardage totals rise in this one.
COLD PLAYS
Devonta Freeman, RB, Falcons. Freeman is yet to have a rushing touchdown this season and failed to top 90-rushing yards in any game. The only thing saving his fantasy season is work in the passing game. He has two eight-reception gams and at least three catches all but a game. But even with that said, it is a concern to see him have fewer than 40-rushing yards four of five games. He is kind of a risk when he plays a tough defense, which is the case this week. The Saints allow the fourth fewest fantasy points to running backs and are fourth overall against the run. Freeman could have his struggles in this matchup.
Kirk Cousins, QB, Vikings. Cousins has really upped his game in recent weeks, having three-touchdown games three of four. He also has multiple scores four of give. It was quite the turnaround from earlier in the year. But he did have a game without a touchdown sprinkled in those great showings and has one or no scores four of nine games. He isn't quite the sure thing just yet. He goes on the road this week to face a good Cowboys defense. Dallas allows the fifth fewest fantasy points to quarterbacks and allowed just seven passing touchdowns all year. Cousins might be a guy to sit this week despite his great play of late.
D.K. Metcalf, WR, Seahawks. Metcalf enjoyed his best game as a pro last week, so you are probably wondering why he makes this list. Well, he has a really tough matchup and has more than 70 yards in a game just twice all year. He can be a touchdown dependent player, and he might be shutout of the end zone this week. Metcalf plays the 49ers. San Francisco is first overall against the pass and allowed just seven passing touchdowns all year. Metcalf could come back down to earth after last week.
Todd Gurley, RB, Rams. Gurley has fewer than 65-rushing yards all but one game this year. And that game came in Week 1. And most disturbing is his lack of work in the passing game, having one or no receptions five of eight games. He has really been a fantasy bust to date. You see a matchup with the Steelers this week and think it might be a good one for Gurley, but Pittsburgh has been good defensively against the run. The Steelers allow the seventh most fantasy points to running backs. Gurley probably won't have a breakout performance in this one.
Jarvis Landry, WR, Browns. Landry is getting more looks these days, which is encouraging. He has 23 targets his last two games. The problem is he has 11 receptions on those 23 targets. His fantasy numbers still aren't great despite the added looks. He has just one touchdown this year and topped 70 yards just two times all year. Expect another mediocre performance in Week 10 against the Bills. Buffalo is third against the pass and allow just 184-passing yards per game.
SLEEPERS
Josh Allen, QB, Bills. Allen isn't posting numbers that are off the charts but very consistent. He has multiple touchdowns four straight games. Allen also has multiple scores six of nine games. His yardage number aren't always great but he gets his yards on the ground and scores, making him the 12th rated fantasy quarterback right now. He has value as a low-end No. 1. He should play well again this week against the Browns. Cleveland is allowing 26 points per game and the 13th most fantasy points to quarterbacks.
Alex Erickson, WR, Bengals. Erickson has emerged as the top slot receiver for the Bengals. So even if A.J. Green returns this week, expect Erickson to still have a big role offensively. He has 14 receptions for 234 yards his last two games and at least four catches three straight. There is a rookie quarterback throwing to him this week, but that isn't a huge concern because the Bengals should still throw often. They can't run the ball, giving options in their passing game value despite the uncertainty at quarterback. Erickson gets the Ravens in Week 10, a team second against the run but just 26th against the pass.
J.D. McKissic, RB, Lions. McKissic has emerged as the pass-catching back for the Lions with Kerryon Johnson out. He has three receptions each of the last two games and at least two catches four straight. He also is getting a few chances to run the ball, having 29 or more rushing yards four games. So he has some value as a flex player for fantasy teams in the Lions pass-first offense. He could see his reception totals continue to rise going forward, especially this week against the Bears. Chicago has allowed the eighth most fantasy points to running backs.
O.J. Howard, TE, Bucs. Howard has been a disaster this year, doing next to nothing on the field while also having some injury issues. He missed the last two games with a hamstring injury but is coming back this week. He will return as the starter. If he is ever going to have that big week, this is the matchup for Howard. He gets a Cardinals team that has been horrific against the tight end. The Cardinals allow the most fantasy points to tight ends by a wide margin. Howard is worth a play this week, especially if you need a fill-in because of injury or bye weeks.
Jamison Crowder, WR, Jets. Crowder had his highest reception total of the season last week since Week 1, catching eight passes for 83 yards and a touchdown. He is the top weekly target in this Jets offense. He has at least four receptions five of eight games. He has value despite finding the end zone little. Crowder has a matchup this week to build on his showing from last week. He gets the Giants, a team that allows the third most fantasy points to receivers. Receivers have enjoyed big success against the Giants almost the entire season.
High/Low Scoring Games
Each week we will take a look at some of the high and low scoring games for the coming week. In high scoring affairs, get your marginal players on those teams in your lineup to take advantage of the possible points barrage. And in the low scoring games, keep those marginal players on the bench and make sure to have your defenses involved in those contests.
High Scoring Games: Chargers/Raiders, Falcons/Saints, Cardinals/Bucs.
Low Scoring Games: None.
Bye Weeks: Broncos, Texans, Jaguars, Patriots, Eagles, Redskins.
Jeff Paur is a two-time finalist for FSWA Fantasy Football Writer of the Year and won the FSWA award for Best Fantasy Football Article on the Web in 2011. He also was the most accurate expert in 2012, winning the FSTA Fantasy Football Accuracy Award. If you have any questions for Jeff, email him at jeff@rtsports.com. Follow Jeff on Twitter @jeffpaur.