Waivering: Week 13
Tue Nov 26 8:19am ET
By JEFF PAUR
Sr Fantasy Writer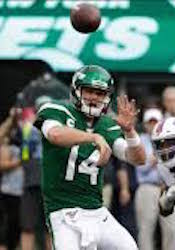 Darnold has favorable schedule
It is crunch time for many teams, needing get some wins before the season ends in a couple weeks. The bye weeks are finished, so some lineup decisions just got a little easier for fantasy teams. That is the good news. The bad news is injuries are still causing issues as well as ineffective play. This means the waiver wire can still be a useful tool for fantasy owners. There are some options out there this week that could help the rest of the season, so give it a look before setting your lineups in Week 13.
QUARTERBACKS
Ryan Tannehill, Titans. Tannehill just keeps getting it done on a weekly basis. He had a four-touchdown performance last week and has multiple scores five straight games. He has been a consistent fantasy play because of his ability to find the end zone. Tannehill has 21-plus fantasy points all five of his starts. He is available in 50 percent of leagues and looking pretty good the coming weeks with games against the Colts, Raiders and Texans.
Sam Darnold, Jets. Darnold is playing his best football to date, having two straight three-touchdown games. He had his second 300-yard game of the season last week and has multiple scores three straight. He plays the Bengals and Dolphins his next two, making him a player to consider streaming in your lineup.
Kyle Allen, Panthers. After a couple rough showings, we saw the good Kyle Allen again last week. He had three touchdowns and 256-passing yards without an interceptions on the road against a pretty good Saints secondary. Allen was impressive and can build on that the next few games, playing the Redskins and Falcons.
Andy Dalton, Bengals. Dalton returns to the starting lineup for Week 13 after the Ryan Finley experiment failed miserably. Finley was clearly not ready for a starting role, giving Dalton the job back despite the Bengals going nowhere fast. Dalton produced some big games before getting benched and has some potential in the right matchup, especially this week against the Jets.
RUNNING BACKS
Benny Snell, Steelers. Snell returned from his knee injury last week and was the lead back for the Steelers. He ran 21 times for 98 yards, setting career highs in both categories. This could be a trend the rest of the way for the Steelers, getting Snell more involved to see what he brings to the table. He could be a big factor for fantasy teams down the stretch.
Rashaad Penny, Seahawks. Penny was a big surprise last week, outplaying starter Chris Carson. Penny ran 14 times for 129 yards and a touchdown. This was a surprise because he had six carries for 14 yards his previous two games. Penny might be getting more consistent work going forward after this big showing. He is no sure thing but sure has his upside in this good offense.
Bo Scarbrough, Lions. Scarbrough was the lead back for the Lions for the second straight game. He ran 18 times for 98 yards last week, playing his best football of the year. He has 32 carries for 153 yards his last two games. He should continue to start for the Lions as long as Kerryon Johnson is out of the lineup.
Jonathan Williams, Colts. Williams started for the Colts last week and hit the 100-yard mark for the second straight game. He has played very well in a lead role, replacing the injured Marlon Mack. Williams could get a few more starts the rest of the way with Mack still out. He has solid value in a starting role and is available in 34 percent of leagues.
WIDE RECEIVERS
A.J. Brown, Titans. Brown had one of his big games last week, catching four passes for 135 yards and a touchdown. He displayed his big-play ability once again. Brown has three games with 90-plus yards his rookie year. He can be erratic in this offense but is always capable of the big game because of his talent. It would not surprise to see him enjoy a big finish to his rookie year.
James Washington, Steelers. Washington was the No. 1 receiver for the Steelers last week and played well in that role. He finished with three receptions for 98 yards and a touchdown. He has scores two of three games and had 90 or more yards two of those games. He has at least three receptions four straight games.
Randall Cobb, Cowboys. Cobb has been a big factor in the Cowboys offense the last several weeks. He has 85-plus yards three straight games and at least four receptions four straight. He has really become a consistent factor in the Cowboys passing attack. This should continue to be a trend going forward for the talented slot receiver.
TIGHT ENDS
Jaeden Graham, Falcons. Graham had just a catch last week but it went for a 53-yard game. He showed some big-play ability. He is getting a few weekly chances in the passing game with Austin Hooper out of action. This should be the case the next few weeks with games against the Saints and Panthers. Graham might be worth some consideration for tight end needy teams.
Dallas Goedert, Eagles. Goedert continues to be a big part of the Eagles passing game. He had seven receptions for 32 yards last week, giving him at least three receptions six straight games. He also has scores three of five. His yardage numbers aren't great but you can live with that because of the catches and scores. Goedert is available in 36 percent of leagues.
Jeff Paur is a two-time finalist for FSWA Fantasy Football Writer of the Year and won the FSWA award for Best Fantasy Football Article on the Web in 2011. He also was the most accurate expert in 2012, winning the FSTA Fantasy Football Accuracy Award. If you have any questions for Jeff, email him at jeff@rtsports.com. Follow Jeff on Twitter @jeffpaur.