Lineup Prep: Week 15
Wed Dec 11 9:41am ET
By JEFF PAUR
Sr Fantasy Writer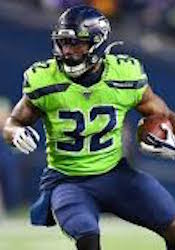 Carson is a great play Week 15
Notice
: Undefined variable: league in
/rtfs/football/php/syndicated-news.php
on line
136
Notice
: Trying to get property of non-object in
/rtfs/football/php/syndicated-news.php
on line
136
The regular season is over. Playoffs begin either this week or kicked off last week for all your teams. Either way, if you are reading this, you likely made the playoffs, so kudos to you for the big accomplishment. It is not easy to make it to the playoffs, which is the goal of every team when the season starts. Now the tough part is advancing. Good luck in all your leagues this week and hopefully you are still reading this column next week.
Now for my random thoughts for the week. . . . .
First off, lineup decisions are always tough for the playoffs. Two things I really look at when making a playoff lineup are players with high ceilings and consistency. Sometimes you have to take some chances to advance, especially if you have the inferior team. So taking a chance on a player with a high ceiling sometimes needs to happen if you want to advance. I also don't like benching my studs. Go with the guys that got you here. I know those two things I said kind of contradict each other but there is a balance with the two. Hopefully, you can set that correct lineup in Week 15.
I think before the season everyone wanted a top-four pick, so they could get one of the top four running backs. Well, that isn't holding true anymore with Alvin Kamara and Saquon Barkley failing to live up to expectations. These two have been huge disappointments that have really surprised me all season. Neither is scoring touchdowns. And the only thing saving Kamara right now is his work in the passing game. His rushing numbers have been terrible - even in favorable matchups. Barkley has been similar in terms of rushing the ball, but isn't getting quite the work in the passing game, making him a slightly bigger bust than Kamara. Either way, having either of these players has not been a positive to fantasy teams.
So at this point, the only 49ers back I trust is Raheem Mostert. Who would have thought that early in the season? But that is the case now as he is producing the most consistent numbers and getting the job done on a weekly basis for fantasy teams. I would steer clear of Tevin Coleman and Matt Breida.
I'm really excited about the fantasy future of A.J. Brown. This guy is just a beast and going to be load to cover for the opposition. His combination of size and speed is going to make him a matchup nightmare. He reminds you a little of Anquan Boldin but with maybe a little more athleticism. I think the future is really bright for Brown.
Enjoy the Jameis Winston show while you can because I'm not sure he is starting anywhere next year. He certainly has the talent but the turnovers are a real issue. Winston sure is a plus for fantasy teams, though. He is up to fourth overall in fantasy quarterback scoring. He produces big weekly numbers in the Bucs pass-first offense. He gets the Lions and Texans to end the fantasy season, making him a great play the rest of this season. Enjoy it while you can!
I don't think Tyler Higbee's last two games are a fluke. He can help fantasy teams the rest of the way. The Rams are going heavy on the run and using play action a lot, giving Higbee plenty of weekly looks. I think this will be a trend the rest of the way for the Rams offense, especially since the team is having success with this way of attacking defenses. Higbee has a high ceiling the rest of this season.
I mentioned last week that I was super impressed with the coaching job of Brian Flores in Miami. Well, I need to mention another great coaching job this week. Mike Tomlin has worked wonders with his team in Pittsburgh. They have all sorts of injuries offensively and keep finding a way to win. It is pretty amazing, consider they are using their third-string quarterback and have been without their No. 1 receiver and running back many weeks. I'm not sure how they are doing it. Kudos to Tomlin for keeping this team together.
I was really impressed with Drew Lock last week. Maybe the Broncos have finally found their franchise quarterback. I know it was just a game but it was his second career start on the road against a team in playoff contention. Lock showed a lot. Now it will be interesting to see if he can build on that, going on the road in an even tougher matchup against the Chiefs. Either way, things seem to finally be looking up for the Broncos and their quarterback spot. Lock has the talent and moxie to be a solid NFL starter.
As always, don't forget to check out my weekly rankings here: Week 15 rankings.
News and Notes: The Cowboys released kicker Brett Maher and signed Kai Forbath on Monday. Forbath will take over the kicking duties for the Cowboys going forward. Maher was a big disappointment this year, struggling much of the season. . . . .The Falcons signed cornerback Jamar Taylor on Tuesday. He gives the Falcons some depth at the cornerback position. . . . .The Colts signed receiver Dontrelle Inman on Tuesday. The team has a host of injuries at receiver right now, so Inman could work his way into the mix in a hurry.
HOT PLAYS
Carson Wentz, QB, Eagles. The Eagles are a complete mess at receiver right now, having all sorts of injuries at the position. That isn't slowing Wentz, though. He has powered through and still produced for all his fantasy teams. He has two straight 300-yard games and multiple touchdowns each of those games. He is the offense right now and will need to carry the team again in Week 15, playing the Redskins. Washington allows the 14th most fantasy points to quarterbacks and 24 points per game.
Chris Carson, RB, Seahawks. Rashaad Penny started to eat into Carson's playing time the last few weeks, but that won't be the case anymore with Penny done for the season. Carson was still producing well despite Penny getting more work, too. He had 91 total yards last week and hit the 100-yard rushing mark the previous game. He has five 100-yard games this season and has been very consistent because of a heavy weekly workload. He should get a big workout this week against the Panthers, a team 29th overall against the rush. Carolina allows the second most fantasy points to running backs.
Robert Woods, WR, Rams. Woods scored his first touchdown of the season last week, catching seven passes for 98 yards and a score. He also ran twice for 29 yards, giving him 128 total yards in the game. He has been red hot, ranking first overall in fantasy receiver scoring his last three games. He has been a huge volume play, getting a lot of weekly targets. He plays a Dallas team this week that couldn't stop the Bears passing attack last week. Expect more of the same from Woods in Week 15.
Ryan Tannehill, QB, Titans. Tannehill has been a huge surprise, posting consistent weekly numbers as the starter for the Titans. He has multiple touchdowns seven straight games. He also has 30-plus fantasy points two of three. He is fourth overall in fantasy quarterback scoring his last three games. The numbers don't lie. Tannehill is a legit low-end No. 1 fantasy quarterback right now. He gets the Texans this week, a team that has struggled stopping the pass this year. Houston is 27th against the pass and allow the third most fantasy points to quarterbacks.
Raheem Mostert, RB, 49ers. Mostert has emerged as the back to use in the 49ers offense. He has touchdowns threes straight and had multiple scores for the first time all season last week. He has more than 100 total yards two straight games and is fifth overall in fantasy running back scoring his last three. He should continue to get double-digit touches for the 49ers going forward. Mostert just keeps producing with his chances. He can do some damage this week against the Falcons, a team that allows 26 points per game.
COLD PLAYS
Bo Scarbrough, RB, Lions. Scarbrough has been a pleasant surprise for fantasy teams, having 70 or more total yards three straight games. The issue is he has double-digit fantasy points just once all year. He just doesn't catch the ball, which holds back his fantasy value. If he doesn't catch the ball once again this week, his numbers should be down once again. Scarbrough plays the Bucs, a team that has really clamped down on the run this year. Tampa is first overall against the rush, allowing just 76-rushing yards per game.
James Washington, WR, Steelers. Washington cooled off last week despite a great matchup against the Cardinals. He caught four passes for 33 yards. This isn't a huge surprise, though, because Washington hasn't been getting a ton of targets. He has eight targets his last two games and has more than four receptions in just one game all year. He is a bit of a boom or bust play. He probably isn't worth the risk this week against the Bills, a team that allows the fifth fewest fantasy points to receivers.
Mitchell Trubisky, QB, Bears. Trubisky is finally playing up to his potential. He has two straight three-touchdown games and multiple scores four of five games. He remains a risk, though, especially against better defenses and on the road. He gets both those things this week, playing at Green Bay. Trubisky opened the season against the Packers and failed to score a touchdown in that game. Green Bay allows the seventh fewest fantasy points to quarterbacks. Don't risk using Trubisky in this matchup.
Robby Anderson, WR, Jets. Anderson has finally put it together lately, having two straight 100-yard games. He has more than 85 yards three straight games. But he played the Raiders, Bengals and Dolphins during that three-game stretch. Those are three of the worst pass defenses in all of football. Things get much tougher for him this week against the Ravens. Baltimore is ninth overall against the rush, allowing just 219-passing yards per game. Expect Anderson to come back down to earth in this matchup.
Mark Ingram, RB, Ravens. Ingram got off to a great start this year, but his numbers have been down the last few weeks. He has fewer than 60-rushing yards four of five games. He is capable of the huge game in this explosive offense, so he is tough to sit any week. But you might want to consider sitting him this week against the Jets. New York is terrible against the pass but do well against the run, rankings second overall against the rush. The Jets have allowed fewer than 70-rushing yards five of six games. Ingram could be mediocre once again in this one.
SLEEPERS
David Njoku, TE, Browns. Njoku played his first game since breaking his wrist last week, catching a pass for four yards on three targets. He didn't do much but played and was on the field for much of the game. His playing time should just increase going forward. He is a sneaky play this week against the Cardinals. Arizona has been awful stopping the tight end all season, allowing the most fantasy points to tight ends by a wide margin. Njoku is worth taking a chance on in Week 15 because of his high ceiling.
Breshad Perriman, WR, Bucs. Perriman moves into a starting role for the Bucs with Mike Evans hurt. Perriman has 70 or more yards two straight games and has started to become a bigger factor in the offense even with Evans on the field. He has some potential going forward in the Bus pass-first offense, especially this week against the Lions. Detroit allows the ninth most fantasy points to receivers. Shutdown corner Darius Slay should cover Chris Godwin, meaning Perriman could get favorable coverages much of the game.
Adrian Peterson, RB, Redskins. Derrius Guice is injured again. Shocking, right? Well, that leaves Peterson to get most of the work at running back again. And he is running well right now. He has touchdowns two straight and 75-plus rushing yards six of eight games. He has been pretty consistent all year, making him a player to consider using at the flex spot. He should get near 20 touches this week against the Eagles, a team allowing 23 points per game.
Allen Hurns, WR, Dolphins. Hurns had season highs last week, catching five passes for 68 yards. DeVante Parker suffered a concussion and could be out this week. If that happens, Hurns should be the go-to target for the Dolphins. This would be a good thing for Hurns, playing the Giants. New York allows the third most fantasy points to receivers and are 26th overall against the pass.
Gardner Minshew, QB, Jaguars. Minshew was just alright in his return to the starting lineup last week, going 24-of-37 for 162 yards and a touchdown. It wasn't a great matchup against a pretty good Chargers secondary, though. Minshew can get it going this week against the Raiders. Remember, Minshew had 20-plus fantasy points six of his first eight games this year. He is more than capable of the big game in this offense. Oakland allows the fourth most fantasy points to quarterbacks and rank 28th overall against the pass.
High/Low Scoring Games
Each week we will take a look at some of the high and low scoring games for the coming week. In high scoring affairs, get your marginal players on those teams in your lineup to take advantage of the possible points barrage. And in the low scoring games, keep those marginal players on the bench and make sure to have your defenses involved in those contests.
High Scoring Games: Texans/Titans, Seahawks/Panthers, Browns/Cardinals, Rams/Cowboys.
Low Scoring Games: Bears/Packers, Bills/Steelers.
Jeff Paur is a two-time finalist for FSWA Fantasy Football Writer of the Year and won the FSWA award for Best Fantasy Football Article on the Web in 2011. He also was the most accurate expert in 2012, winning the FSTA Fantasy Football Accuracy Award. If you have any questions for Jeff, email him at jeff@rtsports.com. Follow Jeff on Twitter @jeffpaur.