Studs and Duds: Wild Card Weekend
Mon Jan 6 8:51am ET
By JEFF PAUR
Sr Fantasy Writer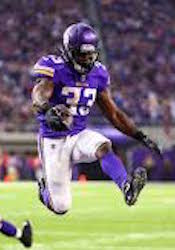 Cook has big game in return
The games this weekend were very exciting. All were decided by a touchdown or less, and two games went to overtime. It was quite the exciting week of playoff action. Fantasy production was not the best, though. There was not a team this weekend that scored in the 30s, and the highest scoring team of the weekend was the Vikings with 26 points. So fantasy scores were not too high this weekend. It was a pretty low scoring weekend from a fantasy perspective. We did have a few big-time performers, so hopefully you had some of those studs this first weekend of the playoffs.
Texans 22, Bills 19
Fantasy Stud: Devin Singletary. Singletary had a really good showing for the Bills. He produced on the ground and as a receiver. He ran 13 times for 58 yards, averaging 4.5 yards per carry. He also led the Bills in receiving, catching six passes for 76 yards. He had 134 total yards in the game. His receiving yards were a season high. He did not top 50-receiving yards in a game before this showing. Singletary showed his huge fantasy potential as the lead back for the Bills gong forward. He could be an elite back next year.
Fantasy Dud: Cole Beasley. Beasley had a pretty quiet game despite a favorable matchup against a defense that has given up some big receiving games. Beasley caught four passes for 44 yards. He had a 100-yard game his last time out, so you had some high hopes for Beasley in playoff leagues. He did not come through for all his owners, though.
Game Notes: Deshaun Watson had a big second half, leading his team to victory. He led the team in rushing and passing. Watson was 20-of-247 yards and a touchdown without a turnover. He also ran 14 times for 55 yards and a score.
John Brown didn't catch a touchdown pass, but threw one. He had four receptions for 50 yards and was 1-of-1 for a 16-yard touchdown pass.
Titans 20, Patriots 13
Fantasy Stud: Derrick Henry. Henry continued his red hot play, carrying the Titans offense to victory. He ran 34 times for 182 yards and a touchdown. He also had a 22-yard reception, giving him more than 200 total yards. Henry has 100-yard games six of his last seven games. He is having a monster finish to his season. He might not catch passes but his fantasy value remains high because of the scores and all the rushing yards.
Fantasy Dud: Tom Brady. Brady did not score a touchdown, having another down fantasy performance. He was 20-of-37 for 209 yards with an interception, which was returned for a Titans touchdown. Brady had one or no scores eight times this season. He did not have near the season of recent years. Brady indicated after the game he likely will play another year, but nothing is 100 percent certain at this point.
Game Notes: Ryan Tannehill didn't even throw for 100 yards, going 8-of-15 for 72 yards with a touchdown and an interception. It was not a great showing for him, but he led his team to a win, which is all the really matters.
Julian Edelman had three receptions for 30 yards. He did run in a score, rushing two times for 12 yards and a score. Edelman was banged up down the stretch and it showed in his play, having fewer than 35-receiving yards three of his last four games.
Vikings 26, Saints 20
Fantasy Stud: Dalvin Cook. Cook returned from injury and looked great. He ran 28 times for 94 yards and two touchdowns. He also caught three passes for 36 yards, giving him 130 total yards in the game. Cook's shoulder injury didn't seem to be an issue at all. He missed a couple games because of injury once again this year, but had a huge season when on the field, showing his big-time fantasy ability.
Fantasy Dud: Stefon Diggs. Diggs did very little, watching teammate Adam Thielen finally have a big game once again. Diggs had two receptions for 19 yards and carried the ball twice for eight yards. You just expect more from the Vikings No. 1 receiver in their playoff opener. Diggs has been a little up and down all year, though, so this game isn't a complete shock from Diggs.
Game Notes: Taysom Hill did a little bit of everything in this game. He led the team in rushing, running four times for 50 yards. He also was 1-of-1 passing for 50 yards. He also caught two passes for 25 yards and a touchdown.
Adam Thielen had seven receptions for 129 yards. This was his second 100-yard game of the season and first since Week 5. Thielen had just 27 yards his last two games before this big showing.
Seahawks 17, Eagles 9
Fantasy Stud: D.K. Metcalf. Metcalf had another big showing, leading the way at receiver for the Seahawks. He had seven receptions for 160 yards and a touchdown. This was his second 100-yard game of the season. He has touchdowns three of four games. Metcalf also has 75 or more yards four of six games. He has emerged as the top target in this passing game.
Fantasy Dud: Travis Homer. Homer had the most carries for the Seahawks but couldn't do much with all the work. He ran 11 times for just 12 yards, and caught a pass for five yards. It is hard to trust any Seahawks running back right now. Russell Wilson led the Seahawks in rushing in this game, running nine times for 45 yards.
Game Notes: Carson Wentz did not last long in this game. He suffered a concussion very early and was unable to return. He was 1-of-4 for three yards. Josh McCown played in relief and did pretty well, considering the circumstances. McCown was 18-of-24 for 174 yards without a touchdown or an interception.
Zach Ertz was active for the game and caught two passes for 44 yards. It was an impressive showing for Ertz, who played with a broken rib.
Jeff Paur is a two-time finalist for FSWA Fantasy Football Writer of the Year and won the FSWA award for Best Fantasy Football Article on the Web in 2011. He also was the most accurate expert in 2012, winning the FSTA Fantasy Football Accuracy Award. If you have any questions for Jeff, email him at jeff@rtsports.com. Follow Jeff on Twitter @jeffpaur.