Studs and Duds: Divisional Round
Mon Jan 13 9:27am ET
By JEFF PAUR
Sr Fantasy Writer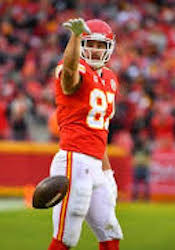 The Texans couldn't stop Kelce
The games weren't nearly as exciting this week. All the games were decided by double-digit points except for one. We didn't get the overtime games like the previous weeks or the exciting finishes. We did get some good fantasy performances, though, with two teams topping 30 points and two others scoring 28 points. The fantasy numbers were a little up this week compared to the playoff openers. This lead to some high-scoring fantasy teams. Hopefully, you were on the receiving end of some of these good performances.
49ers 27, Vikings 10
Fantasy Stud: Tevin Coleman. The 49ers rode the hot hand at running back and Coleman was the clear hot back in this one. He had 22 carries for 105 yards and two touchdowns. This was an unexpected showing from Coleman, considering he had 40 or fewer rushing yards nine straight games. This was just the second time all season he has topped 100-rushing yards. Coleman is never a sure thing forward going in this offense, but this showing was encouraging.
Fantasy Dud: Dalvin Cook. The 49ers did a great job of holding Cook in check, which is something that has been rarely done this season. Cook ran nine times for just 18 yards. He also caught six passes for eight yards. This was his worst game of the season. Cook still had a breakout year and is clearly and elite fantasy back as long as he can stay healthy.
Game Notes: Raheem Mostert did start but had 10 fewer carries than Coleman. He ran 12 times for 58 yards. The good news is Mostert averaged the same yards per carry as Coleman, averaging 4.8 yards per carry.
Adam Thielen was able to play with his ankle injury and caught five passes for 50 yards. He probably wasn't 100 percent for the game, but played pretty well considering his status.
Titans 28, Ravens 12
Fantasy Stud: Derrick Henry. Henry continued his late-season assault on NFL defenses. He ran 30 times for 195 yards. He also threw a touchdown pass, giving him his only score in the game. Henry has three straight games with 180-plus rushing yards. He is carrying the Titans offense right now and seems to be getting stronger every week.
Fantasy Dud: Mark Ingram. Ingram was healthy enough to play and led the team in carries, but ran six times for just 22 yards. He had only one reception for nine yards, giving him 31 total yards. Ingram was battling a calf injury but didn't seem to slowed by the injury. The game flow impacted Ingram's numbers with the Ravens throwing a lot more than usual.
Game Notes: His team lost but Lamar Jackson piled up the stats in this one. He was 31-of-59 for 365 yards and a touchdown with two interceptions. He also hit the 100-yard mark rushing, running 20 times for 143 yards. This was his sixth 100-yard rushing game of the season.
Marquise Brown hit the 100-yard mark receiving. He caught seven passes for 126 yards. This was his first 100-yard game of the season since the opener. HIs 11 targets were the second most of the season for Brown.
Chiefs 31, Texans 31
Fantasy Stud: Travis Kelce. Kelce came into the game with a sore knee and also injured his hamstring during the game. That didn't slow him one bit. Kelce was nearly unstoppable the entire game, catching 10 passes for 134 yards and three touchdowns. It was one of the greatest performances ever for a tight end in the playoffs. Kelce put on a show, displaying his huge fantasy value. He has double-digit receptions two of four games.
Fantasy Dud: Tyreek Hill. There were a ton of fantasy points in this high scoring game, but Hill was held in check by the Chiefs. He had three receptions for 41 yards. Houston double-teamed him much of the game, giving Kelce more freedom to get open. Hill is always capable of the huge game, so don't get too down on him over this game. He'll rebound.
Game Notes: Patrick Mahomes had a huge showing, picking apart the defense after a slow start. He was 23-of-35 for 321 yards and five touchdowns without an interception. He also led the team in rushing, running seven times for 53 yards.
Will Fuller returned from his groin injury and showed well, catching five passes for 89 yards. He did not look very slowed by the injury and produced his third highest yardage game of the season.
Packers 28, Seahawks 23
Fantasy Stud: Davante Adams. Adams had another big game, catching eight passes for 160 yards and two touchdowns. Adams has 100-yard games three of four and at least 93 yards all three of those games. He has been red hot since returning from injury in Week 9. He has at least seven receptions seven of nine games. As long as Aaron Rodgers is his quarterback, expect big things from Adams.
Fantasy Dud: Jamaal Williams. Williams was active after missing the last game of the season as precaution, but got next to no work in this game. He had just two touches. Williams ran once for three yards and caught a pass for nine yards. Williams has minimal value for fantasy teams right now with the Packers riding Aaron Jones as their lead back down the stretch.
Game Notes: Marshawn Lynch found the end zone two more times, giving him touchdowns in all the games he played with the Seahawks this year. He ran 12 times for just 26 yards, though.
Tyler Lockett hit the 100-yard receiving mark. He had nine receptions for 136 yards and a touchdown. This was his fifth 100-yard game of the season. He had a breakout year as the No. 1 receiver for the Seahawks.
Jeff Paur is a two-time finalist for FSWA Fantasy Football Writer of the Year and won the FSWA award for Best Fantasy Football Article on the Web in 2011. He also was the most accurate expert in 2012, winning the FSTA Fantasy Football Accuracy Award. If you have any questions for Jeff, email him at jeff@rtsports.com. Follow Jeff on Twitter @jeffpaur.