Lineup Prep: Championship Round
Wed Jan 15 9:38am ET
By JEFF PAUR
Sr Fantasy Writer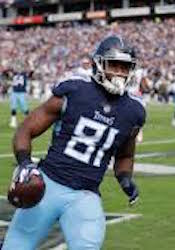 Smith is a top red-zone target
Notice
: Undefined variable: league in
/rtfs/football/php/syndicated-news.php
on line
136
Notice
: Trying to get property of non-object in
/rtfs/football/php/syndicated-news.php
on line
136
Well, the games last week weren't nearly as exciting as the previous week. They weren't nearly as close. Hopefully, the two games are better this weekend. It sure seems setup for a great week of football with some great matchups. As last week showed, it doesn't always play out that way, but we can hope, right?
Now for my random thoughts for the week. . . . .
I wasn't sure how the 49ers would react in their first big playoff game in several seasons, but they sure showed up in a big way. The stage did not seem too big for the young team, dominating the Vikings. I think this really bodes well for another victory this weekend, especially since they are at home. San Francisco continues to impress me on a weekly basis, playing great football on both sides of the ball. This team is a very complete team.
I am starting work on our Draft Guide for the 2020 season and already ran into at least one eye opening stat. So Matthew Stafford was on pace for about 5,000 yards and 38 touchdowns to just 10 interceptions before suffering his back injury. That is a monster season. Remember, he was an elite quarterback just a few seasons back, so don't forget about him come draft day next year. I know his back injury is a concern going forward, but if he gets a clean bill of healthy, Stafford could be a good get for fantasy teams. I'm sure many will overlook him because of the injury and not finishing out the season.
Derrick Henry is on some kind of run right now. He is absolutely carrying the offense. The opposition knows he is getting the ball, but still can't stop him. His fantasy stock is going way up with this late season surge. You still would like to see him catch the ball more but as long as he keeps piling up the rushing yards and touchdowns, his fantasy value is solid. And with the Titans likely parting ways with Dion Lewis this offseason, maybe Henry gets a few more chances to catch the ball in 2020. That could give his fantasy value another boost.
I think LSU quarterback Joe Burrow is going to be a heck of a pro. He just looks the part of a top NFL quarterback. I love his accuracy, especially on the deep ball. Plus, he is a great athlete that can make plays with his legs. He also has that swagger you want in a franchise quarterback. I really think his future is bright and the Bengals are going to get a real good one with their first overall pick. Burrow had quite the showing all year and especially in the National Championship game.
The Packers don't do it often, but I really think they need to make a splash this offseason to finally get a legit No. 2 option in the passing game opposite Davante Adams. The youngsters have not panned out, and Jimmy Graham is past his prime at tight end. They need to really get a legit option outside of Adams. This offense could really take a step forward with a dependable option outside of Adams. Let's hope they get it done this offseason.
My two favorite coaching hires from a fantasy perspective are Matt Rhule in Carolina and Mike Mike McCarthy in Dallas. I know McCarthy had his issues with Aaron Rodgers, but you can't ignore the production that offense had for years with McCarthy at the helm. I think his hire is a positive for all the Cowboys offensive players going forward. And Rhule should be a good fit in Carolina and keep the Christian McCaffrey train going. He will find ways to get his playmakers involved in Carolina and re-energize that team. There was a reason so many teams were after Rhule to hire him as their head coach. I think he is the real deal.
As always, don't forget to check out my weekly rankings here: Championship Round Rankings.
HOT PLAYS
Travis Kelce, TE, Chiefs. Kelce wasn't even 100 percent healthy last week, but that didn't slow him one bit. He had a monster game, catching 10 passes for 134 yards and three touchdowns. He has double-digit receptions two of four games and two 100-yard games during that stretch. Kelce continues to be the top target in the passing game for the Chiefs and should get a ton of targets this weekend. The Titans really struggled to stop the tight end during the regular season, allowing the fifth most fantasy points to tight ends.
Raheem Mostert, RB, 49ers. Mostert took a backseat to Tevin Coleman last week, seeing Coleman produce big numbers with a heavy workload. Mostert still had 12 carries for 58 yards, though, so he wasn't awful. He even averaged the same yards per carry as Coleman. The issue was Coleman had about twice the work. Mostert still seems the safest back to use in San Francisco. He has been so consistent down the stretch, having touchdowns six straight games before last week. We think he get a heavy workload this week against the Packers, a team that allowed the eight most fantasy points to running backs during the regular season.
Derrick Henry, RB, Titans. Henry is on some sort of hot streak. He has absolutely carried the Titans offense recently. He has 30-plus carries three straight games and 180-plus rushing yards all three of those games. He has been a monster for the Titans, seeming to get stronger late in the year. It should be more of the same for Henry this week against the Chiefs. Kansas City allowed the fifth most fantasy points to running backs during the fantasy season.
COLD PLAYS
Jimmy Garoppolo, QB, 49ers. The 49ers won last week but did so offensively because of a strong ground attack. Garoppolo didn't even throw for 150 yards in the game. The 49ers have been more run heavy down the stretch, though, giving Garoppolo fewer than 30 pass attempts three straight games. The game plan likely will be the same this week against the Packers. Green Bay allowed the fifth fewest fantasy points to quarterbacks during the regular season.
Emmanuel Sanders, WR, 49ers. Sanders got off to a great start with the 49ers once he joined the team, but has been pretty quiet most weeks. He has fewer than 30 yards there of four games. He was targeted just two times last week. Sanders is a hard player to trust for the 49ers right now. He also hast just three touchdowns compared to six for Kendrick Bourne, who is below him on the depth chart. The Packers also allow the eighth fewest fantasy points to receivers.
Aaron Rodgers, QB, Packers. Rodgers had a good game last week, going 16-of-27 for 243 yards and two touchdowns without an interception. He still didn't have that huge game you have come to expect from him. Rodgers has been really mediocre most of the year. He has fewer than 17 fantasy points six of nine games. He goes on the road this week against the 49ers, a team that was first overall against the pass during the regular season.
SLEEPERS
Ryan Tannehill, QB, Titans. Tannehill has done very little in the playoffs with the Titans running often. But that game plan could change this weekend if the Chiefs get up on the Titans. Tannehill should get more chances to air it out. Remember, he had multiple touchdowns every start this season. He had 20-plus fantasy points eight of 10 starts. Tannehill is capable of the big game with the way he is playing. It would not be a surprise if he has one of those big games this week against the Chiefs.
Kendrick Bourne, WR, 49ers. Bourne had three receptions for 40 yards and a touchdown last week. He has six touchdowns this season and been a top red-zone target for the 49ers. Bourne is clearly a touchdown dependent player, failing to top 50 yards in any game this year. He gets some catches, though, having three or more receptions six times. He is worth a look for fantasy teams this week because of his ability to find the end zone. It could happen again against the Packers.
Jonnu Smith, TE, Titans. Smith had just two catches last week but one of those was an acrobatic touchdown reception, showing his big-time athletic ability. Smith has touchdowns three of six games. He also has 60 or more yards two of those games. Smith can be a little boom or bust, but certainly seems setup for a good game in this one. Kansas City has struggled to stop tight ends this year, allowing the sixth most fantasy points to tight ends.
High/Low Scoring Games
Each week we will take a look at some of the high and low scoring games for the coming week. In high scoring affairs, get your marginal players on those teams in your lineup to take advantage of the possible points barrage. And in the low scoring games, keep those marginal players on the bench and make sure to have your defenses involved in those contests.
High Scoring Games: Titans/Chiefs.
Low Scoring Games: None.
Jeff Paur is a two-time finalist for FSWA Fantasy Football Writer of the Year and won the FSWA award for Best Fantasy Football Article on the Web in 2011. He also was the most accurate expert in 2012, winning the FSTA Fantasy Football Accuracy Award. If you have any questions for Jeff, email him at jeff@rtsports.com. Follow Jeff on Twitter @jeffpaur.