Studs and Duds: Championship Round
Mon Jan 20 11:38am ET
By JEFF PAUR
Sr Fantasy Writer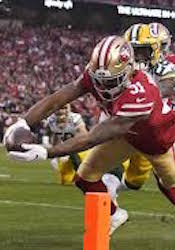 Mostert scores four touchdowns
The games weren't too exciting this weekend unless you were a Chiefs or 49ers fan. The Chiefs made a nice comeback once again but then took control on the second half, pulling away to a big victory. The 49ers put a hurt on the Packers, displaying their power on both sides of the ball. It was a very impressive showing for both the Chiefs and 49ers. And for fantasy purposes, there were some huge games from players in both these games. There were a couple huge difference makers, making for some big fantasy totals. Hopefully, you were on the right sides of things this week.
Chiefs 35, Titans 24
Fantasy Stud: Patrick Mahomes. Mahomes had a huge game, scoring four touchdowns. He was 23-of-35 for 294 yards and three touchdowns without a turnover. He also led the team in rushing, running eight times for 53 yards and a touchdown. He has run the ball more during the playoffs, having 53-rushing yards each of two playoffs games. Mahomes has nine total touchdowns in the playoffs.
Fantasy Dud: Travis Kelce. The Chiefs rolled up some yards and scored some points, but Kelce was not a part of much of the action. He had three receptions for 30 yards. It was an unexpected showing after his huge game last week and great play down the stretch. Plus, the Titans struggled to stop the tight end this year. The Chiefs took what the Titans defense gave them, though, and made the right decisions much of the game with Kelce getting few looks.
Game Notes: Sammy Watkins had a surprising game, leading the way at receiver for the Chiefs. He had seven receptions for 114 yards and a touchdown. It was his first 100-yard game since Week 1 and the first time he found the end zone since that first game.
Tyreek Hill had his third multiple touchdown game of the season. He had five receptions for 67 yards and two scores. Hill has fewer than 70-receiving yards three straight games, though, and less than 70 yards six of seven.
Derrick Henry found the end zone once again, giving him scores three of four games and eight of 10. He ran 19 times for 69 yards and a touchdown. He also had two receptions in the game.
49ers 37, Packers 20
Fantasy Stud: Raheem Mostert. Mostert picked a good time to have a career game, breaking some playoff records along the way. He ran 29 times for 220 yards and four touchdowns. He also caught two passes for six yards. Mostert got most of the work at running back this week with Tevin Coleman going down with a shoulder injury early in the game. Mostert has been the best back for the 49ers down the stretch, having touchdowns seven of his last eight games. He also has double-digit carries all eight of those games.
Fantasy Dud: Jimmy Garoppolo. Garoppolo was not called on to do much with the 49ers having huge success running the ball. He attempted just eight passes, going 6-of-8 for 77 yards without a touchdown or an interception. You thought he might produce a little better even if the 49ers went run heavy in the game. His yardage total was a season low. He has been quiet in the playoffs, though, going 17-of-27 for 208 yards and a touchdown in two games.
Game Notes: Aaron Jones found the end zone two more times. He ran 12 times for 56 yards and a touchdown. He also caught five passes for 27 yards and a core, giving him 83 total yards and two touchdowns.
Davante Adams had nine receptions for 138 yards. Adams has two straight 100-yard games and hit that mark four of his last five games.
Aaron Rodgers had his third straight multiple touchdown game. He was 31-of-39 for 326 yards and two touchdowns with two interceptions. He had 300-yard games two of his last three to end the season.
Jeff Paur is a two-time finalist for FSWA Fantasy Football Writer of the Year and won the FSWA award for Best Fantasy Football Article on the Web in 2011. He also was the most accurate expert in 2012, winning the FSTA Fantasy Football Accuracy Award. If you have any questions for Jeff, email him at jeff@rtsports.com. Follow Jeff on Twitter @jeffpaur.